Jokowi Demands Spending Restraint as Indonesia Budget Gap Widens
by and
Fiscal shortfall to reach 2.5% of GDP, finance minister says

Government seeking additional revenue from tax amnesty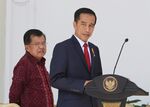 Indonesian President Joko Widodo called for spending curbs as the budget deficit in Southeast Asia's largest economy continues to deteriorate on the back of a shortfall in tax revenue and falling commodity prices.
Finance Minister Sri Mulyani Indrawati, who took office last week, revised this year's fiscal shortfall to 2.5 percent of gross domestic product and told reporters on Wednesday in Jakarta that the government estimates a revenue gap of 219 trillion rupiah ($16.7 billion). The deficit target was raised from 2.35 percent, bringing it closer to the mandated ceiling of 3 percent.
A slowdown in China, Indonesia's top export market, and weaker global demand has fueled a slump in commodity prices, undermining election pledges made by Jokowi, as the president is known, to boost growth to 7 percent. China accounted for about 25 percent of Indonesia's coal exports last year.
"We need to calculate the potential impact of the global conditions, for example the slowdown in China's economic activity, the weak commodity prices, as well as the risk of a Federal Reserve interest-rate adjustment," Jokowi said at a plenary cabinet meeting at the Presidential Office in Jakarta on Wednesday.
Growth Slowdown
"I have also instructed leaders in ministries and agencies to be disciplined in reducing expenditure," he said. "I have demanded this again and again for them to study each point, one by one, and in detail. If there is anything that doesn't make sense or if the number is too high, scratch it out, replace it with something more logical."
Growth slowed last year to 4.79 percent, the lowest since 2009. A government report on Friday will probably show the economy expanded 5 percent in the second quarter from a year earlier, little changed from the first three months of the year, according to the median estimate of 24 economists surveyed by Bloomberg.
Indonesia's economy grew by 4.92 percent in the first three months of the year, less than analysts expected, and down from 5.04 percent in the fourth quarter of 2015.
Tax Inflows

Indrawati said the government will need 17 trillion rupiah in additional funds to plug the budget deficit.
To help boost state revenue, Jokowi implemented a tax amnesty last month to recoup billions of dollars from individuals who didn't disclose investments abroad. The central bank estimates the government will earn 53 trillion rupiah in revenue from 560 trillion rupiah of inflows as Indonesians repatriate their assets. Jokowi is betting the amnesty will boost state coffers by 165 trillion rupiah.
"With the tax amnesty, we will expand and have a more valid, integrated and comprehensive tax base in order to increase our tax ratio," he said.
Before it's here, it's on the Bloomberg Terminal.
LEARN MORE