Kuroda Leads BOJ to a Policy Crossroads as Pressures Intensify
by and
BOJ plans an unusual policy review for Sept. 20-21 meeting

Moves comes amid growing concern about policy sustainability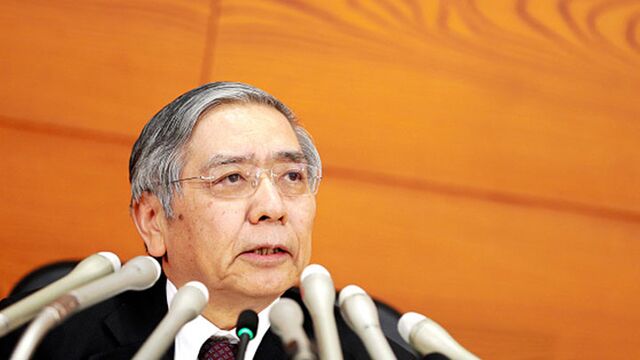 After more than three years of pumping out wave after wave of cheap money that's failed to secure its inflation target, the Bank of Japan has signaled a rethink.
Instead of buying yet more government bonds, cutting interest rates or pushing further into uncharted territory, the BOJ disappointed some Friday when its policy meeting concluded with only a modest adjustment.

Governor Haruhiko Kuroda, 71, and his colleagues declared it was time to assess the impact of their policies, which have variously spurred strong criticism from bankers, bond dealers and some lawmakers and former BOJ executives. The next gathering, on Sept. 20-21, offers a chance to either provide greater evidence that the current framework should continue, head further into uncharted territory, or scale back.
Regardless of the decision, this isn't where one of the world's most aggressive central bankers wanted to be in his fourth year in office. In early 2013, he expressed confidence the BOJ had the power to ensure its 2 percent inflation target could be reached within about two years. This year, with the shock adoption of a negative interest rate policy backfiring through a welter of warnings from commercial banks, there's a growing perception monetary policy is losing effectiveness.
To read more about the BOJ's coming review, click here.
"We are at a turning point" for the BOJ, because "it can no longer assume that stepping harder on the gas pedal would make this car go faster," said Stephen Jen, co-founder of hedge fund SLJ Macro Partners LLP and a former International Monetary Fund economist. "Arrow 2 will take the lead now," he said, in a reference to the three arrows of Abenomics -- monetary, fiscal and structural-reform policies.
Friday marked the first time that Kuroda stepped up policy easing without beating economists' and market expectations, underscoring that his leadership has entered a new phase. In April 2013, he surprised with the scale of his initial program. In October 2014, he doubled down on stimulus when few anticipated it. And in January he added the negative-rate strategy he had previously rejected.
Predecessor Parallel
In another change, the central bank acted today -- albeit in limited fashion, with an expansion in its purchases of exchange-traded funds, which aren't the main tool of monetary policy -- after mounting pressure from government officials. A similar pattern was seen under Kuroda's predecessor, Masaaki Shirakawa.
"This does remind me of the Shirakawa era, when the government put pressure on and the BOJ added stimulus reactively," said Daiju Aoki, an economist at UBS Group AG. "What Kuroda is doing is much bigger than Shirakawa but it's the same in a sense it hasn't produced results."
For his part, Kuroda said at a press conference that he remains committed to pumping in more stimulus if needed and has no plans to change the 2 percent inflation target or time frame, despite repeated delays in hitting it. He also said there's no limit on its bond buying. At the same time, he recognized that risks are high for the BOJ's inflation outlook. Data released Friday showed price gains remain far from the target.

The planned review comes as Prime Minister Shinzo Abe's administration compiles a 28 trillion yen ($271 billion) fiscal package, set to include about 7 trillion yen of new fiscal spending, according to a person familiar with the matter, who didn't specify the time frame for the outlays.
The September BOJ meeting would likely coincide with parliament deliberations on the fiscal package, which analysts anticipate will be enacted in October. Ensuring coordination between fiscal and monetary policy will be vital, said George Magnus, a senior independent economic adviser to UBS Group AG.
"This is another point on a critical time line of escalating significance," Magnus said. "The government is in pole position, with the BOJ able to provide a supporting role. If they miss the opportunity this time, it's hard to imagine the circumstances will become easier."
Yet again, the Abenomics program by now wasn't supposed to be relying on yet further monetary and fiscal stimulus, with the original idea being that the first two arrows would be superseded in time by the third arrow, of structural reform. There's been little of the kinds of deregulation that economists have long advocated, such as reducing strictures on the labor market.
Some Concerned
Signs from within the BOJ are that there's a rising number that would prefer the focus of economic policy shift elsewhere.
An increasing number of officials at the Bank of Japan are concerned about the sustainability of the current framework for massive monetary stimulus, people familiar with the discussions said earlier this month. There's a broadening sense among some at the BOJ that the bank has to weigh the costs and benefits of policy measures more carefully, according to the people, who asked not to be named as the discussions are private.
With its easing to date, the BOJ now holds more than one third of Japanese government bonds outstanding, with its balance sheet in excess of 80 percent of gross domestic product.
"In theory, the results could come out in any direction -– in favor of bolstering, maintaining, or backing out of the current policy stance," Yuki Masujima, an economist at Bloomberg Intelligence, said in reference to the BOJ's review. "Given today's inaction, and well-recognized doubts in the BOJ about the sustainability of the bank's program, the review could be negative for expectations of expanded support."
Before it's here, it's on the Bloomberg Terminal.
LEARN MORE