business
France on Top Alert After 7th Terror Attack in Eighteen Months
By
Assailant killed 80 people in Nice during Bastille Day

France under attack since January 2015 Charlie Hebdo killing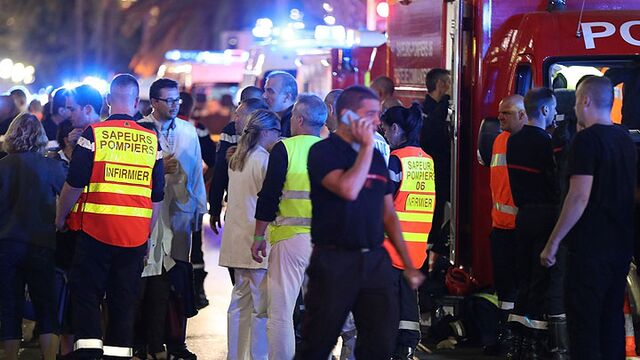 France has been on maximum security alert for most of the past 18 months, hit by multiple terrorist attacks that have left nearly 230 people dead and hundreds injured.
President Francois Hollande declared a state of emergency after the assault on Paris last November, the deadliest in France's modern history. That gives security and legal forces extra rights to conduct investigations and arrest suspects. Hollande said early Friday the order -- which was due to end on July 26 -- will be extended for another three months after the attack late Thursday in Nice.
Prime Minister Manuel Valls has said in parliament that security services have foiled several attacks since January 2015, when two brothers killed 11 journalists in the newsroom of Charlie Hebdo, a satirical newspaper based in Paris. Here is a brief timeline of the recent attacks on France:

14 July 2016
--a man drives a truck into a crowd watching Bastille Day fireworks in Nice, killing at least 80 people and injuring hundreds. He is shot and killed by police.
13 June 2016
--a knife-wielding man kills two police officers in Yvelines, west of Paris. The man is shot dead by police.
13 November 2015
--multiple attacks in and near Paris leave 130 dead, including at the Bataclan concert hall.
21 August 2015
--a man carrying a rifle attacks passengers on the Thalys high-speed train between Amsterdam and Paris, injuring three. He is overpowered by passengers.
26 June 2015
--a man is beheaded at an industrial plant near Lyon, with two others injured. Arabic inscriptions were found at the scene.
3 February 2015
--a man attacks soldiers protecting a Jewish community center in Nice. Several soldiers were stabbed but no one was killed.
7-9 January 2015
--multiple attacks in Paris leave 17 dead, including at the Charlie Hebdo satirical newspaper and at a kosher store near Paris.
Before it's here, it's on the Bloomberg Terminal.
LEARN MORE