Hollande Says Terrorism Risk Remains High After 'Terrible Year'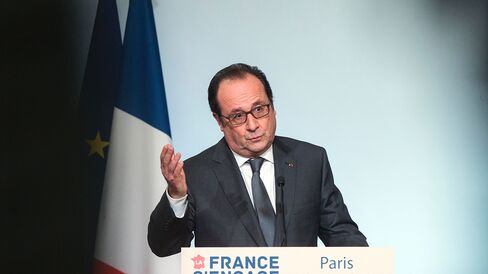 French leader says Islamic State fight to last long as needed

Says cutting France's unemployment remains his top priority
President Francois Hollande said the terrorism risk to France remains high and the fight against Islamic State will go on "as long as necessary."
Hollande, in his annual televised New Year's Eve address, said 2015 was a "terrible year" after two waves of terrorist attacks hit Paris. But France did not give in, he said, and demonstrated "solidarity and steady nerves."
The president also defended his plan to amend the constitution to give the government the power to strip French nationality from people convicted of terrorism if they have another passport. The move is largely backed by the French public even though some members of Hollande's government, such as Justice Minister Christiane Taubira, are opposed, saying it creates two classes of French citizens.
"I respect debate, but Parliament must assume its responsibilities," Hollande said.
Public Approval
According to an Opinionway poll for Le Figaro released on Wednesday, 85 percent of the French approve of giving the government the right to remove citizenship from French-born bi-nationals.
Hollande is seeking parliamentary approval for a series of changes to the constitution that he proposed after terrorists killed 130 people in and around Paris on the night of Nov. 13.
France and the U.S. stepped up air attacks on Islamic State in Syria and Iraq after the Paris attacks. Hollande said Daesh, as the French call the group, is on the retreat.
A state of emergency is still in effect in France, and Thursday's New Year's Eve festivities are being held under tight security. The city of Paris has banned firecrackers and won't hold a fireworks display. A total of 11,000 police and firemen are on duty in the capital, compared with 9,000 a year ago.
Suicide Bombers
November's attacks were conducted by an undetermined number of gunmen and suicide bombers in multiple locations in Paris, including the Bataclan concert hall and the area around the Stade de France on the outskirts of the capital.
In January, separate attacks on the satirical magazine Charlie Hebdo and a kosher grocery store left 17 people dead. The assailants in those incidents were French citizens, born in or near Paris, who had become followers of radical Islamic groups.
Hollande condemned recent retaliatory attacks on mosques in France, saying it's the goal of Islamic State to divide the French people.
Separately, the president said France faces an economic emergency, and that cutting unemployment remains his top priority. He announced plans to simplify the labor code and increase job training.
France's unemployment rate, which was 9.5 percent when Hollande was elected in May 2012, is now at an 18-year-high of 10.6 percent, almost double the rates in Germany and Britain. An Odoxa poll for France Info radio released Thursday said cutting unemployment remains the priority for French voters, ahead of fighting terrorism.
Before it's here, it's on the Bloomberg Terminal.
LEARN MORE