U.S. Stocks Rise to Fresh Highs Amid Earnings, Stimulus Optimism
By and
JPMorgan's results help strengthen sentiment on banks

Industrial shares extend rally to longest since 2014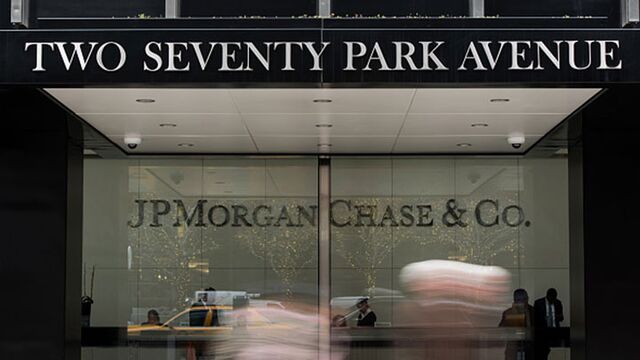 U.S. stocks rose to extend all-time highs, with the S&P 500 Index marking its longest winning streak in four months, as speculation grew for looser global monetary policies while a better-than-forecast profit from JPMorgan Chase & Co. boosted optimism for bank earnings.
JPMorgan climbed 1.5 percent to pace gains in banks, adding fresh momentum to a post-Brexit-vote rally that vaulted equities to records for the first time in more than 13 months. Citigroup Inc. increased 2.6 percent before its quarterly report Friday. Yum! Brands Inc. advanced 3 percent after its earnings beat estimates and the restaurant-chain operator raised its outlook. Industrial companies extended their longest stretch of gains since 2014.
The S&P 500 added 0.5 percent to 2,163.75 at 4 p.m. in New York, closing at a record for a fourth straight day, the longest such stretch since 2014. The gains today pushed the benchmark to 20 times reported earnings, the first time the valuation has crossed that threshold since 2009. The Dow Jones Industrial Average rose 134.29 points, or 0.7 percent, to 18,506.41. The Nasdaq Composite Index gained 0.6 percent to a more than six-month high.
"Second quarter earnings have been widely advertised as weak, so any positive results will help boost the stock market," said Bruce Bittles, chief investment strategist at Milwaukee-based Robert W. Baird, which oversees $110 billion. "We're seeing a worldwide phenomenon of negative interest rates, which is driving money into the equity markets. The path of least resistance at this point is to the upside."

Global equities climbed Thursday as speculation grew that Japan's Prime Minister Shinzo Abe is contemplating so-called helicopter money, which involves the central bank directly funding government spending. The Bank of England left its key rate at a record low and signaled it's readying stimulus for August as the economy reels from Britain's vote to leave the European Union.
U.S. share prices have added almost $2 trillion since June 27, an amount that ranks among the biggest increases in equity value, as easing concern about economic growth and optimism over earnings combines with speculation the Federal Reserve will hold off raising rates. The S&P 500 has climbed in 10 of the last 12 days, rising 8.2 percent to erase a 5.3 percent plunge following the Brexit referendum.
Injecting a cautionary note into the run-up today, the chief executive of the world's largest asset manager said the current rally may not be justified and won't last unless earnings pick up. "If we don't see better-than-anticipated corporate earnings I think the rally will be short lived," BlackRock Inc.'s Laurence D. Fink said in an interview.
Earnings Season
While JPMorgan's results exceeded predictions, its quarterly profit fell 1.4 percent in a period where banks are expected to be among the weaker links. Analysts project a 5.7 percent earnings decline at S&P 500 firms in the second quarter, which would make it a fifth straight drop, the longest streak since 2009. Wells Fargo & Co. and Citigroup are among firms posting results on Friday.
Also on the minds of investors and Fed officials is the vitality of U.S. growth. A Citigroup gauge that tracks the degree to which data are exceeding economist projections has jumped to the highest level since January 2015. A report today showed wholesale prices rose more than forecast in June, while a separate measure indicated the number of applications for unemployment benefits last week held at the lowest level since mid-April.
Meanwhile, odds of a 2016 Fed rate increase have risen after better-than-estimated June payrolls and as equities reached all-time highs. Traders are pricing in a 35 percent chance for a move by December, up from 12 percent a week ago when minutes from the central bank's last meeting signaled policy makers saw less need to tighten.
"There's hope and anticipation of central bank support globally and earnings are improving," said John Plassard, a senior equity-sales trader at Mirabaud Securities in Geneva, which oversees 34 billion Swiss francs ($35 billion). "The consensus now is no Fed hike and that keeps the dollar from going higher, which in turn helps equities. Earnings so far have been good."
VIX Slips
The CBOE Volatility Index fell 1.7 percent today to 12.82, the lowest in 11 months. The measure of market turbulence known as the VIX has slipped 50 percent since reaching a four-month high on June 24. About 6.5 billion shares traded hands on U.S. exchanges, 10 percent below the three-month average.
In Thursday's trading, nine of the S&P 500's 10 main industries rose, with banks boosting financials, while raw-materials climbed to their highest in a year. Surging airline and railroad stocks lifted industrials to a record amid the group's longest rally in 18 months. Utilities slipped for the third time in four days, after reaching the highest level ever last week.
While banks were adding the most to the rally in financials, insurers were also contributing, rising to their highest in five weeks. MetLife Inc. rallied 4.7 percent, the most in three months, while Prudential Financial Inc. rose 2.6 percent. The gains coincided with U.S. Treasury yields rising for the third time in four days to the highest since June 24.
Materials, Industrials
Raw material producers rallied for a seventh session, their longest streak since October. CF Industries Holdings Inc. led the group with a 3.5 percent increase. Monsanto Co. climbed as much as 6.5 percent after Bayer AG raised its offer for the world's biggest supplier of farm chemicals and seeds in a bid that values shares of the company at $54.7 billion. People familiar with the matter earlier said Monsanto revived talks with BASF SE about a possible combination of their agrochemicals businesses.
The S&P 500 Industrials Index was lifted by transportation stocks as American Airlines Group Inc., United Continental Holdings Inc. and CSX Corp. climbed at least 2.9 percent. Delta Air Lines Inc. rose 3.6 percent after reporting quarterly earnings that exceeded analyst estimates. The Dow Jones Transportation Average gained for a sixth straight day to reach its highest since April, and a Bloomberg gauge of U.S. airline stocks increased 3.1 percent to a two-month high, bringing its climb in six sessions to 16 percent.
Technology companies in benchmark increased 0.8 percent, boosted by Apple Inc.'s 2 percent gain to the highest in a month. Qorvo Inc. rose 4.7 percent to a seven-month high, while Skyworks Solutions Inc. and Broadcom Ltd. added more than 2.1 percent to boost semiconductor companies. The Philadelphia Stock Exchange Semiconductor Index climbed 0.7 percent to the highest in more than a year. EBay Inc. gained 3.8 percent to its best level since January.
Line Corp. rose 27 percent, and as much as 35 percent, in its U.S. trading debut after the Japanese messaging company raised more than $1 billion in the biggest technology initial public offering of the year. The stock, which was sold to investors in the IPO for $32.84 per share, traded as high as $44.49.
Williams Cos. increased 6.2 percent, the most since May 16, after Reuters reported the pipeline owner may snag as much as $2 billion in a sale of its Canadian unit, citing people familiar with the situation.