JPMorgan Profit Beats Estimates on Bond Trading, Loan Growth
By
Revenue increases 2.8% as fixed-income trading tops estimates

Loan growth and higher rates boost second-quarter revenue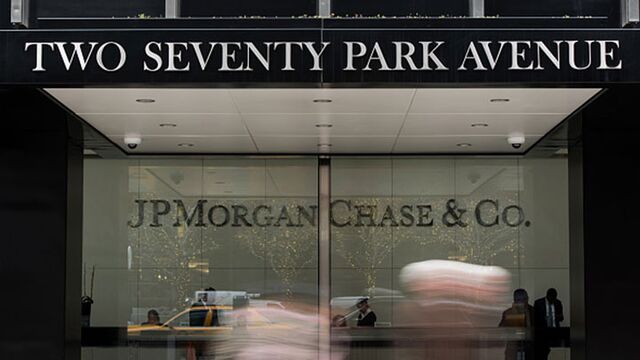 JPMorgan Chase & Co., the biggest U.S. bank by assets, said second-quarter profit fell 1.4 percent, beating analysts' estimates as fixed-income trading revenue and loan growth jumped.
Net income dropped to $6.2 billion, or $1.55 a share, from $6.29 billion, or $1.54, a year earlier, the New York-based company said Thursday in a statement. Excluding an accounting adjustment and a legal benefit, earnings were $1.46 a share, 3 cents higher than analysts' average estimate in a Bloomberg survey. Shares of the company rose 2.3 percent to $64.40 at 8:04 a.m. in New York.

Revenue climbed 2.8 percent to $25.2 billion, beating the $24.5 billion average estimate of seven analysts surveyed by Bloomberg. The company said average core loans increased 16 percent from a year earlier. The revenue figure included $3.96 billion from fixed-income trading, a 35 percent increase, beating the $3.57 billion estimate of analysts. The firm cited strength in rates, currencies, emerging markets, credit and securitized products. Equity trading rose 1.5 percent to $1.6 billion.
JPMorgan kicks off earnings season for U.S. banks, and may offer insight into the industry's prospects for trading and advisory operations after the U.K.'s surprise vote last month to leave the European Union. While JPMorgan executives have said trading rebounded in April and May, that was before the referendum roiled markets and pushed out expectations for additional U.S. interest-rate increases to at least next year. The delay would extend a post-financial-crisis era of low rates that's forced banks to rely on expense cuts to cope with stagnant revenue.
"The success can last for a quarter or a two, but I think it's still going to be a very difficult year," Charles Peabody, an analyst at Portales Partners LLC, said in an interview on Bloomberg Television when asked about JPMorgan's results. "I'm still expecting earnings to be down year over year."

Treasury Yields
Bank stocks plummeted after the vote and yields on 10-year Treasury notes fell to a record, draining financial firms of interest income. JPMorgan, which lost about 10 percent in the two days after the June 23 referendum, has since recovered most of that decline.
"We saw strong underlying performance with record consumer deposits, credit-card sales volume, merchant processing volume and broad core loan growth" fueled by mortgages and commercial real estate, Chief Executive Officer Jamie Dimon said in the statement.
Non-interest expenses fell 6 percent to $13.6 billion on cost cutting and lower legal bills, the bank said. That compared with analysts' $14 billion estimate.

Earnings at the corporate and investment bank, run by Daniel Pinto, climbed 6.5 percent to $2.49 billion as revenue rose 5.1 percent from a year earlier. Markets revenue, which includes bond and stock trading, rose 23 percent. In June, Pinto said that trading revenue in the quarter was headed for a mid-teens percentage increase from a year earlier on strength in fixed income, especially rates trading.
Investment banking revenue fell 15 percent to $1.5 billion on lower equity-underwriting fees. The figure was in line with analysts' $1.49 billion estimate.
Profit from consumer and community banking, run by Gordon Smith, rose 4.9 percent to $2.66 billion on strength in mortgages. Revenue was $11.5 billion, up 4 percent from a year earlier.
Net income in asset management, run by Mary Erdoes, increased 16 percent to $521 million on lower legal expenses. Revenue fell 7.4 percent to $2.94 billion on weaker markets and lower performance fees. Commercial banking, the unit run by Doug Petno, posted a 33 percent profit increase to $696 million on higher loan balances.
Bloomberg Intelligence: Second-Quarter Earnings Preview
Citigroup Inc. and Wells Fargo & Co. are scheduled to report results Friday, while Bank of America Corp., Goldman Sachs Group Inc. and Morgan Stanley are due next week. Analysts estimate the industry will post its fourth-straight profit decline in the second quarter, according to data compiled by Bloomberg. The group saw profits fall 12 percent on a year-over-year basis in the first quarter.