July 2016 Table of Contents: The Experience Issue
By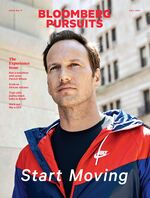 When it comes to luxury, we're doing rather than just buying. That means taking one-of-a-kind vacations, flying to far-flung restaurants, and seeking out personalized in-store shopping. This trend appears in surveys of the wealthy's spending habits and anecdotally, in my conversations with Bloomberg users. "How can I get late hours at a museum as a gift for my wife?" one wants to know. "Can I cook in the kitchen with a Michelin-starred chef?" another asks. Nowadays, spending is all about storytelling—it's fun to regale your co-workers with a tale about climbing a volcano, less so to show off your fancy new tie.
With that in mind, I'd like to welcome you to our experience issue. It's about getting out there and doing it—investing in memories, not goods. The adventures we feature include making pizza with a Neapolitan master, training with Brazilian jiu-jitsu's top black belts, and watching two baby silverback gorillas play in the wild.
Our cover subject, Patrick Wilson, ran his first marathon at the age of 39. The actor had always been into fitness, but the impending 4-0 gave him the extra motivation to take on those grueling 26.2 miles. For Wilson, running is meditative. "It's time that I can get away and think or not think," he told Bloomberg Pursuits digital editor Chris Rovzar as they jogged through Wilson's hometown of Upper Montclair, N.J.
In Jason Kelly's story about exercise-obsessed chief executive officers, workouts are less meditation, more masochism. Kelly, author of Sweat Equity: Inside the New Economy of Mind and Body, joined Strauss Zelnick, Take-Two Interactive's CEO, for an early morning training session. At companies across the world, Kelly says, group athletics are taking the place of after-work drinks.
Of course, you can't always be on. That's why we've included a recipe for a French 75 from an ace New Orleans bartender. As W.C. Fields once aptly said, "Sleep! The most beautiful experience in life. Except drink."
Cheers to that—and to a happy, active summer.
Seek
Kitesurf with a Pro in St. Bart's
Learn from one of the world's best in the Grand Cul de Sac marine reserve
The Most Exciting Restaurants in Sydney Right Now
Welcome to an excellent, unfussy era of Australian cuisine
This Is the Perfect Car for a Drive Through Big Sur
Cruise the California central coast in the most classy of new convertibles, the Rolls-Royce Dawn 
The $20,000 Diamond Bracelet You Can Wear With Jeans
A new classic by Tiffany that can stand out all on its own
NFL Star Julian Edelman's Favorite Spots—and Burgers—in L.A.
The Super Bowl-winning wide receiver on how he relaxes when he's not in the game
Tour a Breathtaking Family Compound in Brazil's Vacation Hotspot
Private beach access is just the beginning at this ultra-modern São Sebastião complex
David Rockwell Designed a Bar Cart for the 21st Century
Plus the essential bottles to stock it with
The Perfect Champagne Cocktail Is a French 75—With a Twist
Bubbles up!
How Berluti Makes Its One-of-a-Kind Shoes
A look at the nine-month-long process to turn rough sketches into works of art
Spend Three Amazing, Panda-Cuddling Days in Chengdu
A long, spicy weekend in this ancient Chinese city
The Intense Fitness Routines of High-Powered CEOs
No pain, no gain
Spend
Ten Pieces of Sports Gear to Get the Most Out of Your Summer
Whether you kayak, hike, play golf, tennis or cycle, with these goods, you'll be winning
Pursue
Patrick Wilson, Marathon Man
The Golden Globe- and Tony-nominated actor has pursued one elusive dream for years—and many painful miles
Face-to-Face With the Largest, Rarest Primates on Earth
Deep in the heart of Africa, Virunga National Park is home to the last of the silverbacks
See the Intense Training Regimen of Brazilian Jiujitsu Academies
Forget the beach—for thousands of adventurous sportsmen, training in Rio de Janeiro is the ultimate vacation
Learning to Make the Best Pizza in the World
The planet's top pie-making school is in Naples, where you can learn 300 years of Italian technique in 30 days. Adam Platt gives it a go
Five Top Squash Players Wear the Summer's Best Looks
Winning style, off the court
Chef Marcus Samuelson on How Soccer Is Like Cooking
How to get the most out of the beautiful game
Before it's here, it's on the Bloomberg Terminal.
LEARN MORE