CEO Scandals Dog Company Reputations Years After They're Fired
by
Stanford study finds news coverage of scandals lasts 4.9 years

Share prices declined an average of 3.1% after an incident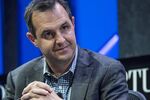 Damage from media coverage of LendingClub Corp.'s ouster of its chief executive officer after an internal review found abuses tied to the sale of a loan may take years to fade.
The fallout from a lying, cheating, embezzling or offensive CEO can linger to soil the reputation of a company by an average of five years after an incident has passed, according to a Stanford University analysis, being released this week, that studied 38 examples of bosses behaving badly from 2000 to 2015.
"You want to be aware of the consequences; this isn't the sort of thing you want to be blindsided by," said Dave Larcker, a Stanford professor who studies corporate governance and co-author of the report, titled "Scoundrels in the C-Suite." "Boards need to be aware of the impact."
The rise of activist shareholders and the increased liability of board members for corporate misdeeds increase the risk from directors either being tardy to catch CEO malfeasance or failing to establish proper controls to prevent or discourage unacceptable behavior. More than half of the studied CEOs were eventually fired or resigned.
Lying, Cheating
The offenses reviewed in the Stanford study, which included 13 examples of lying, eight sexual affairs and six incidences of questionable finances, resulted in an average of 258 news articles that spanned 4.9 years, the study found. Six of the CEOs expressed objectionable language or behavior, and five others aired controversial views in public.
Share prices declined an average of 3.1 percent as well, according to the study. The analysis noted that Hewlett Packard Co. stock dropped almost 9 percent in the three-day period following reports in 2010 that CEO Mark Hurd had a personal relationship with a female contractor.

LendingClub Plunges
On Monday, LendingClub shares plunged more than 25 percent in New York trading after an internal review found abuses tied to the sale of a loan and a failure to disclose a personal interest in an investment fund, leading to the departure of founder and CEO Renaud Laplanche. The company said the review prompted the termination or resignation of three senior managers involved in the sales of the $22 million of near-prime loans.
The Stanford study recommends that directors ensure they are prepared to respond to allegations when they surface, and use tools such as workplace surveys, third-party measurement and social-media monitoring to catch wind of trouble before it becomes a headline.
Other notable ousters during the timing of the study included Bank or Ireland CEO Michael Soden, who resigned in 2004 after viewing pornography on his work computer and Mozilla Inc. CEO Brendan Eich, who stepped down after being criticized for political contributions supporting an anti-gay marriage group. The 2012 resignation of Brian Dunn from Best Buy Co. for a personal relationship with an employee and Scott Thompson's departure from Yahoo! Inc. after questions about his resume also were in the period studied.
"From a board perspective, you want to know this stuff and take action," Stanford's Larcker said. "There's going to be a public-relations aspects you want to get in front of."
Before it's here, it's on the Bloomberg Terminal.
LEARN MORE