SEC Enforcement Division to Review LendingClub Disclosures
Board also uncovers failure to disclose interest in fund

Firm won't provide guidance as it resolves `material weakness'
LendingClub Corp. plunged in New York trading after an internal review found abuses tied to the sale of loans and a failure to disclose a personal interest in an investment fund, leading to the departure of founder and Chief Executive Officer Renaud Laplanche.
LendingClub declined 35 percent, the biggest drop since the company's 2014 initial public offering, to a record low $4.62 at 4 p.m., extending its drop for the year to 58 percent.
QuickTake How Peer-to-Peer Lending Works
"A key principle of the company is maintaining the highest levels of trust with borrowers, investors, regulators, stockholders and employees," Hans Morris, the newly named executive chairman, said in a statement Monday. President Scott Sanborn was named acting CEO, the company said.
The $22 million of near-prime loans were sold to Jefferies Group, which didn't take a loss because LendingClub later repurchased them, according to a person familiar with the matter who asked not to be identified discussing a private transaction. The sale was found to be "in contravention of the investor's express instructions," San Francisco-based LendingClub said in the statement.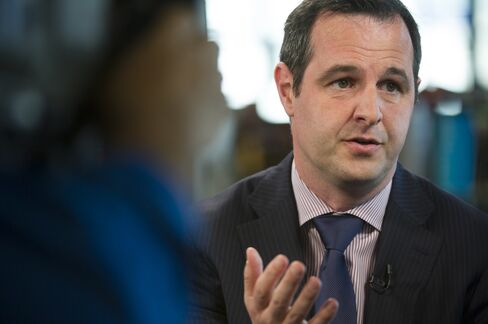 LendingClub is a pioneer in the business that matches borrowers with investors willing to finance their loans over the Internet. It has brought on Wall Street titans including former Morgan Stanley CEO John Mack and ex-U.S. Treasury Secretary Lawrence Summers to its board. Mary Meeker, a partner at Kleiner Perkins Caufield & Byers, is also a director.
"LendingClub is the bellwether in the industry when it comes to best practices, so investors are going to assume that this could be pervasive at second- and third-tier platforms, too," Cormac Leech, a senior analyst who specializes in peer-to-peer lending at London-based Liberum Capital Ltd., said in an interview. "Investors won't give the industry the benefit of the doubt."
LendingClub said it won't be providing revenue or earnings guidance for now as it seeks to resolve "material weaknesses" in internal controls. The event will "surely spook" banks that have increasingly become a part of LendingClub's funding base, and may result in additional scrutiny from regulators, Isaac Boltansky, an analyst at Compass Point Research & Trading, said Monday in a note.
The Securities and Exchange Commission is reviewing LendingClub's disclosures, a person familiar with the matter said.
Senior Managers
LendingClub said its remediation steps included the termination or resignation of three senior managers involved in the sales of the $22 million of loans. The company also said it began a review that found "personal interests held in a third-party fund while the company was contemplating an investment in the same fund."
At the end of December, Laplanche had a 2 percent stake in a holding company that participates in a "family of funds" that purchase loans from LendingClub, according to a regulatory filing. The funds are tied to Cirrix Capital, an entity managed by Andrew Hallowell's Arcadia Funds LLC that's invested in such loans for years, according to two people familiar with the investment. Hallowell didn't return a message seeking comment.
Lost Options
By resigning, Laplanche had to give up unvested stock options worth about $7.83 million, based on Friday's closing price in New York. Laplanche, 45, who was also chairman, didn't respond to calls and e-mails seeking comment.
LendingClub and its competitors have faced risks from lawsuits and tightened scrutiny from regulators in Washington. The firm went public in 2014, leading a revolution of financial-technology firms that investors hoped would modernize lending, as large banking rivals faced regulatory pressures after the 2008 financial crisis.
LendingClub's disclosure highlights "the risk of a rapidly growing business and is likely to further accelerate the pace of regulatory scrutiny of the sector," Mike Taiano, an analyst at Fitch Ratings, said in a note.
LendingClub also reported first-quarter results on Monday. The company posted net income of $4.1 million, or 1 cent a share, compared with a loss of $6.4 million, or two cents, a year earlier. The company had previously said that results would be released after the close of regular trading Monday.
Before it's here, it's on the Bloomberg Terminal.
LEARN MORE