politics
Trump to Hone Image, Raise Funds for Republican Candidates, Adviser Says
The front-runner dispatched Paul Manafort to the party's final meeting ahead of the Republican convention.
By , , and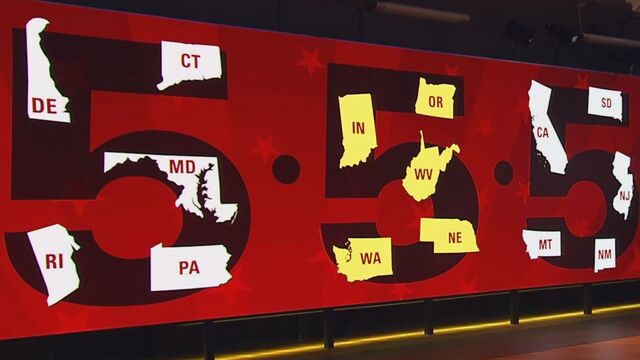 Outsider presidential candidate Donald Trump sent emissaries to soothe tensions with the GOP's pre-eminent insiders Thursday, and tried to convince them that his bombastic demeanor is merely stagecraft, that his high negatives in the polls can be overcome, and that if he's the nominee, he'll raise money for the party and help the Republicans locally and nationally to win elections.
A running theme in the hallways at the Republican National Committee meetings this week has been irritation with the billionaire front-runner's party-bashing rants of late.
During a private gathering Thursday, a senior Trump aide made an effort to mollify the RNC members, saying the personalities of "private" Trump and "public" Trump will begin to merge in coming months.

"When he's sitting in a room and he's talking business and he's talking politics and it's a private room, it's a different persona," Paul Manafort told about 100 people during a campaign presentation. The meeting was closed to the press, but an attendee shared a recording of Manafort's remarks with Bloomberg.
"When he's out on stage, when he's talking about the kinds of things he's talking about on the stump, he's projecting an image that's for that purpose. The two, you'll start to see come together in the course of the next several months," Manafort said.
It's part of Trump's campaign model, he said.
Trump has repeatedly called the party's delegate selection process "rigged" and has also promised a "rough July" if changes aren't made before the national convention in Cleveland, Ohio.
But Manafort reversed that Thursday.
"He's not interested in changing the rules in this process. He's winning. He's not interested in changing the rules," Manafort told the RNC members.
Trump does, however, want to start a conversation about changing them in the future, he said.
Trump is, Manafort said, "concerned about what he considers to be a transparency issue, where the voters are voting for something and the rules might be something else regarding selection of the delegates."

Manafort, whom Trump hired in late March to oversee his delegate strategy, promised the party leaders that Trump would start running a more traditional campaign that would include raising money for the national party.
"He's made it very clear to me that I'm to make it clear to you that he envisions preparing a campaign operation that will be what you all are historically used to," Manafort said. "We're going to pull together all that's needed. He is prepared to work with the RNC and the committees necessary to raise the money necessary so that we will be well funded."
The offer was made after the New York Times reported that the RNC was scaling back financial commitments in some states, suggesting that fundraising had slowed.
Manafort also made the case that it was in the best interest of the party not to proceed with a contested convention.
"A fractured convention would be the destruction of the Republican Party," Manafort said. "We don't a want a fractured convention. We want to put this thing to bed early."
Trump is 3 million votes ahead, Manafort noted. "We think that says what needs to be said," he added.
Manafort also argued that although both Trump and Democratic presidential contender Hillary Clinton have "high negatives" in the opinion polls, "we think there's a big difference between the two."
"Clinton's negatives are serious because they're character based," Manafort told the gathering. "People don't trust her. People don't like her. They think she's a liar. They think she does things only for her own interests."
Those who have a negative view of Trump simply don't like his personality, he said.
"People don't know what to make of him and some of the speeches he's given. The style he has. Some of the ways in which he's presented the issues. But it's his personality that people have trouble with."
He added, "Fixing personality negatives is a lot easier than fixing character negatives. You can't change someone's character. But you can change the way someone presents himself."
Campaigning in Harrisburg, Pennsylvania, on Thursday, Trump himself signaled that he may not be entirely ready to abandon his shoot-from-the-hip persona just yet.
"At some point I'm going to be so presidential that you people are going to be bored, and I'll come back as a presidential person and instead of 10,000 people I'll be talking to 150 people. And they'll say, 'But boy, he looks presidential,'" Trump told the crowd at a rally.
"My wife is constantly saying, 'Darling, be more presidential.' I just don't know that I want to do it just yet," he added. "We have a job to do. I have two leftovers I have to finish up."
Trump is the only one of the three GOP presidential candidates who didn't show up in person to court the influential RNC members at their final meeting before what could well be a contested national convention this summer.
Texas Senator Ted Cruz and Ohio Governor John Kasich both spent part of Wednesday attending a reception and speaking to members in one-on-one meetings.
Trump instead sent former rival Ben Carson, who endorsed him after dropping out of the race, and a team of strategists and lawyers to make a presentation for him.
In an interview with reporters, Carson dismissed questions about why Trump hadn't visited the RNC meeting. He also continued to criticize the party's delegate selection system.
"I think it stinks and it is manipulative," he said.
Carson criticized each state for having its own set of rules to award convention delegates.
"The only reason you would want to do that is if you want to manipulate the system," he said. "You wouldn't do that if you wanted to be clear and transparent."
Carson said the Trump presentation was one-way and didn't include a question-and-answer session with RNC members.
Earlier Thursday, RNC leaders rejected a proposal that would have changed rules for convention in July. The controversial proposal would have called for the convention to shift from the U.S. House rules the party's gatherings have traditionally used to Robert's Rules of Order. Such a change might have made it harder for party insiders to draft a so-called "white knight" if there is a contested convention.
RNC Chairman Reince Priebus was opposed to the change and had repeatedly said that rules governing the convention should be made by delegates assembled in Cleveland, including those at committee meetings held the week before the convention.
That message has been, in part, to counter Trump's charges that the party establishment is trying to derail his candidacy and make it easier for a fresh presidential candidate to emerge at the convention.
"We're basically in the seventh inning of the ballgame and I don't think it's right that you would change the rules of the game," RNC member Randy Evans of Georgia told the Rules Committee. "It's extremely dangerous."
(
Adds new quotes and description of RNC meeting throughout.
)
Before it's here, it's on the Bloomberg Terminal.
LEARN MORE