Mr. Erdogan Will See You Now: Welcome to Banking's Toughest Job
by
Governor Cetinkaya took over from Erdem Basci on April 19

Former governor used exotic tools while defending independence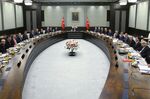 Erdem Basci's biggest accomplishment may be that people still talk about the independence of Turkey's central bank.
The 49-year-old former academic was one of the world's most innovative and unpredictable central bankers during a five-year term that ended Tuesday and wasn't renewed. He was also one of the most beleaguered, criticized by investors for missing inflation targets every year, and berated by his prime minister-then-president, Recep Tayyip Erdogan, as a traitor, a failure and the government's primary obstacle to reaching ambitious economic goals.

Basci's departure leaves his replacement, 40-year-old Murat Cetinkaya, with one of the toughest jobs in central banking. He'll have to manage Erdogan's pressure for rapid cuts in borrowing costs, while also showing enough independence to maintain the confidence of foreign investors who own more than $82 billion of Turkey's stocks and bonds.
Increasingly Complicated

Basci attempted to strike that balance by using a series of increasingly sophisticated policy instruments, which Tim Ash, head of emerging-market strategy at Nomura International Plc in London, described as a "Nobel or nowhere" strategy. "Basci is brilliant in many respects, but in the end I guess a central bank has to be judged by results on its primary target, inflation," he said. "The history books will judge him harshly there."
The former governor's biggest innovation was eschewing a benchmark rate in favor of a so-called corridor, a three-tiered framework that allowed him to adjust the amount and cost of lira funding daily. When global liquidity was ample and risk appetite high, Basci used the low end of the corridor to cut borrowing costs and keep the currency from appreciating excessively. "The Banker," a monthly financial publication, named him Central Bank Governor of the Year in 2012.
Policy Reversal
When the U.S. signaled that it would start scaling back monetary stimulus and conditions reversed the following year, Basci used the top end of the corridor to raise costs, bolster the currency and rein in inflation. That's when the trouble really started.
Erdogan and his allies began attacking the governor for impeding economic expansion by keeping rates too high, while investors accused the bank of keeping them too low and losing control of inflation. The situation was complicated by an unbridgeable ideological divide: Erdogan argues that high interest rates cause inflation, contrary to mainstream economic thinking on the matter, which says the opposite.
The International Monetary Fund eventually called on Basci to return to positive real interest rates to close a "credibility gap" over repeated failures to meet his inflation target.
Bound to Fail
Basci's pursuit of competing objectives left him bound to fail at some of them, according to Murat Ucer, an Istanbul-based economist at Global Source Partners Inc., who cited the so-called impossible trinity. That refers to a widely-held tenet in economics that a stable currency, an independent monetary policy and free movement of capital aren't all achievable at the same time.
"Basci's biggest legacy – and perhaps the strength in the eyes of many -- was trying to go around the impossible trinity," Ucer said by e-mail. "But to me, that was his biggest weakness. The impossible trinity is called so for a reason."
The shift to a monetary policy with multiple objectives can be traced back to the aftermath of the global financial crisis in 2008. The bank added financial stability to its mandate list without dropping low inflation as its top priority, and expanded its tool set to target multiple goals at the same time.
Global Shift
Burcu Unuvar, an economics lecturer at Ankara's Bilkent University, sees the transformation as a reflection of a global shakeup in thinking about central banks amid extraordinary crisis responses. Although chasing many objectives simultaneously wasn't a bad idea, Turkey's implementation of the policy was poor and the political pressure made things worse, she said.
"Governor Basci has been under a significant amount of political pressure, which limited his room for maneuver," she said. "Given a weakening democracy culture over the past decade, it's clear why the central bank governor would take his share of increasing pressure, like any other person in the country."
An electronic engineer by education, Basci was viewed by colleagues as a consummate scholar. He earned his bachelor's degree from Middle East Technical University in Ankara, one of the nation's top colleges. He has an advanced degree in economics from Bilkent, where he was also top of his class in the MBA program. He received another advanced degree in economics from Johns Hopkins University in the U.S., followed by a PhD from Bilkent in 1995. He joined the central bank in 2003 as a deputy governor, after working as an adviser to Ali Babacan, Turkey's former economy czar and a high school friend.
Incoming Governor
Cetinkaya's economic credentials are less solid. The incoming governor studied international relations and sociology at Istanbul's Bogazici University, another of the nation's top schools. He is pursuing an advanced degree in international finance and the economy from the same university, according to an English-language version of his resume on the bank's website. The field of his advanced study was removed from the Turkish resume last week.
Pressure to lower rates won't necessarily go away, but the new chief will probably be more prone to cut than Basci, according to an official familiar with the process that led to Cetinkaya's appointment. No governor will be 100 percent independent, and it would be unrealistic to expect anyone to ignore Erdogan's calls for lower interest rates, the person said, speaking on condition of anonymity as he was discussing private matters.
The risk is that the bank may cut too aggressively, leaving Turkish assets exposed to speculative attacks and forcing an aggressive U-turn in policy later, the person said. The first monetary policy committee meeting chaired by Cetinkaya will be held on Wednesday.

Summer Daydreaming
One sunny day in the summer of 2014, as government attacks on his policies and his person were at a crescendo, Basci sat beside the Bosphorus in Istanbul having tea before a public speech. Inadvertently, he let slip that he was looking forward to the end of his term as governor and going back to university. At the time, rumors were swirling that he was even considering resigning, something he always denied. "Don't you write this in your stories," he said of his musing about a quieter life, smacking this reporter on the knee.
"Perhaps his great achievement was actually defending the Turkish central bank's independence," said Ash at Nomura. "On a personal level, I remember him as a very human, balanced, normal person, who treated all people with respect, unaffected by the job. The role did not go to his head."
Before it's here, it's on the Bloomberg Terminal.
LEARN MORE