Yen Surge, Fed Gloom Threaten to Trap Japan Funds in Low Yields
by , , and
If yen rises, `difficult to pursue foreign bonds:' MassMutual

Currency has gained 8% in 2016, most among Group-of-10 peers
The prospect of a stronger yen and U.S. yields staying lower for longer looks set to slow Japanese fund managers' global hunt for yield.
 
Japanese investors turned net sellers of U.S. Treasuries in January for the first time in seven months and also offloaded U.K. and German bonds, Ministry of Finance data showed. The yen has strengthened about 8 percent this year against the dollar, the most among 10 major currencies, and strategists have been trimming forecasts for declines as the Bank of Japan's negative rate policy only served to heighten anxiety over the global economy and demand for haven assets. The cost of hedging overseas investment is the highest since 2009 by one measure.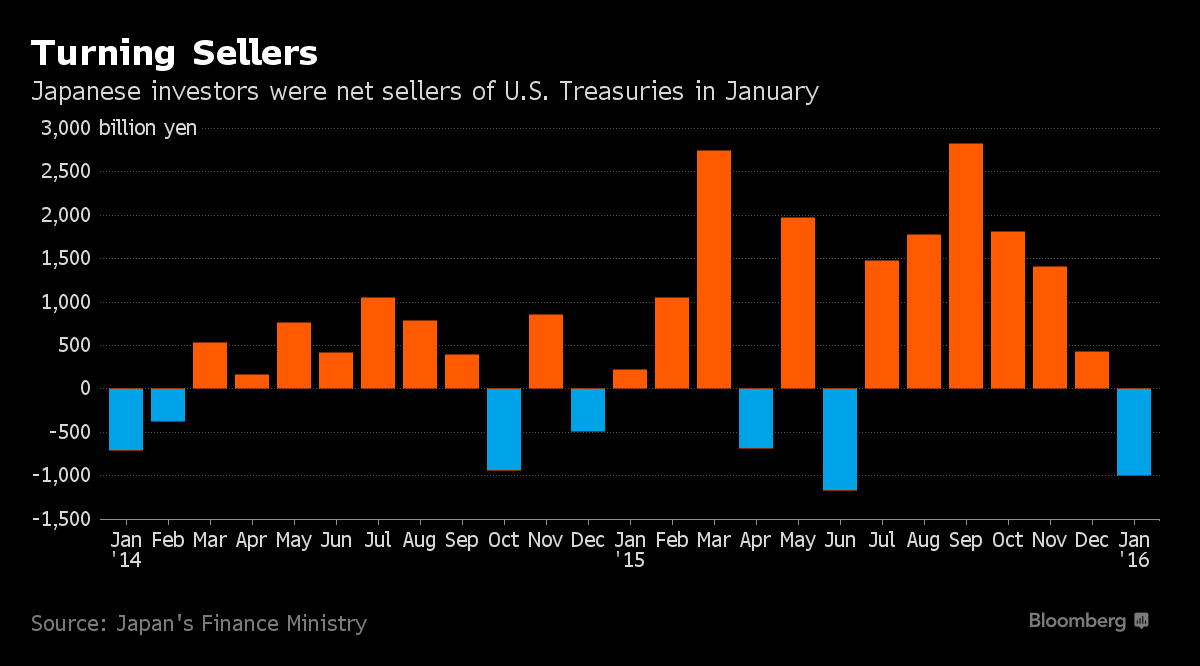 The Federal Reserve Wednesday held off from raising rates and scaled back forecasts for increases, sending the dollar to its lowest in eight months against a basket of currencies, while the benchmark 10-year U.S. Treasury yield has fallen the most this week since January. Eisuke Sakakibara, a former currency boss at Japan's Finance Ministry, sees a yen surge to 105 per dollar, from 111.55 as of 6 a.m. in London, in the second half of this year as the outlook for the world economy worsens. Japan's 10-year yield reached a record low minus 0.135 percent Friday.
'No Guarantee'
"U.S. yields are already falling and if the yen rises, it would be difficult to pursue foreign bonds," said Satoshi Shimamura, head of rates and markets, investment strategy department at Massachusetts Mutual Life Insurance Co. in Tokyo. "It seems too complacent to take a stance to go outbound just because their yields are higher than those in Japan. There is no guarantee the yen will play favorably and decline."
Treasury 10-year yields have fallen since the Fed in December lifted its lending benchmark for the first time in almost a decade and issued forecasts signaling it could raise rates four times this year. The 10-year U.S. Treasury yield tumbled six basis points on Wednesday after the Fed's statement, while the yen closed 0.6 percent higher against the dollar.
Modest overseas yields may renew Japanese investors' appetite for domestic bonds, especially in superlong maturities which still offer positive yields, according to Takafumi Yamawaki, the chief rates strategist in Tokyo at JPMorgan Chase & Co.
Shifting Focus
Ten-year Treasury notes yield just 0.83 percent when fully hedged for swings in the dollar-yen exchange rate, instead of 1.88 percent, based on Bloomberg calculations using currency forwards. 
"As U.S. yields have fallen considerably, it may shift focus back to Japan's superlong JGBs from foreign bonds and support them," said Yamawaki. About an average of 50-60 percent of foreign bond investment by life insurers is currency-hedged, he estimated. High hedging costs may reduce outbound investment by the industry this year by 20 percent from last year to around 2 trillion yen ($18 billion), he estimated.
While Japan's benchmark 10-year yield fell to a record on Friday, falling below the negative deposit rate implemented by the BOJ last month, those on 20-, 30- and 40-year JGBs were still positive at 0.345 percent, 0.55 percent and 0.645 percent respectively.
BOJ Governor Haruhiko Kuroda said this week the central bank has quite a lot of room to cut its key deposit rate further and theoretically it could go to minus 0.5 percent.
Hedging Costs
Prospects for U.S. monetary tightening had underpinned demand for the greenback. Dollar hedging costs have soared for Japanese investors as the gap between the three-month London interbank offered rates for yen and dollars widened to 64.6 basis points last week, the most since 2009, while cross-currency basis swaps showed costs to borrow the dollar for yen holders have surged four-fold from two years ago. 
"We are eyeing overseas with negative rates making it difficult to get yields domestically," said Tatsuya Ishizaki, an investment and loan group leader at Sompo Japan Nipponkoa Insurance Inc. in Tokyo. "But currency volatility is high and the risk of yen strengthening is heightening, so we are keeping a cautious stance on overseas investment."
Before it's here, it's on the Bloomberg Terminal.
LEARN MORE