Mr. Yen Called the Rally, Now Sees Gain Toward Intervention Zone
Ex-MOF Sakakibara correctly predicted advance to 15-month high

Yen remains 2016 top performer, even as rally stalled in March
When the yen started 2016 as the developed world's best performer, most analysts were taken by surprise. They'd been forecasting a record-extending fifth year of declines as central bank easing weighed on the exchange rate.
Not Eisuke Sakakibara. The former Finance Ministry official in charge of currency intervention correctly predicted Japan's currency would rally toward a more than one-year high of 110 per dollar. And now the man dubbed "Mr. Yen" for his ability to influence the exchange rate in the 1990s is more bullish still, seeing a surge of about 6 percent to 105 in the second half of this year as the outlook for the world economy worsens.
"The yen's appreciation isn't the result of monetary policy or because Japan's recovery is strong, it's that the world economy has become very disorderly," Sakakibara, who is currently a professor at Aoyama Gakuin University, said in an interview Tuesday in Tokyo. "The problems in the Chinese economy won't be so easy to sort out, and global growth is stagnating. In that environment, the yen will necessarily strengthen. We're in the first phase of that now."
Economic Impact
A weaker exchange rate has been a linchpin of Prime Minister Shinzo Abe's program to revive the economy. It helped raise inflation to within half a percentage point of the Bank of Japan's 2 percent target in 2014, and boosted Japanese stocks to an eight-year high in August.
So further gains may spur the Ministry of Finance into action, according to Sakakibara. A climb to 105 per dollar is likely to prompt Japanese officials to intervene verbally to try and talk it down, while gains past 100 could spur sales of the yen to weaken it, he said.
The yen climbed as much as 1.7 percent Thursday to 110.67 per dollar before quickly paring gains just after 8 a.m. New York time. The move spurred speculation that the Bank of Japan is checking exchange rates with banks, an action that some traders see as a prelude to possible intervention. The currency traded at 111.34 per dollar as of 10:56 a.m.
Sakakibara's bullishness this year contrasts with the consensus amongforecasters, who started 2016 projecting a decline to 125 per dollar by year-end and now expect a drop to 120.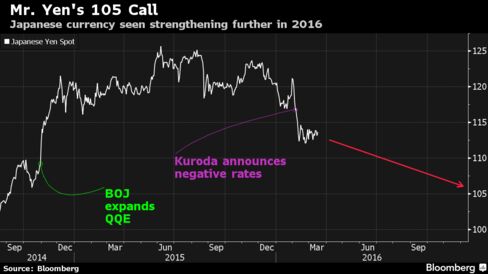 A day after the yen reached a 15-month high of 110.99 per dollar on Feb. 11, Japan's Finance Minister Taro Aso stated for the second time in four days that currency movements had been "rough," while adding that the ministry will take the "necessary response" if needed. Consumer-price gains have been stuck near zero for more than a year amid a slump in crude oil prices, while the Topix index is the worst-performing developed-world equity index.
Intervention Risk
Sakakibara expects more comments similar to Aso's when the yen strengthens beyond 110, but says there's no risk of an actual move to sell the currency until it breaks 100. Even then, for intervention to be effective, it would require cooperation with U.S. officials -- something the 74-year-old says is unlikely to be forthcoming except in "extreme circumstances."
An exchange rate as strong as 105 would be manageable for Japan's exporters and for the economy, he said.
While Japanese manufacturers assumed 118 yen per dollar for their business plans on average in the six months through March based on the BOJ's Tankan survey conducted in December, a Cabinet Office report this month showed the exchange rate required for exporters to be profitable is 99 yen.
Haven Bids
The gains in Japan's currency this year have come as economic turmoil in China sparked losses of as much as $8.6 trillion in global stocks by Feb. 11, spurring demand for haven assets. The nation's current-account surplus -- the broadest measure of trade flows -- has surged by the most in at least three decades, relative to the economy, boosting the yen's appeal for investors seeking safety.
Japan's currency strengthened versus all its major peers in February, even after BOJ Governor Haruhiko Kuroda surprised investors for a third time on Jan. 29 by introducing a negative-rate policy. The dollar was also dragged lower as investors pushed out bets on how many times the Federal Reserve would raise interest rates this year.
The yen climbed to its strongest level in almost a month on Thursday, a day after Fed officials cut their U.S. rate-hike forecast to two moves this year, from the four they projected in December. The odds of any rate increase at all this year dropped to 68 percent in the futures market, from 80 percent the previous day.
Negative Rates
Kuroda said this week there was theoretical room to lower the BOJ's deposit rate to minus 0.5 percent in the event of a major shock, when questioned in parliament about the scope for further easing.
Sakakibara, who directly preceded Kuroda as Japan's vice finance minister for international affairs until 1999, said he expects more stimulus in 2016, including further cuts to the minus 0.1 percent deposit rate. He sees deepening economic stagnation lowering inflation globally and says that may prevent the BOJ from stoking consumer-price gains to 2 percent.
He also sees the same dynamic preventing the Fed tightening policy more than once this year -- another factor that will keep the yen elevated against the dollar.
"It's become extremely difficult for the Fed to raise rates," Sakakibara said. "Even if things like employment are improving, the U.S. is not insulated from weakness in the global economy caused by China or Europe. Fed officials must realize they can't just raise rates again and again based on strength in the U.S. economy alone."
Before it's here, it's on the Bloomberg Terminal.
LEARN MORE