Autos
Maserati Levante World Debut: $76,000 V6 SUV to Challenge BMW, Bentley
It looks and feels about as you'd expect from a member of the Maserati family.
by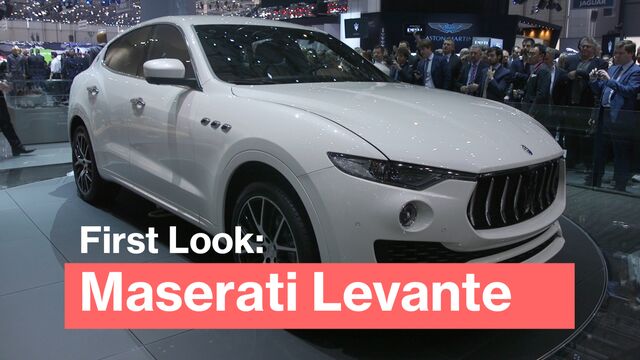 Tuesday at the Geneva Motor Show, Maserati launched the Levante, the long-awaited SUV from the century-old Italian brand.
After an intricate presentation involving an aluminum can of "wind," projected video footage shot in dark forests and pricked by the screams of what sounded like a super-car engine, and a quote from Maya Angelou, Ferrari scion Lapo Elkann was the first person to sit in the 75,900 CHF ($76,000) machine.

He embraced brand boss Harald Wester when he got out of the car. It seemed a good sign.
"It brings something new and dynamic to a fading, tired and stale environment," Wester told reporters, referring to the easterly Levant wind that blows across the Mediterranean Sea and, by extension, over his new SUV. "Levante is a free spirit. It stimulates change."

The car will have to do some heavy lifting, especially in light of new SUV offerings from Bentley, Porsche, and Jaguar that have all sought to capitalize on what Wester quantified as "40 percent growth" in the luxury SUV segment over the past five years.

Unlike those, which boast much larger engines, Maserati has given this SUV a standard 430-horsepower, twin-turbo V6 engine. A 275-hp, turbo diesel version will also be available in some markets.
Levante comes with a Maserati eight-speed transmission on all-wheel drive and will hit 60 miles per hour in 5.2 seconds, executives say. Such a time, on paper at least, falls between the 6.1-second sprint time of the $54,700 BMW X5 and the 4.0-second time of the $98,800 BMW X5 M. It's a hair slower than Bentley's 5.1-second Bentayga.

Maserati executives say the SUV has full off-road capability and the lowest center of gravity in its class. It is balanced perfectly, 50/50 from front to rear, which enables better handling around corners. There are five different levels of ground clearance on this SUV, plus an extra one for parking.
From the outside, it doesn't look over-styled, which is surprising for a brand that tends to veer in the more-is-more direction. There are three iconic Maserati shark-gill air vents on the front, a trapezoidal C-pillar with the Maserati logo on the side, and large, frameless door windows. The back window is tapered and streamlined through the entire rear. The headlights are also tapered, separated in two, with the upper unit connected to the radiator grill. It all works well together.

On the inside, the Levante borrows architecture from Maserati's Quattroporte and Ghibli sedans. It comes in hand-wrapped leather and 100-percent Zenga silk trim, plus enough seating and rear room for five adults. It looks and feels about as you'd expect from a member of the Maserati family.
Levante will go on sale in Europe in May. Buyers in North America will need to wait till September.




Before it's here, it's on the Bloomberg Terminal.
LEARN MORE