Moviemaking, Without Superheroes
In an age of blockbuster films, the U.K.'s Working Title aims small.
By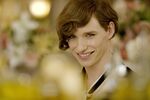 As film pitches go, The Danish Girl—about a transgender artist in 1920s Copenhagen—should have been a hard sell. Instead, British producers Eric Fellner and Tim Bevan, co-chairmen of Working Title Films, thought they'd spotted a rare gem. They quickly greenlighted it in 2014, casting Eddie Redmayne as a repressed husband discovering his true self as a woman.
That was before Caitlyn Jenner thrust the transgender movement into the headlines. It was also before Fellner and Bevan knew their previous film with Redmayne, The Theory of Everything, would be a runaway success in 2015. Redmayne won a best actor Oscar for his portrayal of physicist Stephen Hawking in a film that cost $15 million to make and grossed $123 million at the box office. Many critics expect Redmayne to get another Oscar nomination for The Danish Girl.
Churning out hits whose appeal isn't immediately obvious has been Working Title's hallmark, beginning with Four Weddings and a Funeral in 1994. Unlike Britain's Heyday Films, producer of the Harry Potter movies, or Eon Productions, the London-based outfit behind the James Bond flicks, Working Title has built its reputation around often-quirky smaller productions with relatively modest budgets. Still, its films, including Bridget Jones's Diary, Notting Hill, and Shaun of the Dead, have taken in more than $6.5 billion at the box office and won 11 Oscars since Fellner and Bevan teamed up in 1992.

Working Title is basically a Hollywood production house in London. Technically, it's a subsidiary of Comcast's Universal Pictures. Yet Fellner and Bevan aren't employees of Universal and run the company independently. That gives Universal first look at financing and distributing films they're working on. If it's not interested, the pair can take films elsewhere.
Fellner calls the arrangement a "hybrid model" that has allowed Working Title to strike occasional deals with Universal rivals, as it did with Vivendi's StudioCanal to finance 2011's Tinker Tailor Soldier Spy. It will take a similar tack this year with Baby Driver, starring Kevin Spacey and Jon Hamm and written and directed by Edgar Wright, whose zombie farce Shaun of the Dead was a surprise hit in 2004. Working Title teamed with Sony's TriStar Pictures and indie studio Media Rights Capital on Baby Driver after Universal took a pass.
Fellner says the $15 million budget for The Danish Girl made it a tolerable gamble when coupled with Universal's distribution muscle. The film so far has grossed $14.5 million and will likely get a boost from the awards season buzz. "If you make the film at a low enough entry price, you can usually find a way to reduce the risk to an acceptable level," he says. "But the idea of 'risk-free' doesn't really exist. The man or woman who thinks they've cracked it is just on the verge of failure."
In the past, to spread risk and satisfy their creative souls, Fellner and Bevan would crank out four to five movies a year, a mix of mainstream fare such as Mr. Bean's Holiday and more independent filmmaker-driven stories such as The Theory of Everything. Fellner says growing consumer interest in pay-per-view and streaming services such as Netflix may change that calculus. "Maybe some of the more specialist films we'll make with digital platforms," he says.
Having smaller budgets doesn't necessarily mean Working Title's films can be turned out more quickly than rivals' pricey blockbusters. Take Everest, the company's 2015 hit. After Working Title spent more than a decade developing the script, Fellner says Universal wanted the pair to bring in some outside money to reduce the risk. They turned to Walden Media, owned by Anschutz Entertainment Group, and Cross Creek Pictures for more financing and used Universal as the distributor. Everest cost $55 million and took in $202 million at the box office.
One of Working Title's advantages is being in the U.K., where film production has soared thanks to generous tax breaks. Film companies can reclaim as much as 25 percent of any U.K. production spending back from the government. Such incentives helped film production soar to a record £1.4 billion ($2 billion) for the 12 months ended Sept. 30, 2015, a 39 percent jump vs. the same period three years earlier. "International filmmakers are coming to the U.K. because of the stability and competitiveness of the tax credit but also because of the skills of the crews," says Adrian Wootton, chief executive of film promotion agency Film London and the British Film Commission. He says Working Title's steady production stream has been a key driver of industry growth. "They're progenitors," he says. "They've helped foster the talent pool everyone is now drawing on."
The bottom line: No action flicks needed: Working Title's offbeat films have grossed more than $6.5 billion at the box office and won 11 Oscars.
Before it's here, it's on the Bloomberg Terminal.
LEARN MORE