The Truly Independent Filmmaker
To make the movies she wanted, Kelly Reichardt had to go it alone.
By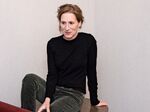 In the winter of 1994 director Kelly Reichardt almost missed the Sundance Film Festival debut of her first film because she was stuck on a train.
"I couldn't afford the plane tickets," says Reichardt, shrugging her slight shoulders in a Manhattan cafe. "The train froze on the tracks and took five days instead of three. We got there just in time for our premiere. We hadn't showered in five days. We were total grease heads."
Reichardt was one of two women filmmakers at the Park City, Utah, festival that year. Her feature, River of Grass, which she describes as "a road movie without the road, a love story without the love, and a crime story without the crime," got strong reviews, though some of her peers were not so supportive.

"I remember Kevin Smith was there with Clerks," she says, sipping a chamomile tea. "He's in this book [Spike, Mike, Slackers & Dykes by John Pierson] talking about my film and how it's an example of a film that should have never been made. They say that it looks like it was shot on postage stamps. The guy who made Clerks …" She pauses for wry emphasis: Clerks was memorably low-fi. "That's the kind of friendly Sundance camaraderie back in the day. But there were other, nicer folks."
That year, the festival launched the careers of the fanboy kingpin Smith (Clerks, Chasing Amy), as well as perennial Oscar contender David O. Russell (Spanking the Monkey, Joy) and documentarian Steve James (Hoop Dreams, Life Itself), to hard-earned, near-immediate acclaim. For Reichardt, it was the beginning of a more circuitous journey that, like her ill-fated train ride, took much longer than necessary. Although River of Grass was later nominated for three Independent Spirit Awards, she was unable to make a second film for 12 years. Reichardt returns to Sundance this year with a restored print of her first film, as well as her sixth feature, Certain Women, starring Laura Dern, Kristen Stewart, Michelle Williams, and newcomer Lily Gladstone. Immediate acclaim, however, has remained out of reach.

Reichardt's gender has a lot to do with this. The industry continues to wrestle with systemic gender discrimination, as the Sony e-mail hack revealed. Salary disparities affect even Hollywood's most bankable woman, Jennifer Lawrence. Exactly zero of 2015's 10 highest-grossing films were directed by women—as well as zero of the top 10 movies listed by the National Board of Review and the American Film Institute. According to the Center for the Study of Women in Television and Film, 85 percent of films released commercially in 2014 were directed by men; 80 percent were written by men; 92 percent were shot by male cinematographers. In October the Equal Employment Opportunity Commission opened a formal investigation into Hollywood's hiring practices.
So far, the conversation has followed the money: When will a woman direct a Marvel movie? A sci-fi epic? Why, after the smash-hit success of the woman-helmed Frozen and Kung Fu Panda 2, was not a single animated film directed by a woman last year? Why did Sundance darling Colin Trevorrow get to direct Jurassic World after making only one small-budget film? "It feels like a different conversation, because that's not about telling the stories that matter to me," Reichardt says, adding that the debate often feels like women are asking, " 'Can I make a movie as crappy as those movies?' How awesome."
But discrimination doesn't just touch women who want to be the next Steven Spielberg. Unlike Smith (who comes back to Sundance this year with his 12th film, Yoga Hosers, starring his daughter, Harley Quinn Smith, opposite Johnny Depp's daughter, Lily-Rose Depp), Reichardt struggled to convert promise into a career. A project Jodie Foster was set to produce died in development. "I had 10 years from the mid-1990s when I couldn't get a movie made," she told the Guardian in 2011. "It had a lot to do with being a woman. That's definitely a factor in raising money." She couch-surfed for five years, eventually taking a job teaching at Bard College.
Reichardt brought her second film to Sundance in 2006. Old Joy, a hushed, meditative ramble of a film set in the Pacific Northwest with no stars and ominous Bush-era overtones of bygone youth, was made for only $40,000. It was one of the festival's hits, landing on scores of critics' yearend top-10 lists.
Reichardt's next film, the 2008 heartbreaker Wendy and Lucy, was her true breakout. Starring Williams as a vulnerable woman who loses her dog and anything resembling a safety net, it evoked the fearful tension of America as it fell into recession. The fraught, elegant film earned a Cannes premiere and a slot on the American Film Institute's Top 10 Films of the Year list. New York Times critic A.O. Scott championed the movie and named Reichardt a leader of a "Neo-Neo-Realism" movement.

In a business dominated by global franchises, director-driven films not based on branded intellectual property are hard to finance. Personal films by female filmmakers are doubly difficult, but Reichardt's ability to keep budgets low and attract top-name talent has been a virtue.
Wendy and Lucy was the first of her four collaborations with the Brooklyn, N.Y.-based studio Filmscience, which went on to produce her oblique Oregon Trail Western Meek's Cutoff, the tense eco-thriller Night Moves, and Certain Women. On the strength of Reichardt's reputation and her latest movie's cast, the company was able to presell global distribution rights for the film to Sony Pictures Worldwide Acquisitions before its Sundance premiere. In Park City it will look for a domestic-release partner.

"We've all been incredibly fortunate in that amazing actors want to work with Kelly and make big concessions to do so (both financially and in terms of amenities they may be accustomed to on bigger films)," Filmscience producers Neil Kopp and Anish Savjani wrote in an e-mail. "We operate in a gray area—director-driven films in a celebrity-hungry market," they added. "This is the line we walk every day."
Actors such as Jesse Eisenberg (who starred in Night Moves after The Social Network) and Stewart (who stars in Certain Women after having made her name in the Twilight movies) are drawn to Reichardt because she offers them roles Hollywood does not.
"I'm the one who was lucky to work with Kelly, not the other way around," says Williams, who also starred in Meek's Cutoff. "When I saw Old Joy, there wasn't a question of her gender, of the size of the film, or the crowds it may or may not draw. I wanted to be directed by that keen and subtle eye. I wanted to let mystery hang in the air of a film. I wanted the dignity and space she allowed her characters."

"Kelly is one of the true pioneers in fierce, make-it-your-way, independent filmmaking," Dern says. "She'll make movies however she needs in order to allow for that kind of freedom."
Reichardt's good friend and producer, the filmmaker Todd Haynes, was nominated for best director at this year's Golden Globe awards for his film Carol, which was nominated for best drama. If Reichardt were a man, he says, "the integrity of an entire and an extraordinary body of work would have been more visible by now. It's very hard to come up with other filmmakers in the independent film community who've made such uncompromising work so consistently, with such a clear, precise, and resonant vision."
Instead, Reichardt's work has quietly, steadily accrued greater resonance, much like one of her enigmatic films. "I'm usually not moved in the moment during her films," says Sundance Festival Director John Cooper. "It's more of a collective effect. You feel like you watched something quietly become powerful."

This year, 22 of the 54 films in competition at Sundance, or 41 percent, were directed by women. But critics have proclaimed it the "year of the woman" before, and despite the isolated success of directors such as Kathryn Bigelow, Ava DuVernay, Jennifer Lee, and Elizabeth Banks, the overall statistics have barely budged. Reichardt, who's been interrogated about the role of women in Hollywood since her debut 22 years ago, says she feels a bit trapped by the unchanging discussion. "This is a losing conversation for any woman to have—to hell with the women-in-cinema thing," she says, sighing more out of fatigue than pique.
Reichardt has always preferred to let her work speak for itself, so she perks up when asked to describe what's at stake for the character in her new film. Set in Montana, Certain Women features a hostage situation and feuding lawyers. But Reichardt says it's less about topical conflict and more about women finding ways to live their particular lives. She could be describing her career.
"It's about small struggles, just small, personal politics with strangers, with neighbors, with husbands," she says. "And I think it might be about entitlement on some level: what some people feel they have coming to them and the expectations other people just don't have."
Before it's here, it's on the Bloomberg Terminal.
LEARN MORE