Bragging Rights
Clinton and Sanders Go Toe to Toe in Nevada
The Democratic presidential candidates made similar cases to supporters gathered at an event hosted by Senate Minority Leader Harry Reid.
By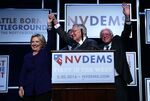 Hillary Clinton and Bernie Sanders converged in Las Vegas on Wednesday to make the same argument, with each saying they're the best suited not only to win the White House but help Democrats win further down the ballot. 
"All of us want to make sure that we defeat right wing extremism that we make certain that no Republican becomes president of the United States," Sanders told Nevada Democrats gathered at a dinner organized by retiring Senate Minority Leader Harry Reid. "That result will not happen with establishment politics and establishment economics."
While Clinton, Sanders, and former Maryland Governor Martin O'Malley are spending most of their time in Iowa and New Hampshire, the Nevada Democratic caucus is just over six weeks away, on Feb. 20, and could prove especially pivotal if the candidates come out of the first two states with a mixed result.
Drawing on his standard stump speech, but with the ear-piercing clamor of vuvuzela-blowing supporters filling a ballroom at the MGM Grand, Sanders said that Democrats will only win if they can drive up voter enthusiasm and turnout, something that only he can do. 
Clinton made the same case on her behalf, saying that "in January of 2017, a new president is going to walk into the Oval Office and America can't afford it to be a Republican who will rip away all the progress we have made."
Clinton pointed to the foundation her campaign is building with the aim of big Democratic gains in November as a sign that she's the right choice, not just for president but to lead the Democratic Party, saying that she is "not only running for president but raising millions of dollars for our state parties." Her campaign raised $18 million for the Democratic National Committee and 33 state Democratic parties during the fourth quarter of 2015. Sanders's campaign has also signed a fundraising agreement with the DNC but did not raise anything for it in the fourth quarter, though it says it will moving forward.
Sanders has repeatedly stirred up doubts about Clinton's willingness to stand up to corporate interests as she takes in millions of dollars from maxed-out executives. Clinton pledged that voters can "count on me to stand my ground especially when it comes to ... powerful interests," and pointed to the spending against her. "Ask yourself this: if the Republicans weren't worried, why are hedge fund billionaires already running ads against me? Why are the Koch Brothers throwing in everything they've got to stop me?"
Clinton's attempts to reach out to Sanders supporters in the crowd of 2,200 drew some to their feet to hold up pro-Sanders signs in silent protest, while others were more vocal in their disapproval. Sanders and O'Malley "have a lot of good ideas and we share a lot of the same values," she said, drawing scattered laughs and "no!" shouts from Sanders supporters.
Some booed when Clinton said she's the only candidate in the race who's pledged to "raise middle-class incomes, not middle-class taxes." Sanders supports the FAMILY Act, which would increase payroll taxes by 0.2 percent, working out to $1.38 a week for the median worker. He argues that it's a small price to pay for the expansion of paid family and medical leave benefits that's part of the bill while Clinton says she will pay for the same programs with increased effective tax rates on the wealthy and corporations.
O'Malley used his speech to call for the extension of protective status to refugees from Guatemala, Honduras, and El Salvador, and more broadly touted his record on immigration. "It will take new leadership to break 35 years of gridlock on immigration," he said.
But his sharpest critiques were against the Republican field. "I'd like to say that Donald Trump is the most outrageous candidate to run for president, but then there's Ted Cruz," he said, drawing cheers from Clinton and Sanders supporters alike.