Palmetto Politics
Republicans Scramble to Pick Up Graham's Supporters in South Carolina
Both Jeb Bush and Marco Rubio are making moves to contest a state where Donald Trump and Ted Cruz lead.
By and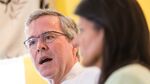 Aside from the One Eared Cow Glass gallery and a shuttered Grice's fruit basket shop, there is little in a half-mile stretch of South Carolina's capital city that separates the state headquarters of Republican presidential rivals Marco Rubio and Jeb Bush.
On a rainy Wednesday, the latest in a water-logged winter for the home of the American South's premier presidential primary, a trio of staffers manned each of the offices: Rubio's a 12,000-square-foot, open plan formerly occupied by the Columbia Flag & Banner company; Bush's a former flooring store about half the size. At Rubio's shop, rain dripped from the vaulted ceiling into lined trash cans; at Bush's, the damp contributed to a minor mold outbreak.
The similarities continue: The two candidates—who were allies when Rubio served in the Florida legislature and Bush occupied the governor's mansion, and who live only a few miles from each other in Miami—both scheduled visits to South Carolina this week. Each planned stops at Hudson's Smokehouse outside of Columbia as part of their swings.
Both also are desperate to pick up the pieces in South Carolina from the aborted presidential campaign of U.S. Senator Lindsey Graham, one of the most influential Republicans in a state that plays an outsized role in choosing the next president. Graham dropped out on Dec. 21, and the state since has seen a splash of attention from candidates, including a rally that drew 2,400 to Hilton Head on Wednesday for the party's front-runner, Donald Trump.
The state's Feb. 20 Republican presidential primary will be the third stop in the nominating contest, after Iowa's Feb. 1 caucuses and New Hampshire's Feb. 9 primary.
"With Lindsey getting out, it really feels like the wild, wild West," said Phyllis Henderson, a Republican state lawmaker backing Carly Fiorina's presidential bid. "Everyone was immediately out calling and rounding up support, and that's still going on now. All of the campaigns are trying to get some of those folks on their team."

While Graham's presidential campaign had barely registered in the national polls that have defined the Republican race for the past year, it was a dominating factor in South Carolina. Graham, an elected official for nearly a quarter of a century, was polling poorly in the race back home, too, but his candidacy froze much of the state's financial network and consultancy class—men and women loyal to Graham, whose current Senate term doesn't expire until 2021, ensuring that his clout would outlast any presidential campaign. Richard Quinn, a longtime adviser for Graham, said the senator will decide early in the new year whether to endorse a candidate.
"Senator Graham's departure frees up grassroots activists, political operative and donors," said Matt Moore, the state Republican chairman. "Those people are especially important in a state like South Carolina. It's a very close-knit state where everyone knows each other."
Now that their state's favorite-son candidate is out of the race, South Carolina's Republican establishment is scrambling to restore its "firewall" status in the Republican nominating contest.
With the Iowa caucuses typically favoring more hard-line conservatives, and New Hampshire often leaning toward more moderate, pro-business Republicans, South Carolina views itself as most representative among the early-voting states. There is an active base of evangelical voters in the northwest section of the state near Bob Jones University; pockets of wealth in the suburbs south of Charlotte, North Carolina, and along the Atlantic Coast; and an influential military presence with a swath of bases in the central and southern areas of the state.
Since 1980, when legendary Republican operative Lee Atwater helped establish South Carolina's first-in-the-south status, the winner of the state's primary went on to become the eventual nominee every time, except once. The outlier was the last contest, in 2012, when a pair of break-out debate performances just before the primary lifted Newt Gingrich to the top in South Carolina.
But South Carolina is also a hotbed of the Tea Party insurgency, a factor that could be decisive this year. Trump, for example, continues to dominate polls in the state despite repeated criticism from Graham, but about half of Republican voters in South Carolina are still persuadable, said Katon Dawson, a former state Republican chairman who hasn't chosen a candidate since former Texas Governor Rick Perry dropped out.
"The race if fluid, and it will remain fluid all the way to South Carolina," Dawson said.
Karen Martin is a Tea Party organizer from Spartanburg and is employed now by one of  the super-political action committees backing the presidential bid of U.S. Senator Ted Cruz of Texas, said Graham's backers were from the business world who believed it would be a "benefit if they cast their lot with him."

At the moment, it's Trump and Cruz who are topping the polls in South Carolina. 
Glenn McCall, South Carolina's Republican national committeeman, said Trump may be too far ahead in the state for anyone to catch. 
"Trump seems to have solid support in the state," McCall said. "I don't know if anyone out there who would endorse would sway those voters that are already committed or leaning to other candidates. I've never seen it this way. Trump has truly tapped into the sentiments of a lot of grassroots folks, and folks who vote in the primary."
Even so, Bush and Rubio are both planning right to make their case on the airwaves.
Bush's super-PAC, Right to Rise, has plans to spend about $4.7 million advertising on TV, while Conservative Solutions PAC and Conservative Solutions Project, a super-PAC and non-profit backing Rubio, have about $4.2 million scheduled, according to a media-buyer who requested anonymity to share competitive reports. Bush's campaign has planned about $1 million on television in South Carolina, while Rubio's campaign has ordered more than four times as much.
Bush's Move
Bush has moved quickly to sign up Graham supporters, claiming a total of 18 of the senator's backers by Wednesday. Those include veterans of the campaigns of his brother and father, the last two Republican presidents, who never lost a primary in South Carolina.
Bush's Florida supporters and family, including his son, Texas Land Commissioner George P. Bush, will be deployed to South Carolina next month—along with former staffers for Bush's father and brother, former Presidents George H.W. Bush and George W. Bush—as part of a push to get a "few hundred" volunteers into the four early primary states starting next month, Bush spokeswoman Kristy Campbell said. The campaign is increasing it South Carolina staff from seven to 17 in the coming days as part of changes announced Wednesday, which also included reducing the campaign's TV budget in Iowa.
"We have a super-PAC that is advertising on television at a rate that is comparable to the other campaigns, if not more," Bush told reporters in South Carolina on Wednesday about the changes. "And we're reallocating our resources to voter contacts and a ground game that will be second to none."
Bush has work to do. "Jeb is imminently qualified, but my question and concern is whether he's electable with that Bush name," Tim McConnell, a Lexington business owner, said after watching Bush's town hall-style event on Wednesday. "He's got to finish in the top three in Iowa and New Hampshire."
The former Florida governor was the early front-runner, but has dropped into the third tier of candidates in national polling. The latest polls in South Carolina show Bush essentially tied for third with Rubio and retired neurosurgeon Ben Carson while trailing Trump and Cruz.
"It's way too early to write him off," said David Wilkins, a former South Carolina House speaker and influential fundraiser.
Wilkins, a national finance chairman of Graham's campaign, is now backing Bush, whom he first met while campaigning in 1999 for George W. Bush. "He's got ample time to build back and come back," Wilkins said. "I'm proud to support him, and I'm somewhat optimistic about his chances."
Rubio's Advantage
Rubio, meanwhile, may have the best infrastructure in the state.
His campaign manager, Terry Sullivan; senior political adviser Heath Thompson; and the head of his super-PAC, J. Warren Thompkins are all South Carolina veterans. His fundraiser, Drea Byars, raises money for most of the state's congressional delegation. Even Robert Daniels, the young man tasked with guiding Rubio along the rope line to shake hands and pose for selfies, grew up in South Carolina.
Rubio's political director in the state, DeLinda Ridings, ran Matt Moore's successful campaign for state Republican chairman. The college-age son of U.S. Representative Jeff Duncan, Graham Duncan, is also working for Rubio.
"Marco Rubio presents such a hopeful vision for the future and that is something people of all ages all political stripes can rally around," said Randy Page, the public affairs director at Bob Jones University, who is backing Rubio. "He projects a very positive message that has been missing some segments for the Republican Party for the part several cycles."

Rubio's biggest get since Graham's exit: U.S. Representative Trey Gowdy, who defeated a sitting Republican House member in the 2010 Tea Party wave. Gowdy, who is chairman of the House Republicans' committee investigating the embassy attacks in Benghazi, Libya, has continued to improve his stock among conservatives and waited until Graham had exited before backing Rubio.
"I didn't really understand Rubio's campaign strategy in our state," said Karen Floyd, a former state Republican chairwoman, explaining it was difficult to describe a typical Rubio supporter. "But Trey Gowdy has a such a strong philosophical and ideological following that I do think it will have an effect."
The Trump Factor
But while Republicans line up support in the wake of Graham's exit, Trump continues to lead the pack. New York's celebrity real estate mogul drew a capacity crowd to the palm-lined Westin Hilton Head Island Resort and Spa on South Carolina's Atlantic Coast, many of whom lined up for two hours in the early morning fog.
"It's a movement," Trump began, as a crowd yelled, hooted, and whistled. "Every place we go it's packed."
He didn't mention Graham, other than to say anyone who had criticized him—as Graham did—has quit the race. "I don't want to knock them, but the people that are gone are all the people who attacked me," he said.
Trump predicted wins in all the early states, including South Carolina, and implored those in the crowd to show up at the polls.
"I want to run the table," he said.