Brussels Extends Lockdown as U.S. Issues Terror Alert
by , , and
Schools and subway system in capital to re-open on Wednesday

Fourth suspect charged with involvement in Paris attacks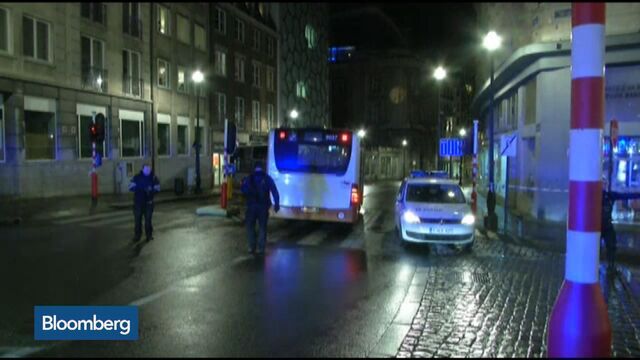 Authorities in Brussels extended the city's highest-level terror alert into next week as they maintained their warning Islamic State terrorists plan to attack highly populated areas like shopping malls and public transport systems.
The city's schools and subway will be closed for one more day before gradually re-opening on Wednesday, Belgian Prime Minister Charles Michel told a press conference late Monday in Brussels. Belgium-born Salah Abdeslam, one of two brothers believed to have been involved in the Nov. 13 Paris assaults that killed 130, is still at large.
"Shopping centers, streets, public transport" are all potential targets, Michel said. The government is doing "everything in our power to keep the situation under control" and will review things each day. He warned the threat he had told the Belgian people about over the weekend had not diminished.
Ten days on from the carnage in Paris, Brussels has been paralyzed by a threat of terror unprecedented for a western capital. Since Saturday gun-toting soldiers and armed police have patrolled its streets as people heed government advice to avoid large public gatherings. Monday night's decision looks set to extend disruption into next weekend.
Ministers Meeting
A meeting of euro-area finance ministers in the Belgian capital on Monday afternoon took place "under a dark cloud," Dutch Finance Minister Jeroen Dijsselbloem told reporters. "Security comes first at the moment." The costs associated with the terrorist threat were "manageable" even for the French, who committed to meeting deficit targets notwithstanding increased defense costs, he said.
Belgian authorities charged one of 16 suspects detained during Sunday night raids on suspicion of involvement in the Paris attacks. Another 15 people who were taken into custody were released, the federal prosecutor's office said in an e-mailed statement. Two of a further five people arrested in Brussels and Liege on Monday morning were also released.
An explosive vest similar to those used in the Paris attacks was found late Monday in a suburb of the French capital, AP reported. It was found in the same area where a mobile phone belonging to Abdeslam was located on the day of the assaults but the vest has not been formally linked to him, the news agency said, citing two police officials.
Schools, Subway
In Brussels, schools and the subway network won't open until Wednesday because authorities need time to bring in police from outside the capital to help guard them, Belgian Justice Minister Koen Geens said on VRT television.
As Europe reels from the Paris attacks, governments stepped up their preparations to carry out airstrikes against Islamic State, with France putting naval forces in position to bomb the group's bases in Syria and the U.K. offering Britain's airbase in Cyprus for the operations.
"The U.K. will do all in our power to support our friend and ally France to defeat this evil death cult," Prime Minister David Cameron told reporters in Paris after meeting with French President Francois Hollande on Monday. "It's absolutely right to take decisive action to stop terrorists."
The U.S. State Department issued a global travel alert, warning its citizens to be vigilant in public places, and said the likelihood of attacks would continue as members of Islamic State returned from Iraq and Syria.
The decision to keep Brussels on a heightened state of alert extends the disruption to the North Atlantic Treaty Organization and the European Union, both of which have their headquarters in the city. NATO told non-essential staff to stay at home Monday, while the EU opened with reinforced security.
New Fear
"This fear is new," said Laura, an Italian, who declined to give her last name because she works for the European Commission. "I'm used to seeing police in Brussels, but not at this level. We stayed inside most of the weekend, our gym was closed and we decided not to meet friends as we had planned."
Belgium's financial industry employs about 50,000 people and some of the largest companies instructed employees to work from home. KBC Groep NV, Belgium's biggest bank, closed its Brussels headquarters on Monday.
"There is no panic among the population," said Francoise Schepmans, the mayor of the Brussels district of Molenbeek, where many of the suspected terrorists lived. "There is of course worry and it's true that the operations of the last few days have created anxiety, particularly among the local residents and with young people," she told RTBF TV.
Before it's here, it's on the Bloomberg Terminal.
LEARN MORE