Why Close Mosques? The Paris Terrorists Aren't There Anyway
Recruits more likely to be lured by Internet and social media

French politicians call for crackdown on radical mosques
French politicians who are calling for the closure of radical mosques in the wake of the Nov. 13 terror attacks may be looking in the wrong place.
Deporting imams and shutting mosques that spout extremist interpretations of Islam won't prevent the sort of attacks that left 130 dead in Paris, terrorist experts and moderate Muslim leaders say. Many young Europeans now often join Islamic State without ever having set foot in a mosque, they say.
"We have a desire to find a silver bullet and say radical imams are the reason that foreign fighters are going to Syria," said Daniel Milton, director of research at the Combating Terrorism Center at the U.S. Military Academy at West Point. "The research just doesn't hold it up. They are part of the environment, but they are not in any way the key factor."
In the past few days, the National Front's Marine Le Pen proposed a moratorium on mosque construction and said France has 100 fundamentalist mosques that should be closed, a call echoed by members of former President Nicolas Sarkozy's party. Prime Minister Manuel Valls responded that he would expel "radical imams" and shutter mosques that don't share "the values of the Republic." Interior Minister Bernard Cazeneuve said last week that 10 imams were expelled last year and four so far this year.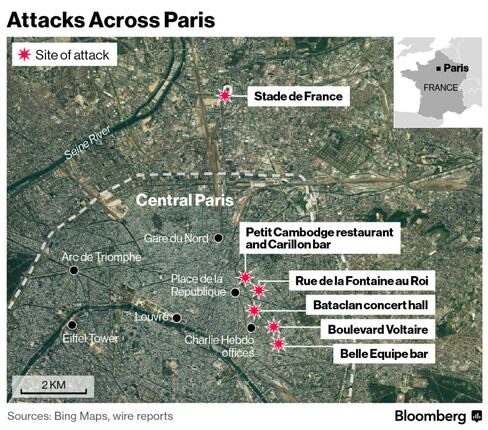 The French parliament last week approved three months of emergency rule, which includes the power to shut down religious associations with a simple administrative order. A prayer hall near Lyon was closed last week, and two small mosques were searched, one near Brest in Brittany and the other near Paris, according to reports in the French press.
A video of the imam in Brest, Rachid Abou Houdeyfa, showing him telling a crowd of children they shouldn't listen to music or else they will be turned into monkeys or pigs made the rounds of French television news shows. But Houdeyfa also condemned the Nov. 13 attacks in Paris as "unspeakable and barbarous," saying "it is important that we religious people say firmly, clearly and without ambiguity that these acts have nothing to do with Islam." He didn't return a telephone message.
According to the Pew Research Center, France has about 4.7 million Muslims, making up about 7.5 percent of the population. A 2011 poll by Ifop found less than half of Muslim respondents considered themselves practicing. The government doesn't keep statistics on religion. Mainland France has about 2,100 mosques, the Interior Ministry says.
Returnees from Syria
About 6,000 Europeans, including about 1,000 from France, have joined Islamic State, according to estimates by the Institute for Economics and Peace in New York. Returnees from Syria were among the perpetrators of this month's killings in Paris and the murder of four people at the Jewish museum in Brussels in May 2014.
Mohammed Khodja, a surgeon at a Paris suburban hospital and head of an association of Muslims in several towns southeast of Paris, said closing their mosques wouldn't make a difference in preventing terror attacks.
"These terrorists have never been near a mosque," he said in an interview at a makeshift mosque in Kremlin-Bicetre near Paris as he distributed a flier from a national Muslim association condemning the attacks. "These kids go straight from dealing drugs to Syria with a quick passage through the Internet."
To be sure, radical mosques have played a role in recruiting jihadis. In the small French southern town of Lunel, about 20 young people who had attended the mosque there departed for Syria, according to the New York Times and French press reports.
Arie Perliger, Director of Terrorism Studies at the Combating Terrorism Center at West Point, said radical imams "facilitate a narrative that encourages radicalization and legitimizes the ideology."
Social Media 'Groomers'
So can social media: A CTC study in early 2015 found about 46,000 Twitter accounts supporting Islamic State. So-called "groomers" working for Islamic State monitor Islamic networks for potential recruits and then lavish attention on them.
While identity plays a role in attracting young people to Islamic State -- most European recruits are the children of immigrants from Muslim-dominated countries -- recruits generally aren't particularly religious, experts say. The Abdeslan brothers involved in this month's attacks in Paris owned a bar in Brussels known as a drug-dealing locale, even though the Koran forbids drug and alcohol use.
"What inspires the most uncompromisingly lethal actors in the world today is not so much the Koran or religious teachings," Scott Atran, director of anthropology research at France's National Center for Scientific Research, testified to the U.S. Senate Armed Forces Committee in November 2014. "It's a thrilling cause that promises glory and esteem. Jihad is an egalitarian, equal-opportunity employer: fraternal, fast-breaking, glorious, cool – and persuasive."
Not all opposition politicians are jumping on the bandwagon of shutting mosques. "It's Imam Google, that's where they go, not to the mosque," Xavier Bertrand, who was labor and health minister in Sarkozy's government, said in a parliamentary debate last Wednesday. He said France's Internet police should stop worrying about illegal downloading of movies and concentrate solely on finding and shutting down radical websites.
Before it's here, it's on the Bloomberg Terminal.
LEARN MORE