pursuits
Facebook, McDonald's and Amazon Among 11 Companies to Face EU Tax Grilling
By
EU lawmakers probing low-tax deals to quiz companies Nov. 16

Executives rebuffed earlier European Parliament invitation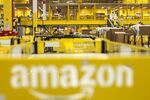 Amazon.com Inc. is among 11 companies that will be questioned by European Union lawmakers next week about low-tax deals as the Internet retailing giant awaits a decision from antitrust regulators on its fiscal pact with Luxembourg.
Barclays Plc and McDonald's Corp. are also among firms that will appear at a meeting of the European Parliament's special tax committee on Nov. 16, the panel's secretariat said Tuesday in an e-mail. An earlier hearing was scuttled when nearly all the corporate invitees turned lawmakers down.
The Parliament "can be credible and achieve what it wants when it shows its teeth," said Sylvie Goulard, a French member of the pro-business Liberals in the EU assembly. "But let's be realistic: we shall wait and see what the companies will tell us."
Leaked Documents
Fiat Chrysler Automobiles NV, which hasn't responded to the committee's invitation, and Starbucks Corp. last month were told to repay tens of millions of euros in back taxes in the first decisions from EU antitrust regulators on fiscal deals that allowed companies to avoid taxes. The European Commission may issue a second set of decisions in cases involving Apple Inc. and Amazon before the end of the year.
The parliamentary probe, which is separate from the regulatory inquiry, was started after documents leaked by a group of investigative journalists showed that Luxembourg alone struck hundreds of secret fiscal deals known as tax rulings with companies from around the world, from PepsiCo Inc. to Walt Disney Co. 
Amazon, which has more than 1,000 people working in the tiny nation, said in a U.S. filing that its taxes could increase in case of a negative decision by the EU in its case.
Disney, Coca-Cola Co., and Anheuser-Busch InBev NV said they will send someone to the Nov. 16 meeting, as did HSBC Holdings Plc, Ikea Group and Philip Morris International Inc. Out of 13 companies, only Wal-Mart Stores Inc. declined to appear, the committee secretariat said.
Strong Signal
EU Antitrust Commissioner Margrethe Vestager told lawmakers at a separate meeting Monday that her decisions against Starbucks and Fiat on Oct. 21 sent a strong signal to national governments that they can't use tax rules as a backdoor way to give multinationals illegal state aid.
She said the EU authority is looking at some 300 tax deals for possible violations of state aid law and that she won't shy away from opening new "tax ruling cases if we have doubts that the rules are not followed as they should be."
Apple raised a flag in April about the potential cost if the company is required to pay past taxes to Ireland as part of the commission investigation. While Apple hasn't been able to estimate the amount, it could be "material," the Cupertino, California-based technology company said in a filing with the U.S. Securities and Exchange Commission.
"I am satisfied that, this time, most of the multinational companies invited have decided to seize the opportunity to share their views with us on current developments in the corporate tax world," said Alain Lamassoure, a French Christian Democrat member of the EU assembly who chairs the special tax panel.
(Updates with comment from EU lawmaker in third paragraph.)
Before it's here, it's on the Bloomberg Terminal.
LEARN MORE