politics
Bernie Sanders Catching Up to Hillary Clinton With Torrent of Small Donations
The Vermont senator is gaining on Clinton in the polls while raking in small-dollar donations and holding down spending.
By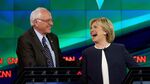 The two leading candidates for the Democratic presidential nomination are raising far more than anyone else on either side of the race, though the senator in second place is quickly catching up to the front-runner.
Hillary Clinton's presidential campaign raised $29.9 million during the third quarter—almost all of it going to her primary war chest—ending it with nearly $33 million cash on hand, according to its Thursday filing with the Federal Election Commission. But with a staff of hundreds, and dozens of offices in early primary and caucus states—plus a sizable team at her Brooklyn headquarters–the campaign spent close to $25.8 million over the course of the quarter. 
Vermont Senator Bernie Sanders, meanwhile, raised $26.2 million during the third quarter, but spent only $11.3 million over the three-month period. That left his campaign with more than $27 million in cash on hand as he continues to gain on Clinton in many polls and keeps building a sizable lead in New Hampshire, where the first primary is held.
Demonstrating the power of his fundraising machine, Sanders also reported that he had attracted 97,800 contributions totaling $3.2 million since Tuesday, when he and Clinton met for the first time on a debate stage. Her campaign has not released similar data.
Sanders' strength came in small-dollar donations, with an average of $30 per contribution from a total of 650,000 donors during the quarter. More than 77 percent of the campaign's money came from contributions of less than $200 and nearly all contributions were $200 or less. Only 270 of Sanders' donors have given the primary maximum contribution of $2,700.
Clinton, by contrast, has raised that many maximum donations during single-day fundraising drives in New York and California. Just 18 percent of the contributions she collected in the third quarter came in contributions of less than $200. Still, her team is stressing that she's gotten plenty of support, noting that the campaign has received more than 600,000 contributions from almost 400,000 donors since the former secretary of state launched her White House bid in April. As was the case in the second quarter, Clinton's team said that just over 60 percent of her third quarter donors are women.
Unlike President Barack Obama, Clinton is accepting donations from lobbyists: More than $1 million of her third quarter receipts came from contributions "bundled" by a dozen influential Washingtonians, meaning they tapped their networks to raise money for the Democratic presidential candidate. Such fundraising efforts by lobbyists are required to be reported to the FEC. The group included Mary Landrieu, who served with Clinton in the U.S. Senate, as well as Tony Podesta (the brother of Clinton's campaign chairman, John Podesta) and his ex-wife, Heather. Thomas Buis, a lobbyist for Growth Energy, which represents the ethanol industry, and Ankit Desai, of Cheniere Energy, a liquified natural gas company, also bundled for Clinton.
The Clinton campaign launched the Hillary Victory Fund, for joint fundraising with the Democratic National Committee and 33 state Democratic Party committees, toward the end of the quarter and raised $3.16 million, of which $600,000 was transferred to the DNC. Clinton's campaign is focused on raising for the primary but does not refund contributions above the primary maximum $2,700 and collected more than $691,000 for the general election.
Before it's here, it's on the Bloomberg Terminal.
LEARN MORE