Jeb Bush Turns Sights on Marco Rubio, Who Seeks to Stay Above the Fray
The ex-governor's swipes are designed to highlight one of Rubio's biggest vulnerabilities in the primary: Striking similarities to President Obama.
By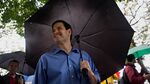 Republican presidential candidate Jeb Bush opened a new front in the nomination fight this week by suggesting Marco Rubio, a former Florida colleague 18 years his junior, doesn't have enough experience to hold the Oval Office.
For now, Rubio isn't taking the bait. He brushed off Bush's barbs on Friday during a swing through Iowa, insisting he's "not running against Jeb Bush. I'm running for president."
The shift by Bush—who had played nice with Rubio until now—underscores his allies and donors' worries about the first-term Florida senator. Rubio is edging upward in national polls as Bush slides. In another sign that Bush allies are keeping close tabs on Rubio, the super-PAC Right to Rise sent a tracker to Rubio's town hall meeting in Cedar Rapids on Thursday who was removed by Rubio's staff. (Rubio also brushed off that incident in Dubuque on Friday, simply saying he's proud of his message.)
Bush's swipes are designed to highlight one of Rubio's biggest vulnerabilities in the primary: Striking similarities to President Barack Obama, the GOP's bête noire, in his biography, résumé, and generational message. Obama was elected to the White House at age 47, just four years after winning a U.S. Senate seat. (Rubio's likeness to the Illinois senator seemed to bother Bush less in 2012, when he said Rubio was qualified to become Mitt Romney's running mate and sit a heartbeat away from the presidency.)
If not directly engaging with Bush, Rubio does have a honed response to the Obama critique, and his campaign message is laced with allusions to youth and energy that could work just as well against Hillary Clinton or Donald Trump.
"Barack Obama now has seven years of presidential experience and he's still failing," Rubio said on Friday. "I don't think Barack Obama's failures are because he was a senator. He has failed because his ideas don't work."
Answering questions about Bush, he said, "We face unique issues in this 21st century, and I believe the time has come to turn the page and elevate a new generation of leadership that understands the issues of our country today. That's what my campaign is about and voters are going to decide."
Fundraising reports due on Oct. 15 will offer a new glimpse at who's doing better in the race for Florida money. In Iowa, which will hold nominating caucuses in February, people at Rubio's events did not seem overly concerned about the experience issue.
"I think it's a breath of fresh air, actually," said Dennis Powers, 59, who's torn between Rubio and retired neurosurgeon Ben Carson. "Too many times people get entrenched in the same old, same old. He seems to be looking at other ways of seeing things."
And Bush? "He seems like a lot of the same old, same old," Powers said. "The third Bush. Not unlike the next Clinton. How's he going to be any different?"
A health care worker in Dubuque who is undecided about which candidate to support, Sonja Boles, said Rubio "brings energy and exuberance. No preconceived notions." A high school senior from Cedar Rapids who will be voting for the first time next year, Jayden Bisson, said age is "actually a benefit for Rubio because people don't know a lot of negative things about him." 
As the summer was coming to an end, a Bloomberg Politics/Des Moines Register Iowa Poll found signs that likely caucus-goers were more open-minded to Rubio than Bush. Among those not supporting Rubio, 60 percent said they could potentially change their mind, compared to 50 percent for the ex-governor; 19 percent said they could never support Rubio, 39 percent Bush. In a Bloomberg Politics national poll released last week, Americans were evenly divided on whether a candidate with gubernatorial or Senate experience was preferable.
Two Republican congressmen from Florida who have endorsed Bush said this week that he'll rebound in the polls as voting draws closer.
Though he's a "huge fan" of Rubio, Representative Mario Díaz-Balart said he supports Bush because "at this moment in our history, nobody's more prepared. Nobody has the temperament, the experience, the knowledge." The Obama years show the next president mustn't be "inexperienced and unprepared," he said.
"It's early," said Representative Carlos Curbelo. "We've seen Jeb up, we've seen Jeb down. We've seen Marco Rubio up, then down, now coming up again. This is a very fluid situation."
Still, Curbelo added, Rubio is "an exemplary senator" who "would make a great president."