politics
Jeb Bush Nabs Trump Critic Anthony Scaramucci
The hedge fund manager and former Scott Walker national finance co-chairman once dismissed Donald Trump in no uncertain terms.
By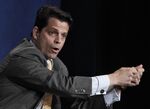 Anthony Scaramucci started the 2016 presidential campaign with Scott Walker, crossed paths with Donald Trump, and is now settling in with Jeb Bush.
The former Florida governor announced Tuesday that he had snagged Scaramucci, a hedge fund manager and a former national finance co-chairman for Walker's now-defunct presidential campaign. Bush said Scaramucci, who is a managing partner for the SkyBridge hedge fund and a host on the Fox network's Sunday morning program Wall Street Week, would be "a valuable asset in sharing our campaign message of expanding economic opportunity for all Americans to voters across the nation," according to the New York Times. 
For a brief moment, it appeared that Scaramucci, who also served as a national finance co-chair for Mitt Romney during the 2012 campaign, was considering jumping aboard the Trump bandwagon. In late August, as Walker's campaign continued to struggle, Scaramucci met with the billionaire candidate at his office in Trump Tower, the Wall Street Journal reported, leading Trump to declare, "He wants to drop Walker and go with me. He wants to endorse me."
Scaramucci denied Trump's characterization of the meeting, and a day later publicly derided him over Trump's frequent attacks on hedge fund managers as "paper-pushers" who do not pay their fair share in taxes thanks to the carried interest loophole. 
"He's a hack politician. He's probably going to make Elizabeth Warren his vice presidential nominee with comments like that. It's anti-American, and it's very, very divisive," Scaramucci said on the Fox Business Network, adding, "I don't like the way he talks about women, I don't like the way he talks about our friend Megyn Kelly. And, you know what, the politicians don't want to go at Trump because he's got a big mouth and are afraid he's going to light them up on Fox News and all these other places. But I'm not a politician. Bring it."
While Trump may have, at one point, thought Scaramucci would be signing on with him, the move to the Bush campaign does play into one of his main lines of attack for Bush.
"Hillary and Jeb, in particular, are totally controlled by the hedge fund guys and the Wall Street guys, but hedge funds, in particular," Trump said Sunday on CBS's Face the Nation.
Reached Tuesday, Scaramucci said that he wouldn't have spoken out against Trump were it not for his negative portrayal of hedge fund managers. 
"David Trump started it by a trashing our industry with no facts he should stick to TV and Real Estate," Scaramucci said in a tweet. 
Trump's pledge to go after hedge fund managers, however, turns out to have been more bark than bite. While his new tax plan would eliminate the carried-interest deduction, which taxes private equity and hedge fund profits at 23.8 percent, it also lowers rates for top earners to 25 percent, resulting in a net tax cut for hedge fund managers. 
(Correction: The original version of this article stated that Scaramucci started 2016 with Walker, rather than the 2016 presidential campaign.)
(Adds Scaramucci quote and corrects lede to say "2016 campaign.")
Before it's here, it's on the Bloomberg Terminal.
LEARN MORE