politics
Hillary Clinton Comes Out Against Keystone Pipeline
The candidate's decision is praised by liberals and environmentalists, and is slammed by her GOP presidential rivals.
By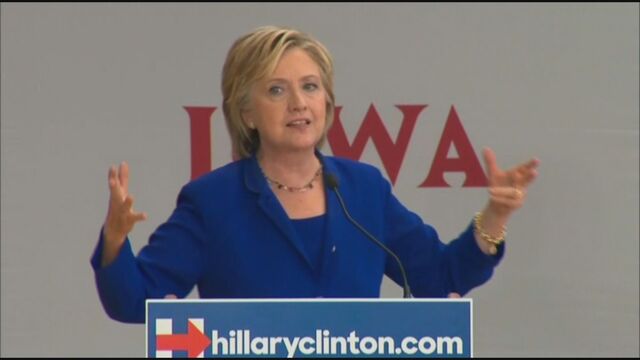 Ending years of declining to take a side on the issue because of her role in the Obama administration, Hillary Clinton on Tuesday announced her opposition to the construction of the Keystone XL oil pipeline.
"I don't think we need to have a pipeline bringing very dirty oil, exploiting the tar sands in western Canada, across our border," she told the Des Moines Register's editorial board.
At a town-hall meeting in Des Moines beforehand, she expressed an eagerness to end the seven-year debate over Keystone, which had become a "distraction" from the broader fight against climate change. "I don't think it's in the best interest of what we need to do to combat climate change," she said in response to a question from a Drake University student.
Since leaving the State Department in early 2013, Clinton had insisted that she would not take a position on the pipeline permitting process, since it began while she led the agency. But with the administration's process dragging on, and facing constant questions about the issue on the campaign trail as well as pressure from her Democratic rivals, Clinton decided that she needed to speak out.
"I thought this would be decided by now, and therefore I could tell you whether I agree or disagree," she said Tuesday. "But it hasn't been decided and I feel now I've got a responsibility to you and to voters who ask me about this."
The history
During President Barack Obama's first term, as Clinton said in July, she "put together a very thorough, deliberative, evidence-based process to evaluate the environmental impact" of the proposed pipeline, which would run from Alberta, Canada, to Nebraska. As she rolled out the first round of her climate change proposals over the summer, she said that she would "refrain from commenting [on Keystone] because I had a leading role in getting that process started and we have to let it run its course."
Less than a week ago, responding to another town hall question about the pipeline, Clinton put the White House "on notice" that she was going to speak out "soon" if the administration didn't reach a decision. The White House was briefed on Clinton's position ahead of her comments Tuesday, a campaign aide said. Asked about Clinton's warning hours before her announcement, White House press secretary Josh Earnest said "we noticed."
Stephen Lecce, a spokesman for Canadian Prime Minister Stephen Harper, also noticed Clinton's statement Tuesday, and disagreed with it.
"Keystone XL will create jobs for Canadian and American workers and strengthen energy security in North America," he said. "This is not a debate between Canada and the U.S. We know the American people support the project. We will not engage in presidential primary debates."
TransCanada Corp., the company proposing the $8 billion pipeline, responded by referencing the findings of the review process that was initiated during Clinton's time at State, though it was not completed until early 2014, a year after she left the department. "The U.S. Department of State's Final Supplemental Environmental Impact Statement on Keystone XL concluded that greenhouse-gas emissions would be 28 to 42 per cent lower with the pipeline and that Keystone XL would support the creation of over 40,000 jobs and $2 billion in earnings—good paying jobs for American families," TransCanada spokesperson Davis Sheremata said.
The State Department has disputed TransCanada's figures on how many jobs the pipeline would create in America, saying that between 5,000 and 6,000 temporary construction jobs will result if the project, which could take as long as two years to complete, moves forward. 
Environmental groups
Environmental advocates characterized Clinton's stance as a policy evolution. Billionaire activist Tom Steyer, founder of NextGen Climate, said Clinton's newfound opposition to the pipeline is "a clear example of people power overcoming the special interests," he said in a statement. "Now, every Democrat running to lead our country must oppose Keystone XL because of this new political reality."
"This is an important about-face for Clinton," said Friends of the Earth Action President Erich Pica. "This reversal is a testament to efforts of farmers, ranchers, indigenous people and environmentalists who came together to stop this pipeline."
On the other side of the aisle, the American Petroleum Institute characterized Clinton's position as running against the grain of public opinion. "American voters said failure to act on KXL has hurt our economy and energy security," President Jack Gerard said in a statement. "It's ironic that the U.S. would strike a deal to allow Iranian crude onto the global market while refusing to give our closest trading partner, Canada, the most efficient access to U.S. refineries," he said, invoking an argument used by Republican lawmakers pushing for U.S. crude exports.
Several anti-Keystone groups, including Energy Action Coalition and Oil Change International, seized on Clinton's announcement to call for Obama to reject the Keystone XL pipeline.
"Timing this to coincide with the Pope's arrival is meant to frame the discussion in a moral and climate context," said Paul Bledsoe, a former aide on President Clinton's Climate Change Task Force. "It also provides a stark contrast with Republicans who've pushed Keystone non-stop."
Political reaction
During the town-hall meeting, Clinton said that she will unveil proposals for "a North American approach to fighting climate change and clean energy" in the coming days. Pressed on those proposals by the Register, Clinton declined to elaborate, saying she didn't want to overshadow the policy proposals on prescription drug prices that she released earlier Tuesday.
In addition to the White House, Clinton had also given a heads up to labor leaders about her position on the pipeline during recent meetings to court several unions' endorsements.
Other candidates for the Democratic nomination welcomed Clinton's announcement.
"As a senator who has vigorously opposed the Keystone pipeline from the beginning, I am glad that Secretary Clinton finally has made a decision and I welcome her opposition to the pipeline," said Vermont Senator Bernie Sanders, who is usually restrained in direct critiques of the former secretary of state. "Clearly it would be absurd to encourage the extraction and transportation of some of the dirtiest fossil fuel on the planet."
In a statement responding to Clinton's comments, former Maryland Governor Martin O'Malley jabbed her for having "followed–not forged–public opinion" on Keystone and other issues including same-sex marriage and the Syrian refugee crisis. 
As for Clinton's prospective GOP challengers, all of whom support construction of the pipeline, the verdict was one of universal condemnation. 
"Hillary Clinton says what we already knew," former Florida Governor Jeb Bush tweeted Tuesday. "She favors environmental extremism over U.S. jobs."
Louisiana Governor Bobby Jindal also voiced skepticism over the former secretary of state's timing. 
"Hoping that Americans would be distracted by the Pope's visit, Hillary finally admitted that she opposes Keystone XL," Jindal wrote on Twitter. 
—With assistance from Catherine Traywick.
(Updates with statements from Republican politicians, and adds State Department job estimates.)
Before it's here, it's on the Bloomberg Terminal.
LEARN MORE