Bernie Sanders's Political Revolution Enters Phase Two
If phase one was convincing people he can be competitive, phase two is showing people he can win.
By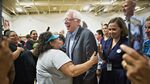 Ever since the crowds started showing up, Democratic presidential candidate Bernie Sanders has made a point of saying that the media has no idea why Americans wanted to join the political revolution.
He brought it up again last Thursday, during a town hall in Grinnell, Iowa, a college town with a population of about 9,000. It was his first town hall in the state after a Bloomberg Politics/Des Moines Register Iowa Poll showed him trailing Hillary Clinton by just seven points (a new Quinnipiac poll out Thursday shows him in a statistical dead heat with Clinton in the state). Like many Sanders events in recent months, the campaign had moved the venue to accommodate the larger-than-expected crowd, which meant that the event was taking place outside in a park despite the heat. Not that it fazed the crowd of hundreds, most of them white college students, or Sanders himself, who grew increasingly sweaty as the event progressed. 
"How does that happen? How come you're generating so much excitement and enthusiasm?" Sanders told his audience, imitating a befuddled political reporter. "And the answer to that is that the American people, in my view, are sick and tired with establishment politics, they are sick and tired of establishment economics, they are sick and tired of establishment media." 
A more specific way to put the question from the establishment media might be, "How has Sanders drawn such large crowds and risen so high in the polls—some of which also show him ahead in New Hampshire—when he's being outspent by a candidate with higher name recognition and his agenda is so far to the left?" Or even just "Can Sanders actually win?"
Furthermore, can he win in Iowa and New Hampshire in four months? And, if so, what about South Carolina, Nevada—more diverse states where sparse polling shows him far behind—and the Super Tuesday states? Is this a Barack Obama campaign that will be propelled by a big win in Iowa or a Howard Dean campaign that will stumble early and never recover? Those are the unanswered questions. Any member of the media that has attended his rallies already knows why Sanders is generating so much excitement. 
"Everything he's for I'm for, basically," Paul Munley, a 31-year-old volunteer for the campaign's new (as of August) office in Ottumwa said.
Munley said he'd never done anything to help a presidential campaign before, but "once I saw the crowds he was starting to draw and I started looking into him more and researching what his policies were and how he hasn't flip-flopped for 30 years," he was inspired by Sanders.  
In between town halls in Grinnell and Burlington, Sanders went to Ottumwa to open his 15th office in the state, putting him at more than 50 paid staffers in Iowa and 37 in New Hampshire. The campaign is also adding paid staff in South Carolina (where Sanders will attend three town halls on Saturday with professor and civil rights activist Cornel West) and hiring organizers in the Super Tuesday states. 
But it takes more than hiring new staff to win. In a phone interview, Tad Devine, Sanders's top adviser, explained the campaign's plan for converting the early-season excitement into concrete votes, and victory. "It begins by winning, and not losing," Devine said. "If you lose, that's very different than if you win. The coverage that you get, the way people look at you, the way the press covers you—it's just a fundamentally different situation." 
Devine said he'd seen first-hand the difference between winning the New Hampshire primary and losing it. "Having worked for the guy who won New Hampshire in '88, Mike Dukakis, and having worked for the guy who lost New Hampshire in '84, Walter Mondale, I have seen up close what the impact of winning the New Hampshire primary is on the later states," Devine said. In 1984, Gary Hart's campaign against Walter Mondale—the better funded, more widely endorsed candidate—received a much needed boost when he pulled off an upset victory in New Hampshire. Still, Mondale went on to win the nomination.
"If we can succeed in New Hampshire, and I think all the polls would suggest right now that we're on a very successful course there, we can come out of there with tremendous momentum, and I think that, more than any other single other factor, is going to affect what happens," he added. 
The difference between Hart, who beat the front-runner in New Hampshire, and Sanders is that the latter plans to avoid the former's mistakes. "He did not put in place a mechanism to receive the nomination," Devine said. "He put in place a mechanism to gain momentum, but he didn't put in place a mechanism to take advantage of that momentum. He didn't satisfy the requirements for ballot access everywhere, the delegate slating process. He didn't really get people in those later states familiar with him and his story. We're not going to make that mistake." 
In Colorado, Minnesota, and Massachusetts for example, the campaign believes it has an organizational advantage—Sanders drew large crowds and has already started organizing people online. And depending on how those early contests go, Devine said, the campaign will either "dramatically expand the playing field" or attempt to lose by as little as possible in the delegates race. Thanks to proportional representation—candidates who gets a certain percentage of the vote gets a corresponding number of delegates—Devine said he believes that "if we can stay close to her, we will win almost as many delegates, even if she wins a few more votes in some of these states."
Basically the plan is to focus on the early states, build momentum in the later ones, focus on states where they have a competitive advantage, and then be ready to massively expand the scope of the campaign with the help of donations that could pour in following early victories. "I think it's a winning strategy, and I think we can pull it off," he said. 
In Iowa, during Sanders's events in Grinnell, Burlington, Ottumwa, and Cedar Rapids, I put a similar question to Sanders supporters: Do you think he can win?
"I honestly…throughout the night I was kind of flip-flopping," said Molly O'Keefe, a 22-year-old hospitality worker visiting from St. Louis said after an event in Burlington. "I mean obviously I want him [to win] but thinking about his ideas, they're kind of radical." It wasn't that people don't deserve free public college or universal health care, but based on the way things are now, it seemed like a big jump for America, she said. 
In Cedar Rapids on Friday, Coe College juniors Margaret Parkhurst and Abby Mikolitis said they'd received first-hand accounts of Sanders's rallies from friends who'd attended them over the summer and also seen a lot about the senator on social media (#feelthebern, etc). "Um, yeah, I think so," Mikolitis said about Sanders chances of winning the nomination. "I've heard about some of his other campaigns in the past and I think he could probably pull through."
Parkhurst added, "If we all vote for him, sure, but I think the idea that he can't win will stop him, so we have to get rid of that before the primaries."