Clinton and Trump Descend on Washington to Continue Iran Fight
The fate of the Iran deal was essentially decided on Tuesday, but that isn't discouraging the two primary front-runners.
By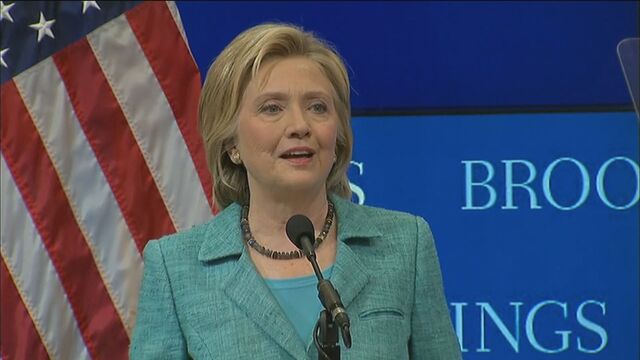 The fate of the Iran deal was essentially decided on Tuesday after a handful of Senate Democrats committed their support, but that isn't stopping presidential hopefuls from descending on the nation's capital on Wednesday to squeeze whatever is left of the moment.
Democratic candidate and former Secretary of State Hillary Clinton offered her argument in favor of the deal with a speech at the Brookings Institution near Dupont Circle. Across town on Capitol Hill, Republican candidates Donald Trump, Ted Cruz, and Jim Gilmore are scheduled to rally opponents of the deal.
It's one last chance for both sides of the debate to make their views known before the House holds its vote in the next few days and ahead of the Senate's expected vote next week. The deadline for lawmakers' approval or rejection is Sept. 17.
Clinton's speech was an attempt to offer reassurance to skeptics of the nuclear agreement, including some congressional Democrats and many in the Jewish community who worry that the deal will not diminish the threat that Iran poses to Israel. Clinton stressed that moving forward with the compact would not be a step toward normalizing relations with Iran and that the United States and its allies should remain deeply skeptical as it enforces the deal in the years to come.
"I support this deal. I support it as part of a larger strategy toward Iran. By now, the outcome of the deal in Congress is no longer in much doubt. So we've got to start looking ahead to what comes next: enforcing it, deterring Iran and its proxies, and strengthening our allies," she said Wednesday. 
Clinton's plan
"It's not enough to just say yes to this deal," Clinton said. "Of course it isn't. We have to say 'yes, and.' Yes, and we will enforce it with vigor and vigilance. Yes, and we will embed it in a broader strategy to confront Iran's bad behavior in the region."
Clinton laid out a five-point plan for countering Iran in the region that includes providing more support for Israel's defense and intelligence programs, expanding U.S. military presence in the Middle East, building a coalition to counter Iranian proxies including Hezbollah, opposing Iran's human rights abuses at home, and strengthening efforts to encourage stability in the region.
The plan includes a promise to continue the U.S. policy of preserving Israel's Qualitative Military Edge and to increase U.S. support for missile defense programs and intelligence sharing. She also proposed selling sophisticated fighter aircraft to Israel and improving the technologies used to monitor tunnels into the country that are used by terrorists.
It's also personal for Clinton.
While serving as secretary of state during President Barack Obama's first term, she worked on the effort to ramp up sanctions to put pressure on Iran. In 2012, policy aide Jake Sullivan, then working at the State Department and now on Clinton's campaign staff, launched a round of secret meetings in Oman with Iranian officials that helped move along the administration's efforts to get Tehran to the negotiating table. In a question-and-answer session following her speech, she said diplomacy is key to dealing with Iran. 
Asked about other foreign policy crises, the former secretary of state described Russia as "one of the long term security challenges" that the U.S. and its allies face" and called for an "emergency global gathering" about the waves of refugees coming to Europe from Middle East conflict zones. "There is both financial work and contributions that need to be forthcoming and countries need to be more open and willing to take refugees," she said.
Clinton called for the U.S. to become "much more global in our thinking and globally present" and lamented the way politics has complicated that. "We don't have a consistent foreign policy that is bipartisan," she said.
Against the Iran deal
After former Vice President Dick Cheney blamed the Obama administration for letting Iran build up its nuclear program during a TV appearance on Sunday, Clinton sought within hours to set the record straight.
"Iran was on a pretty fast track toward a nuclear weapon when Barack Obama became president," she said at a house party in Iowa. "Iranians mastered the nuclear fuel cycle before he became president, they built covert facilities and stocked them with centrifuges before he became president. And we—I was in the Senate—we had done everything we could by passing sanctions through our Congress. But it took the world to actually get their attention. We had to get everybody on board."
Those gathering on Capitol Hill, meanwhile, are focused on undermining the deal.
Among those expected to join the program, which runs from 9 a.m. to 7 p.m., are former vice presidential candidate Sarah Palin, conservative radio host Glenn Beck, and Phil Robertson of Duck Dynasty.
Cruz's Senate office on Tuesday posted a Web video running through his objections. "They are telling us they want to kill us, not 10 years ago or 20 years ago. They're telling us this right now," the Texan said in the video, drawn from a speech he made to the House in May, two months before the deal was finalized. "These are the people the Obama administration are putting on a path to having nuclear weaponry, the most fearsome weaponry known to man. ... That's what this deal would do unless Congress steps in to stop it. Not to have a show vote, not to pretend to disapprove, but to actually stop a bad deal that jeopardizes our safety."
Cruz's team was key to organizing the rally and was able to persuade Trump to attend, assuring more media attention and public notice than it might have otherwise attracted.
"Look forward to being in DC tomorrow—big crowd expected for our protest against the truly stupid nuclear deal we are making with Iran," Trump tweeted on Tuesday.
"Not even believable that we would do this deal with Iran," he added in another message.