Jeb Bush Campaign Drops $500,000 in First TV Buy
The Republican targets New Hampshire voters in his first campaign buy of the year.
By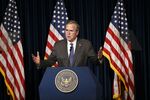 Republican Jeb Bush's presidential campaign has made its first television ad buy, targeting New Hampshire voters with a round of spots that promote the former Florida governor's record.
The campaign has bought $500,000 worth of ads on Boston broadcast television, WMUR in New Hampshire and cable across the state to run Sept. 9-29, campaign spokeswoman Kristy Campbell said. Campbell said 15 percent of the initial placement was also dedicated for online advertising.
At the same time, the initial round of advertising from pro-Bush super-PAC Right to Rise USA is at more than $20 million in states with the first three presidential nominating contests, super-PAC spokesman Paul Lindsay said. In Iowa, the group has paid for $6 million in advertising from Sept. 15 to Dec. 28; the New Hampshire buy, which runs during the same time, is now at $11.4 million; and in South Carolina, $3.9 million in ads are set to run from Sept. 22 to Dec. 28.
The campaign's ads will highlight Bush's "plan to change the culture in Washington," Campbell said in an e-mail. She also said the campaign would expand its advertising in New Hampshire and other early states, but didn't provide additional details.