How Long Can Joe Biden Wait?
Some friends and Democratic insiders think he doesn't have to make up his mind this month.
By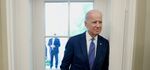 Some longtime friends of Joe Biden and other Democratic donors, including ones who've been supporting Hillary Clinton, are preparing for the possibility the vice president may delay announcing whether he'll run for president past an end-of-September timeline he and his advisers were targeting.