How Long Can Joe Biden Wait?
Some friends and Democratic insiders think he doesn't have to make up his mind this month.
By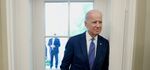 Some longtime friends of Joe Biden and other Democratic donors, including ones who've been supporting Hillary Clinton, are preparing for the possibility the vice president may delay announcing whether he'll run for president past an end-of-September timeline he and his advisers were targeting.
Biden and his advisers initially signaled that he'd make a decision by the end of this month, and an independent Draft Biden group has been building its fundraising and organizational strategy with that timeline in mind. His travels this week, his first overtly political trip since late-summer rumors began heating up about a possible Biden entry into the race, sent mixed signals. On the one hand it had many of the trappings of a campaign trip, putting Biden in front of key constituencies, but on the other he did not take advantage of obvious opportunities for tête-à-têtes with donors on his own behalf.
And in an Atlanta synagogue this week where he talked publicly for the first time about his decision-making process, Biden acknowledged that he's considering the race but also hinted that he might break his own informal deadline. Talking about how grief over the recent death of his son Beau Biden from brain cancer has affected his thinking, Biden told his audience that past experience with family loss has taught him "there's no way to put a timetable on it."
"I don't know that there's a magic to Oct. 1; I'm suggesting there not need be," said Stuart Eizenstat, who founded the Atlanta synagogue lecture series that hosted Biden. A friend of Biden's since the 1970s who has served in the Carter, Bill Clinton, and Obama administrations, he was struck by Biden's refusal to put a deadline on his deliberations. "What I heard is, he's not ready to make a decision now and that he's not willing to put a timetable on it," said Eizenstat,  who has been supporting and raising money for Clinton this year. He said he doesn't know what Biden will do. 
The case for postponing a decision, perhaps past Democratic presidential candidates' first debate on Oct. 13, is being shaped by three factors:
The first is that Biden's agony over his son, who died in May, hasn't eased sufficiently for him to know whether he wants to be in or out. The vice president, who decades ago lost his first wife and their daughter in a car accident, knows from past experience that grief has no predictable timetable. "I have to be honest with you," Biden told the audience. "I can't look you straight in the eye and say now I know I can do it."
Another is the shifting dynamics in the Democratic nominating contest, which are making Vermont Senator Bernie Sanders a tougher rival to Hillary Clinton in Iowa than previously imagined. That may give Biden more time and space to cultivate donors and organize as a more mainstream alternative.
Finally, campaign laws allowing more outside money from big donors, and an unpredictable Republican nominating contest in which billionaire Donald Trump and neurosurgeon Ben Carson are flummoxing establishment favorites, may signal an unconventional election year for both parties, in which the usual rules about timelines don't apply.
"If there's anything these elections are proving, it's that change is in the air and just because what we historically thought was what timing is, doesn't mean that's what the timing is going to be in this cycle," Michael M. Adler, a Miami developer who was Biden's national finance chairman in his 2008 presidential campaign, said in an interview Friday.
Adler said he does not know what his friend will decide, but added that he thinks Biden has more time than most pundits are giving him. 
"This is such a unique, different time in politics that I don't think conventional timeframes based on historical data necessarily is the only thing that matters," he said. "This could be an obviously unique election cycle where what would seemingly be a timeframe that you would think, could be different this time."
"This is a very confusing political time to try to handicap," Adler said. "There is a little bit of destiny to this."
Two other Democrats in touch with Biden or his advisers, who spoke on condition of anonymity, said they still believe the vice president's goal is to decide before Oct. 1, and that waiting later is a strategy that hinges almost entirely on Clinton's campaign falling apart.
Another Democrat, a former Obama campaign bundler who has recently been in contact with Biden, said he believes the real deadline for the vice president to get in is January—a month before the Feb. 1 Iowa caucuses, and perhaps even later if Clinton were to have significant problems. The donor, who has been raising money for Clinton, spoke on condition of anonymity to speak freely.
In addition to fundraising and setting up campaign organizations on the ground in key states, considerations about timing hinge on filing deadlines in states with primary ballots. Those deadlines begin in November.