Clinton Campaign Manager Says Biden Run Would 'Shake Things Up'
In conference call with reporters, top aides to Hillary Clinton insist they're ready for another competitor.
By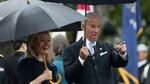 Vice President Joe Biden would be "a commanding presence" if he chooses to run for president though his entry into the race wouldn't change Hillary Clinton's approach to the race for the Democratic nomination, her campaign manager said Thursday.
If Biden runs, he "will certainly shake up the dynamics quite a bit," Robby Mook said on a conference call briefing reporters on the state of the race. "But our strategy will remain the same."
A handful of campaign aides projected confidence throughout the call, which came on a day that one of the Democratic presidential front-runner's closest advisers, Cheryl Mills, was being grilled behind closed doors by one of the three congressional committees investigating Clinton's use of private e-mail when she was secretary of state. Noting that she retains a strong lead in most polls, her campaign aides said that Americans' concerns about Clinton's State Department-era e-mail account will be resolved as they hear more from the candidate on the issue.
Though Vermont Senator Bernie Sanders has inched closer to Clinton in some early state polling, the race is "fundamentally unchanged" from early August, said senior strategist Joel Benenson, referring to the last time he spoke to reporters by conference call. With the exception of one poll—the Bloomberg Politics/Des Moines Register survey released this week and conducted by J. Ann Selzer, who has a long track record of getting numbers right in the Hawkeye State—Clinton is at around 45 percent in Iowa.
The race is tighter in New Hampshire but "we've always said it would be a tight race in New Hampshire," Benenson said, later adding that it will be "nip and tuck all the way" there.
Campaign chairman John Podesta also conceded that Clinton is in a "competitive race in New Hampshire with Bernie Sanders."
Podesta acknowledged that Clinton has faced "some headwinds, particularly around the e-mails" and said that because there's been "some noise," it's been more difficult for the campaign's preferred messages to break through.
The campaign said this the summer that the candidate would begin doing more national press, but her appearances have thus far been limited to two interviews, on CNN and Univision, though she has done more local press in the past several weeks. On Friday, she'll sit down with NBC's Andrea Mitchell ahead of the 20th anniversary of her celebrated Beijing speech on women's rights. "She will be doing more national interviews," communications director Jennifer Palmieri said. 
Clinton's agenda for September is broadly organized around women's issues. She will mark the Beijing speech anniversary Saturday rally in New Hampshire, where she'll be formally endorsed by Jeanne Shaheen, the first woman in U.S. history to be elected governor and senator. Throughout the month, she'll touch on the economy, college affordability and, in the third week of the month, health care.
Next week, she'll turn her attention to Iran, with a Tuesday speech on her support of President Barack Obama's deal. Supporters with foreign policy credibility will fan out to talk about the record Clinton built while serving as secretary of state, something that Palmieri described as "one of her strongest selling suits."
The campaign is also focused on building up its infrastructure. The campaign has opened 27 offices in the four early states and has 23,000 active volunteers across those states. In all, they've reached 1.35 million households with calls and doorknocks since Clinton's formal campaign launch in June.
Nationwide, the campaign has a total of 35,000 volunteers who have been present at more than 1,000 events. "We are organized and mobilized to win the primary first and foremost. We have the message, the resources to compete," Mook said, adding that over the next five months months "we want to make sure that we have an organization in place to capture our supporter." 
CORRECTION: An earlier version of this story omitted mention of Clinton's nationally televised interview with Univision.