politics
Columba Bush, the Political Asset Who'd Rather Not Be
Jeb Bush has portrayed his wife as the core of his political identity—but it's a role she's so far been reluctant to fully inhabit.
By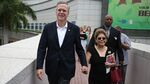 The central task of Jeb Bush's campaign, aside from trumping Donald Trump, is proving to the American public that he's not just a last name, a son, a scion. Thus far, his main weapon in this essential project is his wife.
Forty-four years ago, as a 17-year-old enrolled in a class called Man and Society at his ritzy New England prep school, Bush spent three months in a poor village outside León, Mexico, helping to build a schoolhouse. The intended lesson was about poverty and power, but he took something else away instead. In the zócalo in Léon, Jeb met a 16-year-old high school girl named Columba Garnica de Gallo. She was the daughter of a farmer, he the child of an oil millionaire. He saw stars: "lightning," he has said. "Literally love at first sight." On the campaign trail, he offers a line that's sure to be a swooner: "My life can be defined in one real, powerful way, which is B.C. and A.C.: Before Columba and After Columba." She was, he says, "my first date and my only love." But before Jeb could marry Columba, he had to prove to her much the same thing as he now does to the American people: that he's more than just his rich and powerful family.
Columba's outsize importance to her husband's political myth is illustrated by a visit to his campaign website. The first thing you read, beneath the e-mail sign-up field, is that his "life changed forever" when he saw a girl. "Meet Jeb," it says, then defines the presidential candidate by the moment he saw met Columba. His last name is nowhere in sight.

But for all Jeb's pride and differentiation, Columba has been another sort of force in Jeb's political life, too, one that he's had to accommodate as he's pursued his very Bushian ambitions. Unlike Jeb's mother, Barbara, who was an engine of George H.W.'s career—and sometimes his enforcer—Columba has had a more complicated role, outside of politics. She seems to validate Jeb as something more than a fancy blue-blooded Yankee—to add value to his public face—and at the same time she seems to pull him away from it. 

In 2004, a Colombian author named Beatriz Parga published a book entitled Columba Bush: the Cinderella of the White House. Jeb's presidential dreams were a still ways off, but Columba's ascension to the extended first family was simply that remarkable. Columba grew up, Parga wrote, in a troubled home: her father, José Maria Garnica-Rodriguez, would beat her mother, Josefina Gallo Esquivel. He once broke her fingers with a belt buckle. Columba, Parga reports, once said that her father "caused the most painful memories of my life and made the life of my mother hell." Her parents divorced in 1963. "To get divorced in the sixties in Mexico," she wrote years later, according to Karen Tumulty's and Mary Jordan's account in the Washington Post, "was a sin." It could not have been easy for a shy and religious 10-year-old.
When, six years later, Columba met Jeb, from one of America's most patrician families, "she played hard to get," the former Florida governor wrote of their first interactions, to the journalist Hanna Rosin of The Atlantic. This, Jeb continued, "made me more driven to get her. She was different than me which drew me to her. She had great instinctive insights into life that I really appreciated." And then, Jeb added an ebullient, "Thank God I met her and thank God she let me into her life!"
At times, he speaks as if he were the Cinderella and she the fair prince, who helped him discover his true self, who saved him. "Whatever I was doing beforehand, I vaguely remember," he tells crowds. "But my life got really organized after that."

Every profile of Jeb makes it clear what an effect Columba had on him. B.C., he was a pot-smoking occasional-bully rich-kid at Phillips Academy at Andover. When he returned from Mexico, A.C., he left drugs in the rear view, made the honor roll, enrolled in college. He got a degree in Latin American studies at the University of Texas in a short two and a half years, and made Phi Beta Kappa. (Barbara Bush wrote in her memoir of her motherly pride at his academic achievement: "I called to say how thrilled we were, and he told me he had done it for Columba because he wanted to prove he was serious. She thought he was a rich man's son and a playboy.") And then, back in Mexico, Jeb proposed to Columba. All this, of course, in Spanish. Columba was yet to learn English. Spanish remains the language of the family home. The first words of George Prescott Bush, their oldest son, were agua, jugo, and aquí.
In 1974, Jeb and Columba married at the Catholic student center at the University of Texas. (Jeb was then, after his parents, Episcopalian.) The only surviving picture of the day was taken by Barbara, since Jeb's brother Marvin, Jeb posted on their 41st anniversary this February, "accidentally rerolled from a Frank Zappa concert." As newlyweds, they moved around. They lived, for a spell, in Venezuela, where Jeb worked at the Texas Commerce Bank.
But the Bush family roots were in Texas, and it was in Houston that Jeb and Columba started their family. (They have three children: George P., Noelle, and Jeb, Jr.) Then in 1979, they relocated to Miami, to help support George H.W. in his campaign for the presidential nomination. It only helped the family's fortunes that Republicans were gaining popularity with Miami's Cuban population. 
That year, Columba became an American citizen, so that she could vote for her father-in-law. She called this change to her national status "a difficult decision to make."
But it wasn't simply for politics that the family left for Florida. Columba, according to a New York Magazine article, had experienced racism among Houston's conservative white social set. Jeb acknowledged that this was true. "Subtle, subtle," he said of the slights. His wife gave two options: Miami or Mexico.  
They raised their family in Miami. Jeb worked in real estate, served on corporate boards, joined state politics, and also worked to help his father's political career.

And then in 1994, Jeb himself ran for governor. It was an exhausting and demanding process—and not, in the end, a victorious one. In 1992, as her father-in-law was running for reelection, a Miami Herald reporter had asked Columba how she liked being on the campaign, and she said, "I want to go back to my kitchen, to do the homework with my kids, and—why not—to watch television." Having her husband run was even more challenging. Jeb was rarely around, and all this when their daughter, Noelle, was struggling with a serious drug problem. (Though they did not, at the time, discuss which of their children suffered from addiction, Columba said, "With my children adolescent-age, I was very close to the issue." Noelle was later arrested for trying to buy Xanax with a fake prescription. Eight months after that, she was sentenced to 10 days in jail for carrying crack cocaine in her shoe.) Plus George, the older of two sons, broke into an ex-girlfriend's home at 4 in the morning to see her, and then, after her father asked him to go, drove his SUV on her family's front lawn. Peter and Rochelle Schweizer's 2004 biography, The Bushes: Portrait of a Dynasty, notes that, at the time, multiple family members overheard Columba murmur, to Jeb, "You've ruined my life."

Columba's statement that she did "not ask to join a famous family" is often quoted, her feelings of anger and isolation in this period often reported. Jeb lost. "Following a difficult and unsuccessful political campaign that had put a strain on his marriage," the New York Times wrote, Jeb converted to Catholicism, Columba's faith.
But four years later, in 1998, Jeb did win the Florida governorship. In 2001, the Tampa Bay Times interviewed Columba, noting that she had declined requests for sit-down interviews since June 1999, when U.S. Customs fined her for failing to declare $19,000 worth of jewelry and clothes she had bought in Paris. She told the reporter Julie Hauserman that they had not discussed whether or not he would run again. She said they "never" discussed state policy. "We talk about our daughter and sons, and cats and dogs and silly things." The reporter quotes her after a public appearance—"I don't know how these politicians do it—traveling all the time"—and citing wisdom from her mother-in-law—"Never talk about politics, my dear." (Spokespeople for Jeb Bush's campaign did not respond to multiple requests to speak with Columba Bush for this article.)
Jeb was re-elected in 2002. Columba was already spending more time in Miami than in Tallahassee.

None of this is to say, however, that Columba was inactive. Politics was just something to struggle at. She told Hauserman of the Tampa Bay Times that she "had to learn to be more outgoing," that she turned to laughter and prayer—"those are my big secrets"—to deal with the stress of the public eye. She said, "I've been a very private person all my life. I think everybody knows that," then added, "I've been involved in my own issues."
Columba, as the first lady of Florida, spent days speaking with drug addicts and drug counselors at treatment centers. Every week, she tutored a middle school child in Tallahassee. She worked to combat domestic violence and substance abuse—and she never sought attention for it. The Washington Post once asked her whether Noelle's problems were linked to being a member of a political clan, and Columba replied, "Absolutely." Then she stopped herself—but the hint was there, that public life was a part of the pathology. She is not, in the model of, say, Chirlane McCray, the first lady of New York City, inclined to speak in intimate terms about the triumphs of her biracial American family, about her daughter's struggles with drug addiction—to frame the personal as political.

Recently, however, Columba has been taking her pursuits in a more public direction. In May, she published an op-ed in the Des Moines Register, writing about her 15 years of work with the Florida Coalition Against Domestic Violence. She wrote of the importance of domestic violence shelters, noting that, in Iowa, such shelters have provided emergency services to 3,336 survivors of domestic violence. The piece included a phone number for the Iowa Coalition Against Domestic Violence and its programs. "I look forward," Columba closed, "to working side by side with Iowans to forge a brighter future for those most vulnerable and in need of our help.
Last week, she published an op-ed in the Las Vegas Review-Journal that was both a public display of admiration for Miriam Adelson, wife of mega-donor Sheldon, and a call for combatting opioid prescription addition. Columba praised the leadership of the Adelsons, and Nevada Governor Brian Sandoval, and his wife, Kathleen. In the sixth paragraph of the piece, she wrote, in what might be construed as personal terms:
Jeb and I worked diligently to dismantle the stigma associated with talking about substance abuse in our families and our communities by continuously using our voices and experiences to raise awareness and educate others.
In the last few months, Columba's role as political spouse has finally been coming into focus. She's had a public roll-out, all, evidently, strategized, the presentation of her political passions dipping into the slightly confessional tone of some of Jeb's statements about his transformation A.C.  This spring, she hosted a fundraiser for Jeb's super-PAC in Miami. She also joined Twitter and Instagram. On Instagram, she has posted 22 times, including photos of herself in Iowa:
New Hampshire:
And Nevada:
She was in Germany for a speech of her husband's, and posted pictures of cathedrals, museums, crowds, and public crosses. When he entered the race, she posted, and when he took place in the first Republican debate.
She includes her causes, too, showing excitement over the Art for Life! program that she established in 1999, or for the work of a domestic violence group in South Carolina:
And on her Instagram there is evidence of a meeting with Senator Kelly Ayotte, Republican of New Hampshire, which seems a step toward a policy measure:
Of course, for all of Columba's different meanings, the most potent one—largely thanks to Donald Trump—concerns immigration. In a general election, the issue of immigration may be Jeb's superpower; but in a primary, it's his Achilles heel. Possibly, this explains why, for all of Columba's op-eds and photo opportunities, Columba has not much piped up, or shown up, on the campaign trail. After Trump last month retweeted a tweet stating "#JebBush has to like the Mexican Illegals because of his wife," she could have pointed out that Trump's wife, too, is an immigrant to the United States—she could have made a case for compassionate conservatism, which has worked for Bushes before. But still Columba seems less than ecstatic about engaging in family spokesmanship, in activism, or even in ceremonial duties. Columba's sister, Lucila Schmitz (who is married to another Andover boy from the same schoolhouse project) told the Ocala Star-Banner in 1999, "Columba prefers to be behind the scene supporting her husband."
Last year, Jeb conjured a scene of those who cross the border to the United States illegally: "The dad who loved their children—was worried that their children didn't have food on the table. And they wanted to make sure their family was intact, and they crossed the border because they had no other means to work to be able to provide for their family." He said, "Yes, they broke the law, but it's not a felony. It's an act of love. It's an act of commitment to your family." 
One sensed, in this, the reach of his connection with Columba, his Latina wife, whose father and his brother were among the many who went back and forth across the United States. Antonio Garnica Rodriguez, Columba's uncle, spoke to the Washington Post about coming in without papers. "We just went across the border, worked, stayed there for a while and came back," Rodriguez said. 
But in the present land grab with Trump, Jeb has gotten into trouble by using the term "anchor babies"—which even his former protégé Senator Marco Rubio seems to consider an offensive—not to speak of his demeaning comments about "Asian people."
All of this after he said last December that Republicans had to "lose the primary to win the general without violating your principles."
Donald Trump, right now, might be the biggest challenge to Jeb's campaign. And what an asset a proud, conservative, Latina woman who happens to be his wife might be in Jeb's struggle against Trump. But Jeb seems to struggle, too, by making a sort of symbol of his wife, when she's thus far been reluctant to embrace her own symbolic identity.
Before it's here, it's on the Bloomberg Terminal.
LEARN MORE