Reminder: Hillary Clinton Officially Launched Her Campaign Six Weeks Ago
Her June 13 rally emphasizes the trend of multiple launches and announcements from presidential candidates.
By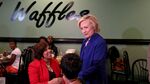 On April 13, the Hillary Clinton campaign hand-delivered her Statement of Candidacy to the Federal Election Commission. A day earlier she released a video in which she said "I'm running for president." Based on the headlines that followed ("Hillary Clinton Makes It Official"—the Atlantic; "It's Official: Hillary Clinton Is Running for President"—Slate; "Hillary Clinton makes it official: She's running"—Des Moines Register; "Hillary Clinton makes Presidential run official"—New Hampshire's Union Leader) the press seemed to think this was official.