Reminder: Hillary Clinton Officially Launched Her Campaign Six Weeks Ago
Her June 13 rally emphasizes the trend of multiple launches and announcements from presidential candidates.
By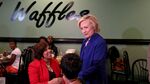 On April 13, the Hillary Clinton campaign hand-delivered her Statement of Candidacy to the Federal Election Commission. A day earlier she released a video in which she said "I'm running for president." Based on the headlines that followed ("Hillary Clinton Makes It Official"—the Atlantic; "It's Official: Hillary Clinton Is Running for President"—Slate; "Hillary Clinton makes it official: She's running"—Des Moines Register; "Hillary Clinton makes Presidential run official"—New Hampshire's Union Leader) the press seemed to think this was official.
And yet, her campaign announced Monday that she will "officially" launch her presidential campaign with a long-delayed rally on June 13, where she'll give her "official campaign launch speech." Several media outlets have also called this the official launch. There will be some differences between the June 13 rally and the campaign so far—chief among the fact that Clinton plans to do sit-down interviews—but there's still something odd about the idea of a campaign officially launching two months in.
Tim Murphy at Mother Jones joked, "The week may have started on Sunday, but the formal launch for the week is going to be on Tuesday."
Tim Miller, the communications director for likely Republican candidate Jeb Bush's campaign, wondered if the media would give Republican candidates and Vermont independent Bernie Sanders two launches as well. The sentiment was seconded by Vincent Harris, who works for Kentucky Senator Rand Paul.
Clinton isn't the only candidate to drag out the good will of a campaign launch: Miller's boss has been "actively exploring" running for president for nearly six months. There's also nothing wrong with holding two events—Sanders held a short news conference on April 29 by in Washington to announce his candidacy and followed up with what his campaign called a "hometown campaign kickoff" on May 26.
But Clinton's rollout is different, in size and scope. The same press release announced a five-day trip through the four early primary states of Iowa, New Hampshire, South Carolina, and Nevada, a reflection of  "Clinton's plan to work for and earn every vote."
Miller's tweet also reflects a simple fact: Campaign launches mean attention and good press. Coverage of campaign launches are generally positive, with images showing the candidate surrounded by cheering supporters and guaranteed coverage. Senators Marco Rubio and Ted Cruz saw their poll numbers rise after their launches. 
Clinton's June 13 event has been described as her "official launch rally," her "first major rally," and, from Business Insider: "Hillary Clinton is announcing her presidential campaign again." Even if outlets can't agree what to call the event, there's a consensus that it has to be covered.