Hillary Clinton Campaign Outlines Plans For Fundraising and First Big Speech
Staffers say they can win the White Houses for under $2 billion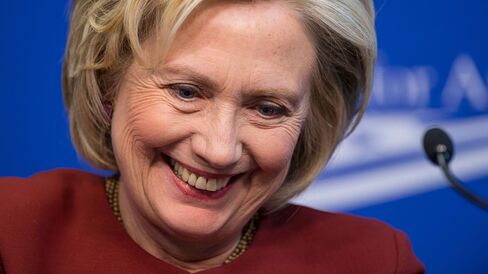 Hillary Clinton's campaign aides knocked down speculation that they're aiming to raise $2 billion for the primary and general elections, saying the total they expect to need to win the White House is closer to the $1 billion that President Barack Obama needed to win reelection in 2012.
The $2 billion number has cropped up in occasional news reports but, as they briefed reporters at campaign headquarters in Brooklyn on Thursday, senior campaign officials said the dollar amount necessary to run a successful campaign is likely to be about half of that. And campaign staff said they don't expect to hit the $2 billion mark even with the fundraising of outside groups supporting Clinton, such as Priorities USA. Clinton herself had previously said in a New York fundraiser that the number was an overestimate.The only concrete fundraising goal is to raise $100 million in primary money in 2015, one official said. That number is on track with what Obama raised in 2007.
The campaign temporarily has staff on the ground on all 50 states, but its focus is on the four early caucus and primary states -- Iowa, New Hampshire, South Carolina and Nevada -- and on building up the organization there.
Clinton's staffers described her as happy and glad to be leading her campaign rather than letting her campaign lead her, as was often the case in 2007 and 2008.
The Brooklyn briefing came as the Clinton campaign's summer plans come into focus, with a launch rally set for June 13. Clinton, who has been criticized for failing to take questions from the press, plans to do sit-down interviews around the launch. Former President Bill Clinton and daughter Chelsea Clinton – who have not thus far been publicly involved in the campaign – will appear at the rally but are not likely to get more involved for months, said one official, who, like many Clinton aides, asked not to be named. It's possible Clinton's husband and daughter could end up fundraising for her before they hit the campaign trail.
In the seven weeks since she launched her campaign, Clinton has mixed a handful of small roundtable events in early primary and caucus states with a dozens of $2,700 per person fundraisers on both coasts.
The former secretary of state will shift into the next gear of campaigning with her kickoff rally, her first appearance before a large crowd to deliver a major speech. The campaign isn't yet ready to say where the event will be.
Clinton's schedule after the launch speech will pick up a bit but officials noted that the first votes won't be cast for more than six months after the launch rally.
Before it's here, it's on the Bloomberg Terminal.
LEARN MORE