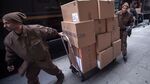 Although frigid weather kept many Americans away from malls and stores last quarter, it didn't stop them from shopping on their laptops and smartphones. 
Sales on e-commerce websites increased 3.5 percent in the first three months of the year from the previous quarter, reaching a record $80 billion worth of purchases, according to seasonally-adjusted figures released by the Commerce Department on Friday. Meanwhile, total retail sales declined 1.5 percent, the first quarterly drop in almost three years. On a year-over-year basis, online purchases soared a whopping 14.5 percent, compared with a 1.6 percent increase for total sales. 

It won't come as a surprise to anyone that online sales have consistently outperformed the overall index, and have better weathered periods of contraction as the dips in 2008 and 2009 show. Since the start of the recovery, quarterly increases in e-commerce sales have averaged 3.7 percent versus 1.1 percent for total sales. Along the way, the share of e-commerce as a percent of total retail sales rose to 7 percent from 0.6 percent in 1999.

While 7 percent might sound like just a sliver of the market, remember that there are still a lot of things you wouldn't think of buying online, such as gasoline, cars and restaurant meals. Within certain categories, such as apparel, the shift to the Internet has been faster, according to Poonam Goyal, an analyst with Bloomberg Intelligence.
"Companies that generate the largest portion of their sales from online are apparel stores," Goyal said. "Their online sales are often more than 15 percent of their total sales, so the potential there is enormous." 
Lululemon Atheltica Inc., Express Inc., and Abercrombie & Fitch Co. are among clothing retailers with e-commerce sales equal to at least 19 percent of total receipts. 
For more on the global economy, check out Benchmark: