Cold Temperatures Hurt U.S. Retailers as Sales Drop: Economy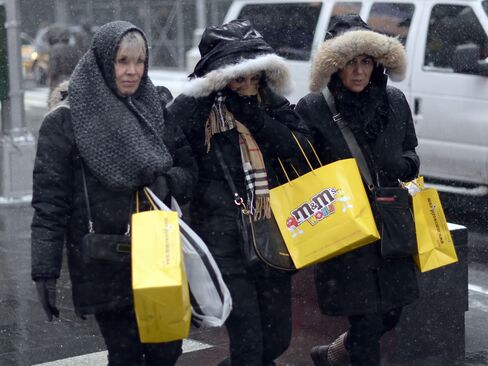 The bitter cold that swept over parts of the U.S. chilled retail sales in February as the world's largest economy began the year on weak footing.
Purchases unexpectedly dropped 0.6 percent, a third consecutive decline, according to figures issued by the Commerce Department on Thursday in Washington. Other data showed fewer Americans than forecast filed claims for jobless benefits last week, and the cost of imported goods rose in February.
Auto dealers, building-material outlets and department stores were among the merchants that suffered through record cold and snow in parts of the Northeast and Midwest, which opens the possibility for a rebound in demand this month. The strengthening job market and still-low gasoline prices are among reasons most economists remain optimistic on the outlook for consumer spending, the biggest part of the economy.
"It's not disastrous," said Michael Feroli, JPMorgan Chase & Co.'s New York-based chief U.S. economist. "There could be some weather effect holding back retail sales. We still have a very good labor market and a lot of other things that are supportive of spending."
Stocks rebounded from a two-day selloff as banks rose and the drop in retail sales bolstered the case for Federal Reserve policy makers to keep interest rates low at their meeting next week. The Standard & Poor's 500 Index rose 1.3 percent to 2,065.95 at the close in New York.
Fewer Claims
A Labor Department report Thursday affirmed that the job market remains on the right track. The number of Americans filing for unemployment benefits declined by 36,000 to 289,000 in the period ended March 7, the fewest in three weeks.
Applications had shot up to a nine-month high of 325,000 the previous week as employees unable to get to work because of inclement weather in states such as Tennessee sought compensation for lost wages, the report showed. In New York, where claims jumped by 21,000, officials pointed to dismissals in education and transportation services.
Last week's decrease sent claims back to the level that economists say is consistent with a rapidly improving job market.
"This is a much bigger unwind of last week's substantial weather hit than we expected," Ian Shepherdson, chief economist at Pantheon Macroeconomics Ltd. in Newcastle, U.K., said in a note to clients. The trend remains very low and compatible with payroll gains remaining in the high 200,000 range over the next couple of months, he said.
More Hiring
The Labor Department's February employment report issued March 6 indicated hiring remains robust. Employers added 295,000 jobs, exceeding expectations, while the unemployment rate fell to an almost seven-year low of 5.5 percent.
That's the main reason most economists believe retail sales will soon rebound.
While wage gains on average have been stagnant, total income "is rising at an impressive clip" because so many more people are being hired, said Carl Riccadonna, Bloomberg Intelligence chief U.S. economist in New York. "That's going to support consumer spending."
Another aid is cheaper fuel. Regular gasoline at the pump cost $2.41 a gallon on the last day of February, according to AAA, the biggest U.S. auto group. While the price has ticked up from a January average of $2.10, it remains well below last year's high of $3.70.
Some economists remain concerned that wage growth has failed to accelerate, risking a sustained slowdown in spending.
Weather Scapegoat
"It is difficult to blame February's spending malaise on weather alone," Lindsey Piegza, chief economist at Sterne Agee & Leach Inc. in Chicago, wrote in a research note. "Low gas prices alone are not enough to sustain spending patterns; support is needed from organic job and income growth."
The string of weak readings on retail sales may also signal that consumers are taking a breather after spending surged in the fourth quarter when fuel prices declined. A report Wednesday from the Census Bureau signaled household purchases will be revised up to show a jump in the range of 4.5 percent to 5 percent, making it the biggest advance since at least 2006.
"Consumers did spend their gasoline windfall pretty quickly in the fourth quarter," said JPMorgan Chase's Feroli. "Now we're seeing some easing back down."
Feroli estimates household spending this quarter adjusted for inflation is rising at around a 2.5 percent annual rate.
"It's not weak, it's not strong, it's trend-like," he said. "I don't panic over trend-like numbers." Consumers "still have some gas in the tank, so to speak," he said.
Household Wealth
Improving household wealth was also a tailwind for consumers at the end of 2014, propelled by record stock prices. Net worth for households and non-profit groups rose by $1.5 trillion in the fourth quarter from the previous three months, to $82.9 trillion, the Federal Reserve said Thursday.
The median forecast of 86 economists surveyed by Bloomberg projected retail sales would climb 0.3 percent. Estimates ranged from a decline of 0.2 percent to an advance of 0.7 percent. The January figure was unrevised, showing a 0.8 percent drop.
The decrease last month was broad-based, with nine of 13 major categories retreating.
"It looks like a big weather effect here," said Bloomberg Intelligence's Riccadonna, noting the declines in weather-sensitive categories including apparel, restaurants, building materials and automobiles. "A lot of February data is going to look muddy. This is just a blip. The consumer is just fine."
Auto Sales
The hit from inclement weather was reflected in results at car companies. Ford Motor Co.'s light-vehicle sales slipped 2 percent while other top automakers reported smaller gains than analysts had estimated as the frigid temperatures slowed showroom traffic. The weakness isn't too much of a concern, industry officials said.
"We go through this every year," Erich Merkle, Ford's sales analyst, said on a March 3 conference call with reporters and analysts. "It's really hard to hang any hats at this point on January and February."
The Commerce Department report showed sales declined 2.5 percent at automobile dealers, the most since January 2014, when snow also blanketed large swaths of the U.S.
One standout last month was non-store retailers, which include online merchants. Purchases showed a 2.2 percent increase, the largest since March 2014. That also points to a weather influence as Americans preferred to shop from the warmth of their homes.
Record Cold
The eastern U.S. saw below-normal temperatures from Atlanta to New York and record snowfalls in New England. The National Oceanic and Atmospheric Administration's data showed February was the snowiest month on record for Boston, while Chicago, Buffalo and Cleveland had their coldest February on record.
Consumer confidence was little changed last week, according to other data issued Thursday. The Bloomberg Consumer Comfort Index retreated to 43.3 in the period ended March 8 from 43.5 in the prior week. The gauge had jumped to a more than seven-year high of 47.3 in late January.
Americans are also benefiting from a rising dollar that is making goods produced overseas cheaper. The cost of non-fuel imports dropped 0.3 percent in February, the sixth consecutive decrease, the Labor Department also reported Thursday. Prices for all imports climbed 0.4 percent, rising for the first time since June as petroleum costs rebounded.
Before it's here, it's on the Bloomberg Terminal.
LEARN MORE