Valery Hache/Getty Images
On a sunny morning in late February, Yves Bouvier, a Swiss art dealer, flew into Nice and drove 20 miles along the French Riviera to Monaco to meet his top client, Russian billionaire Dmitry Rybolovlev. Bouvier had come to work out the final payment for Mark Rothko's No. 6 (Violet, Green and Red), which Rybolovlev had agreed to buy for €140 million back in August. Bouvier, 51, entered the lobby of the cream-colored, belle époque mansion where Rybolovlev's penthouse apartment overlooks Monte Carlo's yacht-filled marina.
Assuming business as usual, Bouvier approached a man he thought was one of Rybolovlev's bodyguards. He was wrong, Bloomberg Markets magazine will report in its June 2015 issue. The man turned out to be one of eight Monaco police officers who were there to arrest him. Bouvier didn't know that six weeks earlier, Rybolovlev had filed a complaint against him for fraud, alleging Bouvier had misled him about the prices of artworks he was buying.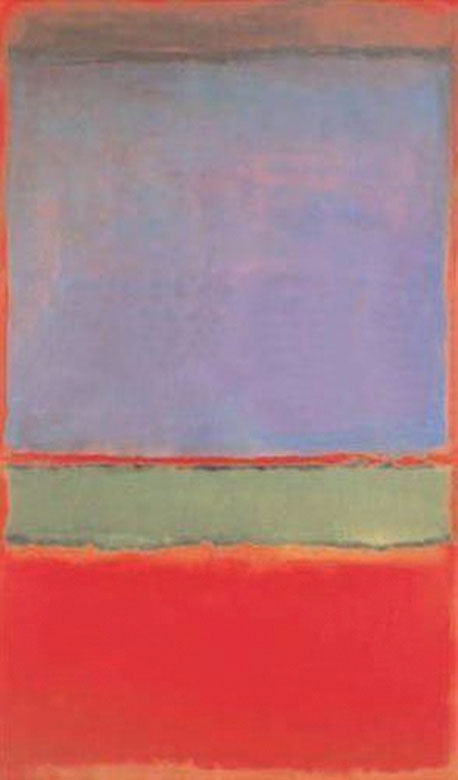 That evening, while Bouvier sat in a Monte Carlo police station, Rybolovlev, majority owner of AS Monaco Football Club, was celebrating with Prince Albert II at London's Emirates Stadium: His team beat perennial English powerhouse Arsenal, 3-1.
The dispute between Bouvier and Rybolovlev has turned into one of the biggest cases of alleged fraud to ever hit the art market, pitting one of Russia's richest men against a little-known Swiss art merchant. Rybolovlev, a 48-year-old cardiologist-turned-businessman from the Urals region, made most of his $10 billion fortune through the sale of his fertilizer company, Uralkali, in 2010. Using a series of offshore companies during the past decade, he's spent more than $2 billion buying almost 40 works of art through Bouvier, amassing a dream collection of works by Picasso, Leonardo da Vinci, Rothko, Gauguin, Matisse, and Rodin.
Bouvier owns an art shipping company along with stakes in a network of freeports—bonded warehouses where the superrich can store paintings, wine, and antiques tax-free. In the past five years, he's exported the freeport concept from Geneva to Singapore and Luxembourg. All the while, operating below the radar, he's quietly become one of the biggest art dealers in the business.
After three days of questioning, Monaco's Public Prosecution Department indicted Bouvier on criminal charges of fraud and complicity in money laundering and released him on €10 million ($11 million) bail. As part of the alleged fraud, the indictment cites the sale of the Rothko—one of his best-known works, its bold rectangular blotches bleeding into one another.
The Monaco complaint alleges Bouvier fraudulently inflated invoices for some of the artwork Rybolovlev bought and may have "secretly withheld part of the sale price." The prosecutor charged Tania Rappo, Rybolovlev's translator and godmother to his second child, with money laundering in connection with the commissions Bouvier paid her as an intermediary. Frank Michel, Rappo's lawyer, says her commissions were "perfectly legal and justified." Bouvier denies he was complicit in any money laundering and says commissions paid to those who introduce a buyer to a vendor, as Rappo did, are normal in the art world. If convicted, Bouvier could face up to five years in prison for fraud and 10 years for complicity in money laundering. He denies the charges. 

The showdown in Monaco has blown the lid off an opaque area of the art market: private sales, in which the most sought-after pieces often change hands through well-connected dealers, avoiding a public bidding war. Of the record €51 billion in art sold last year, 52 percent of the transactions were private deals, says Clare McAndrew, founder of research and consulting firm Art Economics.
In this arena, billionaires often bid against each other without even knowing it, frequently through offshore companies. Rather than flaunting art on their villa walls, investors are increasingly stashing it in freeports, where it can appreciate tax-free before being sold again, tax-free. The value of the works is often hard to assess, determined mostly by what a buyer's willing to pay. What Rybolovlev paid for No. 6 was a record for a Rothko, whose large canvases have soared in value. In February, Qatar Museums, according to widespread reports, bought Paul Gauguin's When Will You Marry? for $300 million, the highest price ever paid for a work of art. (Qatar Museums did not respond to calls for comment.)
Nouriel Roubini, an economist at New York University and an art collector, said on his personal blog earlier this year that the art market is prone to money laundering and price manipulation and badly needs regulation. "There are a number of serious distortions in the art market that suggest that there is some shady behavior going on," he wrote in February, adding later, "Price opacity in the art market leads to insider information, which makes insider trading in art far more likely."

At its heart, the Bouvier-Rybolovlev feud centers on a decade-long arrangement that was never spelled out on paper. Rybolovlev, who declined to be interviewed for this story, considered Bouvier his broker, negotiating prices from third-party sellers, says Tetiana Bersheda, a lawyer representing Rybolovlev. "He made us believe that we were acquiring the paintings directly from the owners and paying him a commission," she says. "In reality, he would charge the highest price to my client while making us believe this was the lowest price he could get from the seller."
Bouvier says he never had any formal contract with Rybolovlev. He says he was merely a seller, not a broker, adding that 80 percent of the bills he issued to Rybolovlev's companies listed him as the seller. "He chose to pay those prices," Bouvier says during a two-hour interview at his lawyer's office in Geneva in March. "He is not a naive man. He knows very well how the market works for such masterpieces."
Complicating the picture is a protracted divorce between Rybolovlev and his ex-wife, Elena Rybolovleva, which began in 2008 and has yet to be resolved. She was awarded 4 billion Swiss francs ($4.2 billion) by a Geneva court in May 2014, a decision that Rybolovlev is appealing. Rybolovleva's lawyers have sought unsuccessfully to enforce a Swiss order to freeze 14 works acquired by a Rybolovlev trust while they were still married. Since 2010, according to his Monaco complaint, Rybolovlev has bought paintings through Accent Delight International, a British Virgin Islands–based company held by a Cyprus trust he set up to benefit, among others, his eldest daughter, Ekaterina—a move that has bedeviled the divvying up of assets in the divorce.

Bouvier's relationship with Rybolovlev might have continued but for a chance encounter on the Caribbean island of St. Barts in the run-up to New Year's Eve last year. Rybolovlev was lunching with friends at Jean-Georges Vongerichten's restaurant at the Eden Rock hotel. As they chatted overlooking the turquoise waters of St. Jean Bay, a mutual friend introduced Rybolovlev to Sandy Heller, art adviser to hedge fund billionaire and noted collector Steven A. Cohen.
They began talking about the art market, according to people familiar with the conversation. The discussion moved on to Amedeo Modigliani's Reclining Nude With Blue Cushion, which Cohen had sold in 2012 to a mystery buyer. What unfolded next was a surprise to both men. With Cohen's blessing, Heller disclosed that he'd received $93.5 million for the Modigliani.
Rybolovlev was shocked, the people say. He'd paid $118 million for the painting—more than $24 million above what Cohen got—in a deal arranged by Bouvier, whom he considered a trusted adviser. Now, Rybolovlev told Heller, he was worried Bouvier might have been milking him on other paintings over the years. Could Heller have a look at other deals? Heller did and concurred, saying the prices Rybolovlev had paid for some works appeared wide of the mark. Less than two weeks after meeting Heller, Rybolovlev sprang into action and filed a fraud complaint against Bouvier in Monaco, where the two had met at least five times to hash out deals.
In March, at the Russian billionaire's instigation, the High Court in Singapore, where Bouvier is a resident, froze up to $500 million of his assets pending the outcome of the Monaco investigation. Three weeks later, the court ordered Rybolovlev to post a $20 million deposit in the event damages are awarded to Bouvier.

Bouvier's position as the owner of an art shipping and storage business gave him not only a Rolodex of top collectors around the world, but also a privileged perspective on what artworks are in play. To keep track of his empire, he says he typically travels 300 days a year. Bouvier displays a meticulous approach to detail; he wears hand-tailored shirts monogrammed with his initials as well as the year and season in which he acquired them.
Bouvier's highflying lifestyle is far from what he says was an ordinary childhood in Geneva, where his father owned a general shipping and storage company called Natural Le Coultre. Bouvier began studies at the University of Geneva before dropping out to work for his dad in between spells as a snowboarding instructor in the Alps.
In 1989, Bouvier and his father began specializing in art shipping for galleries, auction houses, and museums. Natural Le Coultre rents space from Geneva Freeport, a 125-year-old bonded warehouse that once stored mainly grain, tobacco, and wine. Historically, freeports have existed to allow exporters and importers to store goods free of customs duties before they reach their final destination, where taxes are paid. Today, Geneva Freeport holds tens of billions of dollars' worth of fine art, according to Robert Read, head of fine art at London insurer Hiscox. Bouvier says his holding company, Euroasia Investment, owns less than 5 percent of the freeport, alongside the Canton of Geneva, which owns 86 percent.
Even in Bouvier's hometown, his role as a dealer was something of a secret. Philippe Davet of Geneva-based gallery and art consultants Blondeau & Cie. says it was news to him. "He was known as a transporter, very reliable, very discreet," he says. "There were rumors that he was a dealer, but it was a surprise to me." Bouvier says bigger dealers knew of him as a buyer of major works.
Bouvier first met Rybolovlev by chance in 2003 at Geneva Freeport, where the Russian was viewing a painting by Marc Chagall that he wanted to buy from another dealer. Rybolovlev speaks little English or French so he brought along Rappo to translate. According to court documents, Bouvier later contacted Rappo with a message to pass on: If Rybolovlev wanted to continue investing in art, Bouvier could help—and the Russian was keen.
As Rybolovlev began buying, according to his Monaco complaint, he rarely signed a sales contract with either a third-party seller or with Bouvier. Bouvier issued an invoice for the sale price, and the painting was transferred as soon as the money hit his bank account. "Bouvier said we needed to keep things confidential," lawyer Bersheda says. "He said he would be able to get a better price if people didn't know the acquisition was being made by a trust related to a Russian billionaire."
Bersheda says Bouvier charged a 2 percent commission on most transactions. Bouvier says the charge was not a broker's commission but rather a fee to cover administrative costs, including insurance, transport, and condition reports and, in some cases, escrow accounts between down payment and final payment. Some art experts and dealers say it's unusual for a seller to be charging for administrative costs, which rarely amount to 2 percent of the sale price.
In the wake of the financial crisis, Bouvier's freeport business took off as investors began shifting some of their assets out of stocks and bonds. "After the banks lost everything, there was a feeling that people should diversify into property and art," he says. "There was a surge in demand for a place to store that art. We became a hub."
In 2010, Bouvier opened a 30,000-square-meter (323,000-square-foot) high-tech freeport warehouse on the grounds of Singapore's Changi Airport. Christie's leased a whole floor at the storage facility, which is majority owned by Bouvier and also houses wine, jewelry, antiques, and vintage cars.
The deal that sparked his feud with Rybolovlev began in late 2011, when Bouvier started negotiating to buy Modigliani's Reclining Nude. On Dec. 23, he e-mailed Mikhail Sazonov, a financial adviser to Rybolovlev, according to the Monaco complaint. The owner of a "very important painting" might put it on the market, Bouvier wrote. "For financial and tax reasons, I think he's going to sell."
Unknown to Rybolovlev, the owner was Cohen, who had consigned the painting's sale to now-defunct New York art dealer Giraud Pissarro Ségalot. The dealer sold it to Bouvier for $93.5 million, plus a commission of about $2.5 million, according to an affidavit filed by Sazonov in Singapore. In January 2012, Bouvier's Hong Kong–based company, MEI Invest, presented Rybolovlev's trust with an invoice for $118 million, leaving Bouvier with $22 million after the New York dealer's commission.
The blockbuster deals kept coming. In early 2013, Bouvier told Sazonov that Leonardo da Vinci's recently discovered, masterful oil-on-walnut painting of Christ, Salvator Mundi, was up for sale. In May of that year, a Rybolovlev trust agreed to pay $127.5 million for the painting. Rybolovlev questioned the price he'd paid after reading a New York Times article—citing unnamed dealers—that said the da Vinci was sold by a consortium for $75 million to $80 million, according to the Monaco complaint. Bouvier declined to discuss the details, citing the investigation.

With his freeport hat on, Bouvier last September opened a €52 million facility in Luxembourg that looks more like London's Tate Modern than a warehouse. Bouvier owns 60 percent of the freeport, which has private art showrooms and can store 750,000 bottles of wine.
In the summer of 2014, as he was gearing up for the Luxembourg opening, Bouvier presented Rybolovlev with an opportunity to buy a work by one of America's most important postwar artists: Mark Rothko. Christie's had sold his Orange, Red, Yellow at auction for a record $87 million in 2012. Bouvier had found a private collector who wanted to sell No. 6 (Violet, Green and Red), one of the abstract impressionist's most famous works. He began negotiating with Rybolovlev on the price.
After some back and forth, the two men settled on €140 million, making it one of the most expensive paintings ever sold. Rybolovlev agreed to sell a Modigliani sculpture, Tête—which he'd bought via Bouvier in 2012—for €60 million as a partial payment for the Rothko. "I convinced the seller of the importance of Tête by Modigliani, and he agrees to take it in part exchange for 60m euros," Bouvier wrote to Sazonov on Aug. 4, 2014, the complaint says.
Unknown to Rybolovlev, the seller of the Rothko was Cherise Moueix, the wife of Christian Moueix, a French winemaker who oversees Château Pétrus. She declined to comment. Bouvier told the Monaco prosecutor that he bought the Rothko from Moueix through an intermediary for $80 million plus an unspecified commission—roughly €80 million less than the Russian agreed to pay at the time.
The Singapore court, meanwhile, has put No. 6 under judicial supervision; its exact whereabouts haven't been disclosed. Bouvier says Rybolovlev still owes him about $40 million for the painting, based on the agreed price. Rybolovlev has refused to pay the balance, saying he's already shelled out more than the $80 million Bouvier paid.
Bouvier says no one forced Rybolovlev to pay the prices he did. "No matter the price, he wanted it and he was ready to pay the agreed price," says Bouvier. "That Rothko is the most beautiful painting in the world. Everybody wanted to buy that piece." David Bitton, Bouvier's lawyer, says the dispute is just a pawn in Rybolovlev's fierce divorce battle. Marc Bonnant, the lawyer for Rybolovlev's ex-wife, says Rybolovlev may even be trying to get a court to endorse the notion that his art collection is overvalued to help reduce his divorce bill. "He won't succeed," says Bonnant. Bersheda, the lawyer for Rybolovlev, says the divorce proceedings have nothing to do with her client's complaint against Bouvier. She says it was the St. Barts encounter that prompted Rybolovlev to lodge his complaint in Monaco—eight months after the $4.2 billion divorce ruling. "Their argument makes no sense," she says.
Bouvier—sitting in his lawyer's office in Geneva in March, juggling two buzzing phones, red eyed from lack of sleep—says the accusation that he ripped off a man as smart as Rybolovlev is ridiculous. "How could a Russian who's become a billionaire, achieved all he did, and is so clearly bright, be taken advantage of by me?" he asks.
This story appears in the June 2015 issue of Bloomberg Markets.
Before it's here, it's on the Bloomberg Terminal.
LEARN MORE