In New Hampshire Visit, Hillary Clinton Rival Doesn't Want to Talk About Scandals
Martin O'Malley will talk about his own transparency–just not Hillary Clinton's.
By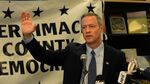 CONCORD, N.H.–For much of a busy news day, it had led the Drudge Report. O'MALLEY TO NEW HAMPSHIRE! Former Maryland Governor Martin O'Malley's long-planned trek to the first primary state had taken on Beltway significance after two weeks of damaging revelations about Hillary Clinton. Like other potential rivals for the 2016 Democratic nomination, O'Malley had declined, through spokesmen, to weigh in on either the story of the Clinton Foundation taking large foreign donations or the former secretary of state maintaining a private e-mail account in apparent violation of secrecy rules.
Yet after a fundraising event for local Democrats at Gibson's Bookstore, when prodded again and again by the press, O'Malley declined to criticize Clinton directly. 
"I don't know what the rules are that govern the email procedures on the federal level," said O'Malley in a gaggle with reporters. "I'll leave that to others to explain."
When pressed on his own transparency, O'Malley praised Maryland laws that put private e-mail in front of the public and the press. "Our laws in Maryland are a little different than the federal in that whether you're using a private e-mail or a public e-mail, it's all discoverable and it's all subject to freedom of information requests," he said. "We've complied with many, many of those freedom of information requests. So it's kind of a moot question in our state."
Pressed again, O'Malley broadened the discussion to how his Maryland administration had opened its books. "I think openness and transparency are required of governing in the modern age," he said. "One of the things we did very well in the city of Baltimore and the city of Maryland was to measure the performance of our government–that is to say, benchmarks for achieving reductions in greenhouse gases, for job creation, for increasing the achievement of our kids in schools. Openness and transparency is the wave of the future."
After O'Malley discussed his own timing for a possible 2016 bid–"I'll make a decision by spring"–Bloomberg Politics asked him if he had any worry that foreign donations to the Clinton foundation could influence the decisions of a possible Hillary Clinton White House.
"I like Hillary Clinton and I respect Secretary Clinton," said O'Malley. "I didn't come here to talk about Secretary Clinton. I can tell you that in any of my dealings with her, or with the president, they have always been decent and straight up and honest with me. I also know for a fact that that foundation's done a lot of good work to help a lot of people that are in need around the world–and I'll leave it to them to answer more specific things."
In remarks to Democrats, and to reporters, the most specific criticism O'Malley made of Bill Clinton's eight-year presidency was on bank policy. While Bill Clinton had signed legislation that effectively repealed Glass-Steagall, and allowed large financial institutions to engage in both commercial and investment banking, O'Malley wanted to restore it. That was a position he shared with Massachusetts Senator Elizabeth Warren, who has consistently rebuffed supporters who want her to run for president.