Will the Clinton Foundation Come to Haunt Hillary?
Foreign donations made to the Clinton Foundation, including one that appears to violate an ethics agreement, could pose a problem for the Democratic frontrunner.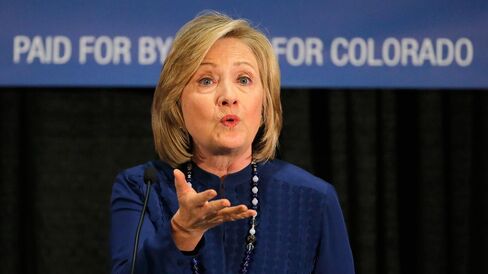 Hillary Clinton's political enemies believe they may have finally located her Achilles' Heel.
In the days following a Washington Post report that the Clinton Foundation accepted millions of dollars in donations from foreign governments while Clinton served as secretary of state, and that a $500,000 contribution from the government of Algeria potentially violated an ethics agreement with the Obama White House, criticism of the Democratic presidential frontrunner has been pointed, especially from her would-be Republican rivals.
On Sunday, former Texas Governor Rick Perry framed the issue as one of trust.
"Are you going to trust an individual who has taken that much money from a foreign source? Where's your loyalty?" Perry told CNN's Dana Bash. "I'm really concerned, not just going forward, but what has been received at the Clinton Foundation over the course of years and how that affects this individual's judgment."
At last week's Conservative Political Action Conference, the Clinton Foundation donations rose to the top of the list in terms of Hillary attack lines.
"Mrs. Clinton, name an accomplishment. And in the meantime, please explain why we should accept that the millions and millions of dollars that have flowed into the Clinton Global Initiative from foreign governments do not represent a conflict of interest," prospective GOP presidential candidate Carly Fiorina declared.
"We could have had Hillary here, but we couldn't find a foreign nation to foot the bill," joked Senator Ted Cruz.
On social media, Clinton's foes have been hammering the former secretary of state over the donations.
https://twitter.com/GOP/status/572038586108801024
The criticism was not just from those hoping to see Clinton go down to defeat in the 2016 election. Former Democratic Representative Jane Harman called the failure to disclose the donations "troubling."
"Yes, there was a process set up. All of the other contributions were reviewed, as I understand it. There was transparency. This was an unsolicited donation of $500,000 at a time when U.S. was deluged with help for Haiti," Harman said on Fox News Sunday. "I guess it got lost in the system. I think it needs to be explained. I don't understand why the money wasn't returned, or after the fact, approval wasn't sought."
https://www.youtube.com/watch?v=v-yxd4s7fxM#t=10
In a statement released last week, the Clinton Foundation admitted its error with Algerian donation.
"Immediately following the devastating earthquake in Haiti on January 12, 2010, the Embassy of Algeria made an unsolicited donation of $500K to [the] Clinton Foundation Haiti Relief fund," a foundation spokesman said in a statement issued Wednesday. "This donation was disclosed publicly on the Clinton Foundation website, however, the State Department should have also been formally informed. This was a one-time, specific donation to help Haiti and Algeria had not donated to the Clinton Foundation before and has not since."
Hillary Clinton, however, has yet to speak publicly on the matter.
As to whether foreign government donations to her family foundation should preclude her from becoming president, as they might result in influence-peddling, initial investigations, including one by the Wall Street Journal, have yet to turn up any evidence of illegality. Clinton's supporters, meanwhile, are brushing the criticisms aside, citing the work the charity does.
"If the biggest attack on Hillary's going to be that she raised too much money for her charity, okay, I'll take that," Virginia Governor Terry McAuliffe told the Washington Post. "No one's alleging anything beyond that she raised money and people gave her money and foreign governments gave her money. At the end of the day, that's fine. It went to a charity. It helped a lot of people."
On its website, the Clinton Foundation also seemed to be preparing for what seems like Clinton's inevitable White House run.
"Should Secretary Clinton decide to run for office, we will continue to ensure the Foundation's policies and practices regarding support from international partners are appropriate, just as we did when she served as Secretary of State," a statement read.
CORRECTION: An earlier version of this story misstated former Representative Jane Harman's title and misspelled her last name.
Before it's here, it's on the Bloomberg Terminal.
LEARN MORE