Hillary Clinton's Supporters Hold Steady
Despite a slew of recent stories questioning the former secretary of state's ethical behavior, her fans are standing firm.
By and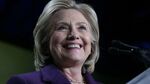 Hillary Clinton's political team hoped to spend March softly testing themes for her expected presidential campaign, scheduling addresses focused on economic inequality and women's rights in largely friendly venues. On Tuesday night, she picked up an award at a gala for EMILY's List, the organization that promotes Democratic women candidates.
But on the second night of the month, with Clinton's campaign team still largely a work in progress, the New York Times reported that Clinton used her personal e-mail account exclusively during her time as secretary of state, potentially hampering the collection of public records required by law. The report followed a spate of stories last month raising questions about management and fundraising practices at the Clinton Foundation. 
Taken together, the stories have revived an image that Republicans gleefully recall and the Clinton team would far rather forget, that of a secretive, cagey and highly political candidate.
Without a formal campaign operation, Clinton mustered the forces of the Democratic Party in her defense. Her small staff circulated a statement defending her e-mail usage. Allies, including the pro-Clinton group Correct the Record, derided the report as an inside-the-Beltway phenomenon that will be largely irrelevant to ordinary voters.
"All people are talking about is whether Hillary used archive-compliant e-mail," said Paul Begala, the former Clinton White House adviser and Democratic strategist. "No one cares about stagnant income or the chance the Supreme Court may take away their health care, or the threat of another Mideast war. Nope. This is the Big One."
While none of the news coverage points to anything clearly illegal, the perception that the Clintons might have something to hide prompted flashbacks of the 1990s in Washington. (See: Bedroom, Lincoln.)
On Tuesday, Republicans pounced, saying Clinton was illegally trying to hide her government correspondence. "It makes you wonder: Did she use the private e-mails so she could conduct diplomacy and fundraising at the same time?" said Republican National Committee Chairman Reince Priebus in a statement. Representative Jason Chaffetz, the Republican chairman of the House Committee on Oversight & Government Reform Committee, vowed to look into whether Clinton's correspondence violated the Federal Records Act.
But the differences between Clinton and her Republican opponents might not be all that great.
Former Florida Governor Jeb Bush used his personal e-mail account for all eight years that he served as governor. Bush recently released roughly 250,000 of those e-mails, waiting until last year to fully comply with state law that requires governors to turn over their records upon leaving office, but he released only those he deemed public. That fact went largely unmentioned by the media earlier this year, when Bush framed his presidential run in the rhetoric of transparency.
White House officials struggled to defend Clinton's practice. "I was not in a position to review Secretary Clinton's personal e-mail," said White House press secretary Josh Earnest. "That was the responsibility of Secretary Clinton and her team. That's what they say that they did."
The State Department was transformed into a rapid response team on Tuesday, fending off questions about Clinton's e-mail usage in statements and their daily briefing. "We have no indication that Secretary Clinton used her personal e-mail account for anything but unclassified purposes," State Department deputy spokesperson Marie Harf said. "While Secretary Clinton did not have a classified e-mail system, she did have multiple other ways of communicating in a classified manner."
"The Clinton case is just the most recent example of a cavalier attitude toward the public record," said Tom Blanton, director of the National Security Archive, a private, nonprofit group based at George Washington University that was founded to counter government secrecy. 
Ironically, Clinton worked hard as first lady to overcome her fear of computers, thumbing through books with titles like "Internet E-Mail for Dummies," to study up on then-new technology.
Nearly two decades later, her allies may wish she hadn't gotten quite so comfortable.
Mark Drajem, Nicole Gaouette, and Chris Strohm contributed to this article.