Hillary Clinton's Supporters Hold Steady
Despite a slew of recent stories questioning the former secretary of state's ethical behavior, her fans are standing firm.
By and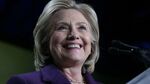 Hillary Clinton's political team hoped to spend March softly testing themes for her expected presidential campaign, scheduling addresses focused on economic inequality and women's rights in largely friendly venues. On Tuesday night, she picked up an award at a gala for EMILY's List, the organization that promotes Democratic women candidates.