Hillary Clinton Is Finally Ready To Run As a Feminist
Eight years ago, she rarely focused on women's issues, and lost. Now the women who would help Clinton break barriers as the first to win a major party's nomination are embracing her gender like never before.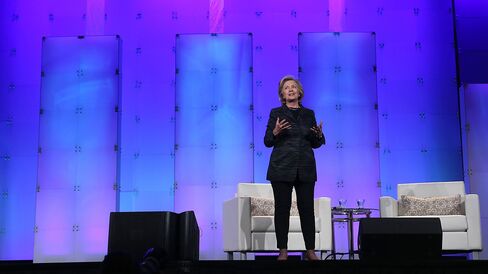 SANTA CLARA, Calif.—Since Hillary Clinton last ran for president eight years ago, something unexpected has happened in America: Feminism became chic.
Celebrities like Beyoncé and Taylor Swift embrace the label as part of their brand. Beauty companies hawk their products with messages of female empowerment. And rising female politicians have made fighting sexual assault a key part of their campaigns.
Now, the Clinton brand is getting in on the trend. As aides plot her future presidential bid, the women who would help Clinton break barriers as the first to win a major party's nomination are embracing her gender like never before. Clinton has stacked her public schedule with events focused on women's issues, has wrapped her State Department legacy in what she did for women and girls across the globe, and sprinkles her public remarks with commentary about being a grandmother and jokes about her love of "charismatic, attractive" men. Family-friendly policies that appeal to working women voters, like equal pay, family leave, and more affordable child care, have become central themes of her speeches—a notable shift from eight years ago, when Clinton rarely focused on the topics.
"I'm certainly trying to learn from what I did right and what I didn't thinking through doing this again," Clinton said on Tuesday, when asked whether those issues should have been a bigger part of her previous campaign. "Child care, these family issues, are now bubbling to the top of list in people's minds."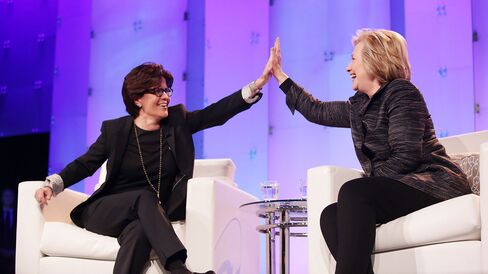 Speaking to thousands of women gathered in a Silicon Valley ballroom for a technology conference, Clinton offered a preview of a campaign message heavily focused on leveling the playing field for women. "Crack every last glass ceiling," Clinton told the technology executives. "Inclusivity is more than a buzzword or a box to check. It is a recipe for success in the 21st century."
The irony, though, of this feminist moment is that it requires the Democratic frontrunner and her team to embark on yet another in a long series of reinventions. Over the past two decades, the powerful former first lady who famously hadn't "stayed home and baked cookies" transformed herself from a victim of a philandering husband into a hardened political survivor.
When she first ran for president, she styled herself as an experienced Iron Lady, ready to take that 3 a.m. phone call, and seldom spoke about cracking the "hardest, highest glass ceiling" until the final moments of her primary campaign. The result: Barack Obama, almost by default, became the candidate of hope and change, leading a campaign that was focused as much on history as the issues. "People around her were saying don't play up being a woman, it could be a vulnerability," said Maria Cardona, a senior adviser on Clinton's 2008 bid. "She's running in a different time, and because she's running in a different time she's embracing these issues differently."
But as Obama's aides can—and likely will—advise her, running as a historic first is a path that must be carefully charted. "It becomes not just a campaign," said former Obama staffer Ben LaBolt. "It's a cause. It's a movement. It represents something larger about what the country is capable of doing."
There's a strategy to running as a historic first. The challenge, according to former Obama aides, comes in using the historic symbolism of the candidacy to motivate supporters without alienating the larger swath of undecided voters. "It's galvanizing and motivational for a portion of the electorate," said LaBolt. "But it's not the core message or the only message."
For Obama, that meant outsourcing historic appeals to celebrity surrogates. "Rosa Parks sat so that Martin Luther King could walk. Martin Luther King walked so that Obama could run. Obama's running so that we all can fly," rapper and producer Jay-Z told a Virginia crowd in 2008. "I can't wait until Nov. 5 and I'm going to say: 'Hello, Brother President.'"
Obama himself largely avoided the topic until March 2008, when controversial comments by his former pastor, Rev. Jeremiah Wright, prompted Obama to deliver a now-famous address on race.
A Gallup poll in June 2008 found that 78 percent of black voters and 88 percent of whites said that Obama's race made no difference in their vote. But surveys don't account for how the historic nature of his candidacy motivated his supporters. Black voters twice turned out in record levels for Obama.
Harnessing similar energy among women—who already tilt Democratic—and particularly typically lower-turnout unmarried women would give Clinton a major advantage on Election Day. Already, Clinton is trying to soften and broaden the appeal of family issues by channeling them through her newest role: Grandma. "My granddaughter has just as much God-given potential as a boy who was born in that hospital on the same day," she told a convention of female real estate executives in October.
That approach worries some Republicans, who have shifted from years of casting Clinton as the embodiment of radical feminism to attacking her as an out-of-touch plutocrat. "The narrative is, we have a chance to elect the first woman as president of the United States, something I think we should have done a long time ago. I just don't think it should be Hillary Clinton," Scott Walker told donors in New York last week. "But if it's a narrative like that, I think we run into trouble."
Of course, that's exactly the kind of story that Clinton seems almost gleeful at the prospect of telling, as she moves closer to formally announcing her campaign. "There has never been a better time to be a woman in the history of the world," she said in Silicon Valley this week. "And I believe that will all my heart."
Before it's here, it's on the Bloomberg Terminal.
LEARN MORE