Ben Carson Targets Feminism for Police Shootings of Black Youth
No stranger to controversy, Carson blames the women's liberation movement of the 1960s for the violence plaguing African American communities like Ferguson, Missouri.
By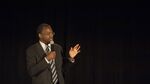 As America grapples with the root causes of a string of shootings of African American youth across the country, numerous theories have emerged. Former New York mayor Rudy Giuliani has blamed black-on-black crime. Attorney General Eric Holder has blamed a biased justice system. Now, prospective presidential candidate Ben Carson has joined the fray, pointing a finger at the women's liberation movement of the 1960's, as well as absentee fathers.