Ben Carson Targets Feminism for Police Shootings of Black Youth
No stranger to controversy, Carson blames the women's liberation movement of the 1960s for the violence plaguing African American communities like Ferguson, Missouri.
By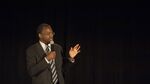 As America grapples with the root causes of a string of shootings of African American youth across the country, numerous theories have emerged. Former New York mayor Rudy Giuliani has blamed black-on-black crime. Attorney General Eric Holder has blamed a biased justice system. Now, prospective presidential candidate Ben Carson has joined the fray, pointing a finger at the women's liberation movement of the 1960's, as well as absentee fathers. 
"Usually the father figure is where you learn how to respond to authority," Carson said in an interview last week with American Family Radio. "So now you become a teenager, you're out there, you really have no idea how to respond to authority, you eventually run into the police or you run into somebody else in the neighborhood who also doesn't know how to respond but is badder than you are, and you get killed or you end up in the penal system."
While singling out the absence of positive male role models will not go down in history as being the most controversial diagnosis of what continues to be a disturbing societal occurrence—President Obama has, after all, implored black men to strive to do better for their families—Carson's next theory was not quite as intuitive. 
"I think a lot of it really got started in the '60s with the 'me' generation. 'What's in it for me?' I hate to say it, but a lot of it had to do with the women's lib movement," Carson continued. "You know, 'I've been taking care of my family, I've been doing that, what about me?' You know, it really should be about us."
Carson, who had an impressive second-place showing in a CNN/ORC poll of potential Republican presidential candidates released Tuesday, has a history of airing out ideas that, to some, may seem a tad overstated. 
He has said, for instance, that America is "very much like Nazi Germany," and, in a 2013 interview with Sean Hannity, compared homosexuality to bestiality and pedophilia—though he later apologized for that. And, at the 2013 Value Voters Summit, Carson tossed a string of rhetorical fireballs: "Obamacare is really, I think, the worst thing that has happened in this nation since slavery," Carson contended. "And it is … in a way, it is slavery."