Giuliani Gives Ferguson Argument Another Go
The former New York mayor stood by his assertion that African Americans bear the responsibility for the violence plaguing communities like Ferguson, Missouri.
by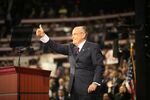 Try, try again. After a week-long intermission, Rudy Giuliani presented Act Two of his argument about violence in African American communities on the weekend airwaves. 
During a "Fox New Sunday" discussion about the ongoing protests in Ferguson, Missouri, the former mayor of New York acknowledged that there are more "unfair" encounters between police officers in black communities than in other places. While Giuliani put some blame on law enforcement for not better training personnel, he also,  for the second weekend in a row, pointed strongly to violence between African Americans as part of the problem. 
"But I think just as much, if not more, responsibility is on the black community to reduce the reason why police officers are assigned in such large numbers to the black community," he said, adding, "This is not a one-sided story."      
It was exactly a week ago that Giuliani made similar comments in a heated conversation on "Meet the Press" with Michael Eric Dyson, a professor at Georgetown University and political commentator for MSNBC.
"What about the poor black child that is killed by another black child?" Giuliani asked Dyson, who is African American. "Why aren't you protesting that?"
In one of the more controversial moments of the segment, Giuliani added, "The White police officers wouldn't be there if you weren't killing each other 70 to 75 percent of the time."
The exchange unleashed a surge of racially charged reactions on social media. In an op-ed published in the New York Times this weekend, Dyson accused Giuliani of steering the conversation "down the path of a conservative shibboleth."
"Many whites who point to blacks killing blacks are moved less by concern for black communities than by a desire to fend off criticism of unjust white cops," Dyson, who also criticized President Obama's two televised attempts to calm the unrest in Ferguson, wrote.  
On Sunday, a less combative Giuliani defended his position again. 
The former mayor reiterated his support of the grand jury's decision last week not to indict Ferguson police officer Darren Wilson, arguing that there evidence in the case would have led to certain defeat in the courtroom. 
Giuliani also noted that he has changed his mind on the issue of police using body cameras, suggesting it may have been helpful in cases like the one in Ferguson. But he defended aggressive policing tactics—like the so-called "stop and frisk"—which has been used in New York and other cities, despite concerns by some that it can lead to racial profiling. 
The former mayor then added a caveat. 
"If you overdo it, and some police departments have, then it is wrong," Giuliani said. "So maybe the answer to that is yes and no."
Before it's here, it's on the Bloomberg Terminal.
LEARN MORE