Nigeria School Blast in Northeastern Town Kills 47
Michael Olukayode and Daniel Magnowski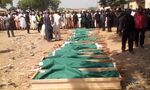 A blast at a school in the northeastern Nigerian town of Potiskum left 47 people dead, a week after a suicide bomber in the same town killed at least 26.
Today's attack, carried out by a suicide bomber disguised as a student, also injured 79 people, police spokesman Emmanuel Ojukwu said by phone from Abuja, the capital. The explosion occurred at about 8 a.m. local time while pupils at the Government Comprehensive School were attending an outdoor assembly.
"We heard a large bang and since then the area has been cordoned off," resident Abubakar Mohammed said by phone from the town. "Ambulances have been going into the school to pick up corpses and take the injured to the hospital."
On Nov. 3, a suspected member of the Boko Haram militant group detonated a bomb during a procession of Shiite Muslims marking the Ashura festival in Potiskum in Yobe state.
President Goodluck Jonathan said in September that Boko Haram, which means "Western education is a sin" in the Hausa language, has killed more than 13,000 people in its five-year campaign to impose Islamic law in Nigeria.
The government "will ensure that all those responsible for the senseless murder of so many promising youngsters and the continuing acts of terrorism across the country are brought to justice and made to pay for their atrocious crimes," Jonathan said in a statement e-mailed by his spokesman Reuben Abati.
Boko Haram has denied agreeing to a cease-fire, which the government announced on Oct. 17, and has continued to carry out almost daily attacks in Africa's biggest oil producer.
Emergency Rule
Yobe is one of three northeastern states that Jonathan's government placed under a state of emergency in May 2013.
Yobe state Governor Ibrahim Gaidam urged Jonathan to explain why the state of emergency has failed to slow the violence, his spokesman, Abdullahi Bego, said today in an e-mailed statement.
Gaidam ordered the closing of all public schools around the Potiskum area.
"It is not just enough for the federal government to condemn the almost daily rounds of violence," Bego said in the statement. Gaidam "believes urgent action must be taken right now to restore a fast waning public confidence by doing whatever it takes to stop the escalating violence."
Jonathan is due to announce tomorrow that he will stand for re-election in February, his ruling People's Democratic Party said in a statement today.
Before it's here, it's on the Bloomberg Terminal.
LEARN MORE