5 Counties to Watch in the Battle for the Senate
A few swing counties could give early clues about which party will ultimately control the U.S. Senate.
By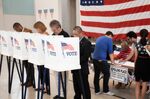 As the votes start trickling in, the returns in individual counties can provide insight as to which party could ultimately claim victory. While Bloomberg Politics will be monitoring returns in ALL of the counties in key Senate races to determine if the candidates are hitting the targets they need for statewide victory, there are some so-called swing counties that are worth watching and that carry added symbolic significance because of heir history of voting in line with statewide averages. Here's a look at five of them:
7:00 p.m. EST: Rochester, New Hampshire
 New Hampshire has 10 counties, though it reports election results by municipality. Rochester, in southeastern New Hampshire on the state's border with Maine, came within a point of matching the 2012 statewide percentages of Obama and Democrat Maggie Hassan, who was elected governor that year.
Also 7:00 p.m. EST: Gwinnett County, Georgia
 This suburban county east and northeast of Atlanta still leans Republican, though not as heavily as it once did. Part of the reason is that Gwinnett is becoming more racially and ethnically diverse: African-Americans are now 25 percent of the county population and Hispanics account for another 20 percent. Gwinnett still votes more Republican than the rest of the state, though Mitt Romney's 53.9 percent there in 2012 was barely ahead of his 53.3 percent showing statewide. Democrat Michelle Nunn will be looking to minimize her losses in outer suburban Atlanta as she tried to pull Republican David Perdue into a January runoff election.
7:30 p.m. EST: New Hanover County, North Carolina
 The county enveloping Wilmington is a bit more Republican than the state at-large, though its 51.5 percent to 47.0 percent split for Mitt Romney over Obama came close to the margin by which the Republican carried North Carolina. The state has some populous counties that are Democratic strongholds, like Mecklenburg (Charlotte), Guilford (Greensboro) and Durham; Republican bastions include Union County near Charlotte, Gaston County (Gastonia) and Johnston County near Raleigh.
9:00 p.m. EST: Jefferson County, Colorado
Jefferson County abuts Denver to the west and takes in the communities of Lakewood, Golden and Arvada. It should again cast the most votes of Colorado's 64 counties. In the 2012 presidential election, President Barack Obama won Jefferson by 51.2 percent to 46.4 percent, compared with 51.5 percent to 46.1 percent statewide. In the 2010 Senate race, Democrat Michael Bennet beat Republican challenger Ken Buck in Jefferson by 48.4 percent to 46.0 percent, compared to 48.1 percent to 46.4 percent statewide.

The vast majority of Colorado voters cast ballots by mail, so look for some hefty returns from Jefferson and the other 63 Colorado counties.
10:00 p.m. EST: Webster County, Iowa
 Located in the west-central part of the state and taking in Fort Dodge, Webster came within a point of matching the major-party candidates' statewide percentages in the 2008 and 2012 presidential elections and the 2010 governor's race. Republicans are hopeful that their Senate candidate, state senator Joni Ernst, can defeat Democratic Representative Bruce Braley for the seat of retiring Democrat Tom Harkin.