Hong Kong Government Wages War of Attrition
Michelle Yun and David Tweed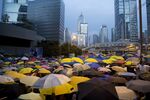 After tear gas and talking failed to dislodge all of Hong Kong's pro-democracy protesters in the first four weeks, the government has entered the second month of the demonstrations with Plan C: a war of attrition.
Authorities are probably waiting for popular support for the movement to fade so police can take back the streets without sparking the kind of violence and mass protests that occurred a month ago, according to law enforcement officials and political analysts. The option of a negotiated settlement stalled after the government rejected the students' main request for full universal suffrage.
"The government won't act until its own surveys show public support for the protesters has dropped sharply," said Professor Michael DeGolyer, a political scientist at the Hong Kong Baptist University. He calls it the "anaconda strategy," where the commercial cost of actions like China's limits on mainland tour groups gradually saps sympathy for the students.
"This is the slow strangulation" using a divide-and-conquer strategy, DeGolyer said.
Under scrutiny from both Beijing and the world's media, the Hong Kong government must find a way to end the disruption while averting the kind of brutal crackdown that tarnished China's reputation in Tiananmen Square in 1989. Even if police manage eventually to clear the streets with minimal force, questions about democracy and economic inequality may spawn fresh protests until they are resolved.
Tear Gas
Police efforts on Sept. 28 to eject protesters using tear gas and pepper spray simply brought tens of thousands of Hong Kongers out in sympathy, with the demonstrators turning parts of the city into tented towns complete with study areas and first-aid stations.
"The movement has definitely awakened the people of Hong Kong, especially the younger generation," said Joseph Wong, a former secretary for the city's civil service. "I can see Hong Kong's governance being really wretched in the next few years."
Hong Kong's young people are frustrated because they can't afford to own, or even rent their own homes and their job opportunities are limited, Joshua Wong, co-founder of the student activist group Scholarism, wrote in an opinion column published in today's International New York Times.
"The city's wealth gap is cavernous," the 18-year-old said. "My generation could be the first in Hong Kong to be worse off than our parents."
Wall Street
Whether police move in to disperse the protesters will depend on the impact they are having on commerce and everyday life, said Raymond Kelly, the former New York City police commissioner who oversaw law enforcement during the Occupy Wall Street sit-in. The danger is if "the government decides you have to move forcefully and proactively to open up the streets," he said. A negotiated settlement is the best option, he said.
Like the Hong Kong protests, the Occupy Wall Street movement in New York in 2011 expanded after police cracked down on protesters, using pepper spray. Amid the resulting media storm, protesters set up camp in Zuccotti Park and copycat protests were spawned in cities around the world.
In Hong Kong the number of protesters permanently on the streets has fallen to a few thousand, from around 200,000 at the peak, and the rallies have largely been contained within three areas of the city. Even so, the movement draws large crowds for occasions like the one-month anniversary on Oct. 28, when crowds again filled the center, waving mobile-phone lights and watching a montage of the month's events on a giant screen.
Public Support
In a survey by the Chinese University of Hong Kong conducted from Oct. 8 to Oct. 15, almost 38 percent of respondents supported Occupy Hong Kong, an increase from about 31 percent in mid-September before the student protest began. Video footage showing police allegedly beating a demonstrator on Oct. 15 temporarily brought thousands back onto the streets.
In the colorful encampment on Harcourt Road, near government offices, Elby Mak, a freelance worker in the music industry, says she'll stay until her fellow demonstrators and student leaders agree to end the occupation and she's not deterred by the prospect of another police crackdown.
"I've been through it once already, so I'm not afraid," said Mak, 25, outside a yellow tent where she had slept the night. "I'm prepared to be arrested. I know it's unlikely we may be able to change anything but I want to do what I can."
Talks last week aimed at narrowing differences made little progress. Leaders of the pro-democracy movement on Oct. 28 set conditions to resume talks with the government, including a request to submit a report to China reflecting the protesters' demand for free elections in the city.
Daily Harassment
Opponents say the demonstrators don't represent most Hong Kongers and students face daily criticism and harassment from people, many of whom claim the barricades and camps are hurting their businesses.
Traffic snarls are a continuing irritant for commuters, even after police reclaimed some lanes at the three main protest sites. About 2.3 kilometers of roads are illegally occupied, disrupting 225 bus routes, said Kao Yau-ki, acting senior superintendent of traffic on Hong Kong Island, in a briefing on Oct. 28.
The protests are likely to pose some downside risk to the city's economic growth for 2014, Fitch Ratings said this week, adding that Hong Kong's credit rating probably won't change.
Charles Li, head of the Hong Kong stock exchange, said on Oct. 26 he won't be surprised if the protests were among factors that delayed a trading link with Shanghai that was expected to get approval from China this month.
Asked if it was preparing to disperse the protesters, the Hong Kong Police Force said in an e-mail it would "take actions commensurate with the situation."
Water Cannon
"They'll need to go in with whatever public-order tools they have -- water cannon, they may decide not to use tear gas again," said Nick O'Brien, head of the Australian Graduate School of Policing and Security at Charles Sturt University in Canberra and a former Scotland Yard anti-terrorism officer. "The danger is, as soon as you do that, you may have to secure the area again."
It's not the first large-scale protests the force has faced. The annual rally on July 1, the anniversary of the British handover of Hong Kong to China, drew the biggest crowd in a decade this year. More than 500 people were arrested for illegal gathering and obstructing traffic.
Hong Kong also had its own branch of the movement inspired by Occupy Wall Street. The Hong Kong protest lasted about 11 months before the protesters were evicted along with their with tents, couches and bookshelves from the open plaza below HSBC Holdings Plc's headquarters in the city.
Khaki Line
The city's most lethal demonstrations were in the summer of 1967, when a "thin khaki line" of colonial-era police faced off against thousands of pro-communist protesters.
"Huge mobs marched on Government House, waving aloft the Little Red Book and shouting slogans," according to the police website. "Ranks of police faced crowds hurling insults, spitting, sometimes throwing acid."
Months of riots and demonstrations led to a crackdown on trade unions, resulting in five deaths and 1,500 arrests, while protesters responded with a bombing campaign.
Today's war of attrition against the so-called Umbrella Movement, after the umbrellas they used to deflect pepper spray, includes a series of court actions by the government and local businesses. High Court Judge Thomas Au on Oct. 27 extended three interim civil injunctions awarding plaintiffs the right to remove barricades and preventing protesters from interfering with their removal, pending a final written decision.
Street Art
Protesters have tried to retain public support with street art, daredevil stunts and a barrage of social media. A group of climbing enthusiasts called "Hong Kong Spidie" scaled a precipice in the territory called Lion Rock Hill last week to unfurl a 28-meter-tall (92-foot) yellow banner reading "I want true universal suffrage" in Chinese.
At the protest site in Harcourt Road, Mak is getting ready for work, but said she and her friends will be back to support the movement.
"I'll stay on until the very end," she said. "If we don't do this now, we'll lose everything."
Before it's here, it's on the Bloomberg Terminal.
LEARN MORE