Bigger Down Payments Block Young Home Buyers
Banks stay cautious in lending to first-time purchasers
by and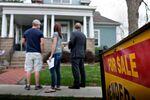 The challenges facing prospective buyers of the least expensive homes in the U.S. are mounting. Already beset by stagnant wages, student debt, and competition from speculators who have been snapping up listings, Americans looking to purchase moderately priced houses must now provide more cash upfront. The median down payment for the cheapest 25 percent of properties sold in 2013 was $9,480, compared with $6,037 in 2007, according to data from 25 of the largest metro areas compiled by brokerage firm Redfin.
Banks' reluctance to lend is frustrating first-time buyers even as interest rates remain near historic lows. Young adults, who would typically be making initial forays into real estate, are among those most affected, weakening the foundations of the housing market and limiting its contribution to economic growth. "The numbers tell the story of why we have millions of potential homeowners who are renters or living with their parents," says Susan Wachter, a professor of real estate and finance at the University of Pennsylvania's Wharton School. "What has changed is the ability to become an owner. And that's changed through a down payment that's more than doubled." The median down payment for the cheapest 25 percent of homes was 7.5 percent of the sale price last year, up from a low of 3.1 percent in 2006. The average was 4.2 percent from 2001 through 2007.
The affordability index for first-time buyers, which measures the wherewithal of a family earning the median income to purchase a median-priced home at current interest rates, declined in the second quarter to its lowest point since the final months of 2008, according to the National Association of Realtors. Banks have "become much tighter on credit, even on government-backed mortgages," says Dean Maki, chief U.S. economist at Barclays in New York. The number of new and refinanced mortgages dropped last quarter to the lowest level in 14 years, contributing to a decline in total consumer debt, the Federal Reserve Bank of New York reported on Aug. 14.
The advantage of stricter lending is that it could prevent the real estate market from seizing up in case of a decline in housing prices, says Gary Rogers, an agent with Re/Max Holdings in Waltham, Mass. Putting more money down could mean fewer owners will owe more than their properties are worth should prices drop. "If there is a downturn, houses are still going to be more liquid than they were before when people were buying with zero and 3.5 percent down," Rogers says. "The liquidity of housing is going to be improved as time goes on because of this trend. I think that's a really great buffer."
First-time purchasers accounted for 28 percent of all sales of previously owned homes in June, compared with about 40 percent historically, NAR data show. A dearth of first-time buyers is pushing down the national homeownership rate, which fell in the second quarter to its lowest level since 1995, according to U.S. Census Bureau data. The economy won't get back to its prerecession growth rate without more first-time home buyers. Their entry into the marketplace helps boost construction and spending on furniture, appliances, and other goods. Says Wharton's Wachter: "If higher down payments persist, we will have a millennial generation that's missing in action in homeownership."
Before it's here, it's on the Bloomberg Terminal.
LEARN MORE