Where the Zuckerbergs Grow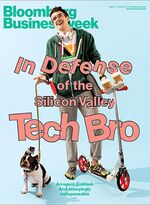 I've never e-mailed you guys before, but I have to say thanks for one of the best covers I've seen in the three years that I've subscribed to your magazine, and you have a lot of good ones ("Silicon Valley State of Mind," Features, August 11-August 24, 2014). You nailed the tech entrepreneur stereotype (at least in my mind) to a T that everyone including myself loves to hate. It's like one part Mark Zuckerberg, one part Mark Pincus, and a dash of Reid Hoffman.
 
Eric Colbert
via e-mail
Lauren Sandler's "How to Love Paid Family Leave" (Opening Remarks, July 21-July 27) warrants a response. The National Restaurant Association has not been one of the most vocal groups lobbying against a federal family leave proposal, as depicted in her article. In fact, we have not taken a position on the legislation at all.
The article clearly and, we feel, purposefully led readers to infer that we are opposed to something that we are not and that we are leading an effort that we are not. Our position on any issue is determined by how it impacts the businesses—large or small—we represent.
Most of our members are small business owners, and many restaurants have family-friendly policies. America's restaurants provide opportunities for more than 13 million people of varying ages and experience levels, many who seek part-time, flexible work schedules. We support employers being able to tailor leave policies and benefit packages to fit their workforce and business models.
These are important issues, and we welcome an educated discussion on the role and responsibilities of employers and an accurate depiction of our views on the subject.
 
Scott DeFife
Executive vice president, policy and government affairs
National Restaurant Association
Washington
"The $28 Trillion Writedown" (Opening Remarks, June 30-July 6) gives voice to a shortsighted view of the fossil fuel economics balance. Curtailing fossil fuel production over the next 20 years does not destroy $28 trillion of assets; their consumption is simply postponed to a time when their unique capabilities (such as petrochemical feedstocks or aviation fuel) can command a higher price. Even with recently discovered shale resources, the world's fossil fuel supply is limited. At our present rate we will run out in 200 to 300 years. The most aggressive carbon emission limits will extend that to something over 1,000 years. Nobody is going to lose $28 trillion; the investments in reservoir engineering and resource mapping will just pay off over a longer time horizon.
 
Peter Gottlieb
Sunnyvale, Calif.
Before it's here, it's on the Bloomberg Terminal.
LEARN MORE