Tossing the First Lady's Lunch
Districts shun federal funds so they can stop serving food kids hate
By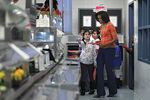 As superintendent of the Fort Thomas Independent School District in northern Kentucky, Gene Kirchner oversees 3,000 students who buy about 1,400 cafeteria lunches each day. At least they used to. Since federal school lunch nutrition requirements championed by Michelle Obama began phasing in over the past two years, Kirchner has noticed kids don't buy lunch so much anymore. Last school year, Fort Thomas sold about 30,000 fewer meals than the year before. The problem is particularly acute at the high school level. "They're just skipping lunch and stopping by the minimart on the way home instead," Kirchner says. "And when they do buy a lunch, they go by the trash can and throw half of it away."
The National School Lunch Program, which is run by the U.S. Department of Agriculture's Food and Nutrition Service, reimburses public schools 30¢ for each paid lunch and $3 for each free one. To get the money, schools must abide by the government's new limits on calories (750 to 850 for high schools, roughly the amount in a deli sandwich and a bag of chips); saturated fat (less than 10 percent of total calories, so there go the chips); and, starting this year, sodium (1,420 milligrams, reduced to 740 mg by 2022—or about a dill pickle's worth). Salisbury steak, pizza, and chicken nuggets are giving way to lean meats, whole grains, vegetables, and fruit.
In July, Fort Thomas dropped out of the program. Kirchner estimates doing so will cost his district about $200,000 in federal funding. But he says his lunch budget will be deeper in the red if he has to serve food students refuse to buy. "With the new guidelines coming into effect on snacks and a la carte items this fall, we'd be losing money this upcoming year," he says.

When the Healthy, Hunger-Free Kids Act was passed in 2010 as part of Obama's Let's Move! campaign, advocates praised it for attempting to combat childhood obesity. "We've seen the connection between what our kids eat and how well they perform in school," President Obama said when he signed it into law. The USDA set a series of increasingly strict rules to be introduced over 10 years, starting in 2012. "I currently have one lunch entree that meets the a la carte requirements: grilled chicken breast on a whole-grain bun," says Julia Bauscher, director of nutrition services for Louisville's public schools and president of the national School Nutrition Association (SNA). "But I can't serve condiments with it. How many kids are going to eat grilled chicken with absolutely nothing on it?"
Not many, it turns out. Nationwide, students are buying about 1 million fewer lunches a day than two years ago, according to the SNA. The USDA says about 150 districts have dropped out of the program since the rules went into effect, mostly in affluent communities that don't depend on federal funds and where few students qualify for free or reduced-price lunch. "We'll be giving up $150,000 in federal money," says Kevin Larsen, president of the board of education for Colorado's Douglas County School District, near Denver, which left the program because the new rules would mean removing the popular and profitable Subway franchises the schools own and operate. The district will still provide free lunches for the 10 percent of its students who need them. "We've got the resources to cover that," Larsen says. "That's truly a drop in the saltshaker to us."
The SNA was a major supporter of the Healthy, Hunger-Free Kids Act, but it's now urging the government to backtrack on some rules. The USDA suspended the requirement that bread products contain 100 percent whole grains after cafeteria workers complained that whole-wheat pasta turns to mush when cooked in bulk. But the agency hasn't yielded on the sodium or calorie restrictions. "USDA is continuing to help schools by showing flexibility in the rules where appropriate," says spokesman Cullen Schwarz. "But with one-third of our kids overweight or obese … rolling back basic standards is not a responsible option."
The USDA estimates 90 percent of participating schools have met the new guidelines. Bauscher in Louisville says that's because many have no choice—67 percent of her students qualify for free or subsidized lunch. "I get over $30 million in federal money," she says. "I can't just give that up." Donna Martin, school nutrition director of Georgia's Burke County School District, says the protests over the new rules are overblown. "Whenever you change something, the kids complain, 'We're not eating this!' " she says. "But they get over it. You just have to give them time."
BOTTOM LINE -
The bottom line: About 150 school districts have left the federal school lunch program to avoid new restrictions on calories, salt, and fat.
Before it's here, it's on the Bloomberg Terminal.
LEARN MORE