TNT's New Spy Show Legends Stars a Hyundai
TNT's weird partnership with Hyundai is the most interesting part of its new FBI show
By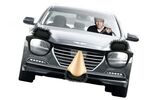 Five minutes into the first episode of the TNT drama Legends, FBI agent Martin Odum, played by British actor Sean Bean, pulls up to a quiet suburban house in a silver, four-door Hyundai Genesis. It's a very ordinary car, something an aging boomer might buy for its understated luxury. The camera lingers on the Hyundai for a few seconds, not long enough for a casual viewer to notice. Then the Genesis shows up again. And again. It's the car Odum drives when he goes undercover with a white-supremacist organization. And when he transforms into a slick-haired arms dealer in an attempt to root out chemical weapons that Chechen rebels are manufacturing inexplicably in Los Angeles. (The bad guys drive a Dodge.)
Legends, a 10-episode thriller that premiered on Aug. 13, is exclusively sponsored by Hyundai. The car company's placements are numerous yet inoffensive—much like its vehicles. The deal also includes an 11-minute sci-fi short, created for Hyundai by Ron Howard and Brian Grazer's digital content studio, New Form, which aired over the commercial breaks during the premiere. You can watch the minimovie, about a woman with multicolored curative blood, online or on TNT's video-on-demand package; it's hokey but kind of entertaining. Forthcoming shorts will focus on the Hyundais behind the scenes on Legends.
"There's been a real challenge for advertisers to have access to the same [distribution] channels we do," says Dan Riess, senior vice president of integrated marketing for TBS and TNT. With viewers increasingly fast-forwarding through commercials, networks have been experimenting with workarounds for years. In 2005, 20th Century Fox included a 20-minute Nissan ad in the British DVD box set of 24. And in 2008, TNT teamed up with Hewlett-Packard, DirecTV, and Hyundai to work their products into the show Leverage. Still, the multiplatform reach of the Legends and Hyundai partnership is a first. "We don't want a whole show that's about Hyundai," Riess says. "That's not the point."
TNT's own marketing for Legends—which includes a Twitter campaign called #dontkillseanbean, a reference to the actor's dramatic deaths as Boromir in the Lord of the Rings and Eddard Stark in Game of Thrones—is similarly creative. The program's being positioned as the network's next hit, and the premiere did well, with 2.6 million people tuning in.
There's just one problem: TNT focused so much on advertising that it forgot to make a show worth watching.
Bean plays Odum and his secret identities impressively, switching accents and adopting and then dropping a stutter with ease. But he can carry the action only so far. Characters speak in familiar crime-drama adages: "Make the lies as close as possible to the truth." "Sometimes a good soldier has to fall for a good cause." And they have a habit of overexplaining things. There's an estranged wife subplot, the bright-eyed son Odum never has time for, and a millennial tech nerd who hacks into computer systems. Co-star Ali Larter can't seem to get through an episode without dressing up as a stripper or call girl.
Bean deserves a better show, one that gives him a chance to find his inner Jack Bauer. (Larter needs a role that offers more clothes.) Yes, there's an intriguing series-long conspiracy—is Odum himself just another fake identity? But the biggest mystery is why the FBI's "most naturally gifted deep-cover operative" would drive the same suburban-dad car every time he goes undercover. Even the white supremacists would catch on eventually.
Before it's here, it's on the Bloomberg Terminal.
LEARN MORE