Is Google Too Big for Pittsburgh?
Startups blame the company for stealing engineers and driving up wages
by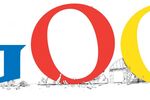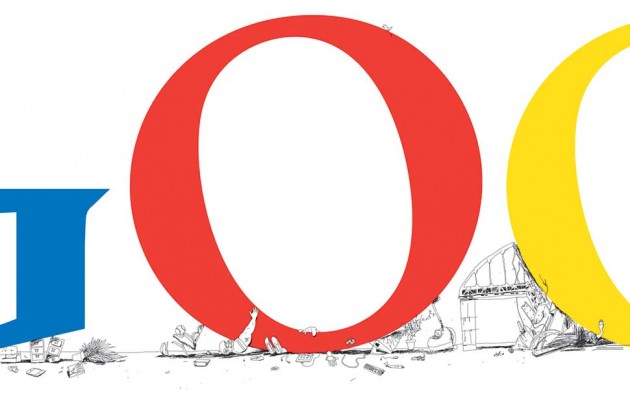 Robb Myer was excited when, as an MBA student at Carnegie Mellon in 2005, he heard that Google was opening an office on campus. Nine years later, Google has almost 400 employees working in Pittsburgh's rapidly gentrifying East Liberty neighborhood and plans to take two floors in a tower under construction. Myer went on to found app maker NoWait and is no longer thrilled to have a tech titan for a neighbor. "I remember getting introduced to a great engineer through our investor, Birchmere Ventures, but I didn't get too far with him," he says. "He received an offer from Google's expanding office in Pittsburgh before we had a crack at him." Myer, whose app allows people to get onto restaurant wait lists without having to set foot in the door, says he's lost at least one other job candidate to the search giant.
When big tech companies set up shop in an emerging tech hub, they're typically welcomed by universities, politicians, and business leaders thankful for the jobs and validation that marquee names bring to local efforts to foster engineering talent. In Pittsburgh, Walt Disney, Apple, Microsoft, Oracle, and Yahoo! have also opened small research centers or offices in recent years, while Intel has been in the city since 2001.
But those heavyweights' demand for talent, entrepreneurs say, has made it much tougher to recruit. Audrey Russo, president and chief executive officer of the Pittsburgh Technology Council, says there are "a ton of examples" of big tech companies poaching from local startups. "My heart goes out to these companies," she says.
Google spokesmen declined to respond to the criticisms. Rebecca Ginsberg Rutkoff, a spokeswoman in Google's New York office, says the company is thrilled with the growing tech ecosystem in Pittsburgh. "The more vibrant the tech ecosystem is, the better it is for everybody," she says.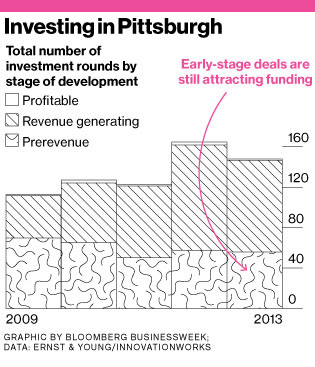 There are some signs entrepreneurs are giving up. In Pittsburgh, venture capital investments fell to $130 million in 2013, down 42 percent from a peak of $224.36 million in 2006—the year after Google arrived, according to The MoneyTree Report, a quarterly study of venture capital investments in the U.S. In the rest of the country, during the same period venture capital deals rose 7 percent, to $29.6 billion. "Startups? They'll have to compete," Russo says. The more big and small companies succeed in Pittsburgh, she says, the more the talent pool and revenue will grow.
Computer-related work makes up 5 percent of jobs in Pittsburgh, says Bill Flanagan, head of corporate relations for the Allegheny Conference on Community Development. That's twice the national average. The 35 colleges and universities in the Pittsburgh region produced 1,555 information technology-related graduates in 2012, according to the organization.
Even with 47,000 employees and offices in 18 U.S. cities, including Austin, Texas, Boulder, Colo., and Madison, Wis., Google knows that challenges to its preeminence can come from the humblest of enterprises. Its latest annual report states: "Emerging startups may be able to innovate and provide product and services faster than we can." The company says success depends on hiring and retaining the most skilled tech workers.
Some industry groups argue Google's presence will help expand the startup ecosystem in the city. "The more that occurs, the more people who are needed to work in many of these companies or startups will know there is vibrancy here," says Russo of the Pittsburgh Technology Council. And Google's presence "legitimizes the street cred of Pittsburgh as a tech hub," says Terri Glueck, a spokeswoman for Innovation Works, a local startup incubator.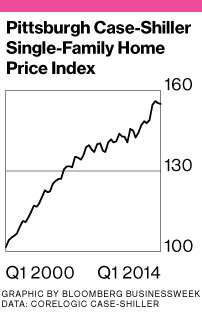 According to Jeffrey Ackerman, a managing director at commercial real estate company CBRE in Pittsburgh, and other brokerage firms, Google's arrival has added hundreds of six-figure jobs and boosted tech salaries in Pittsburgh, because local companies have to pay more for developers, programmers, and engineers. It's also raised housing prices in neighborhoods such as Point Breeze, East Liberty, Friendship, and Garfield. Prices in the Pittsburgh metropolitan area are up 27 percent from 10 years ago, well above the 3 percent national average, according to the CoreLogic Case-Shiller indexes.
Small businesses will have to offer workers incentives, says Sameet Sinha, an analyst at investment bank B. Riley in San Francisco. He says employees will stay for a hot startup idea with potential payoff for a developer. WebKite, a Pittsburgh startup that employs 22 people developing specialized search technologies, offers paid internships to local Ph.D. candidates in chemical engineering and analytic philosophy. The added benefit: WebKite teaches them how to write code. Founder Eric Silver says many learn rapidly and choose to stay at the startup instead of heading back to academia.
Myer of NoWait agrees that small companies such as his cannot compete with the big tech firms on salary alone. His loftlike office space is in a cool part of Pittsburgh but is no match for the yurts, video games, pianos, and microkitchens at Google's campus, located in a former Nabisco plant in the city.
Instead, he's hoping people will be drawn to his 15-person company by the opportunity to play a significant role instead of being just "one cog in a massive wheel." Says Myer: "I'm hoping the top talent go to Google for a couple of years and discover that it's not that interesting."
Before it's here, it's on the Bloomberg Terminal.
LEARN MORE